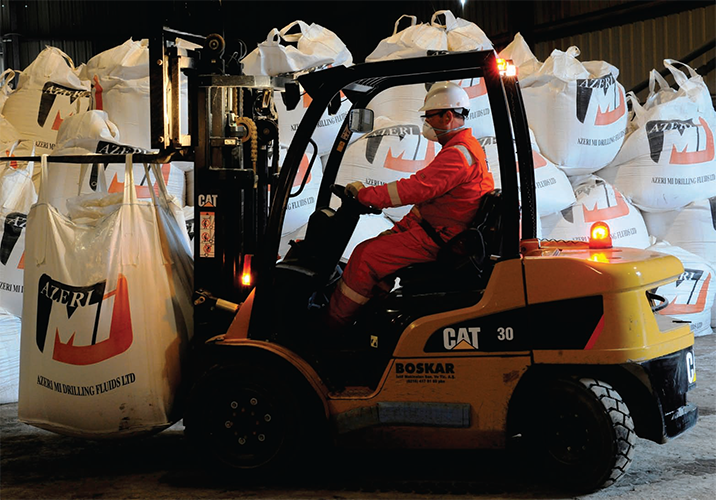 Azeri Mi Drilling Fluids LLC
Historical performance
Azeri Mi Drilling Fluids LLC (AMDF) was founded in 1997 as a joint venture between M-I Swaco, which owns 49 per cent of the venture and SOCAR, the state oil company of Azerbaijan Republic, which controls the remaining 51 per cent of the business.
Decree 200 of the president of Azerbaijan Republic established SOCAR on 13 September 1992 and the company continues to carry out oil exploration, exploitation and preparation with a workforce of up to 70,000 people.
Today, M-I Swaco is a subsidiary of M-I L.L.C., which was founded as a joint venture between Schlumberger and Smith International during 1999. Originally Smith International owned 60 per cent of M-I L.L.C., while Schlumberger retained the remaining 40 per cent. During 2010 Schlumberger acquired Smith International, and since then M-I L.L.C. has continued to trade as M-I Swaco and provide its expertise to the oil and gas fields of Azerbaijan.
The formation of AMDF during the 1990s was in response to a growing need for energy solutions within Europe and beyond. Two thirds of Azerbaijan is rich in oil and gas reserves and since the dissolution of the Soviet Union SOCAR has worked with western oil companies to take advantage of oil and gas discoveries untapped by Soviet exploration. During 1994 the Azeri, Chirag and deepwater Gunashli (ACG)-International Contract No. One was signed by President Heydar Aliyev and a number of participating international companies. The project is often referred to as the 'contract of the century' due to its estimated potential, which is thought to be considerable. Following this the Azerbaijan International Operating Consortium (AIOC) was formed, consisting of 11 major international companies including BP, Amoco, LUKoil, Pennzoil, (now Devon US), UNOCAL, Statoil, McDermott, Ramco, TPAO, Delta Nimir (now Amerada Hess), and SOCAR (Azerbaijan). Since then the consortium has further developed with new members including Exxon, (now ExxonMobil), ITOCHU and INPEX, while McDermott, Ramco and LUKoil have gone on to sell their shares in the project. Since 2006 a further BP led consortium has been in operation in the Shah Deniz field, which has large reserves estimated.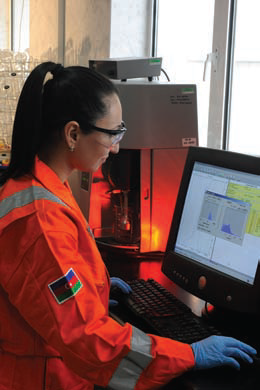 Azeri Mi Drilling Fluids services a number of customers, and provides services to large operators carrying out works individually within Azerbaijan. Commenting on the relationship between AMDF and its clients and the benefits of mutual co-operation to Azerbaijan's invigorated oil and gas sector, general manager Nick Hore elaborates: "The company was formed some 17 years ago as the base to bring the expertise of M-I Swaco into the Azerbaijan Republic and help develop knowledge of the Azerbaijani specialists in new oil drilling technologies. SOCAR has provided the base, infrastructure and key locations within Azerbaijan, and as time has gone on it has provided us with an operations base in two dockside areas where there are plants that are used to mix drilling fluids, which are then sent offshore to service drilling operations. Azeri M-I enjoys the advantage of being part of such companies as SOCAR and M-I Swaco, and this advantage is expressed in developing the local workforce, gaining access to key infrastructure, as well as being part of the national oil industry and being intimately involved in development of that industry.
"The main customers are the two large consortiums operated by British Petroleum, which are the AIOC and the Shah Deniz consortium. They are by far the largest players in the market, looking after the Azeri-Chirag- Guneshli and Shah Deniz large gas project. Down the years we have also provided services to a number of larger operating companies including SOCAR, Exxon, Total, LukOil and JOGMEC – the Japanese National Oil Company. A lot of companies have come to explore, but by far the most successful have been the consortiums set up by BP."
As well as the local knowledge and infrastructure provided by SOCAR and the drilling expertise provided by M-I Swaco, AMDF is also able to draw on the support of M-I-Swaco's parent company Schlumberger. "It is a massive advantage to be able to combine the extensive expertise in the company's segment," Nick explains. "This is within the fluid side of the business, but also the management of drilling waste that also makes up a huge percentage of our business here. Being able to combine our expertise with subsea experts, geo-science experts and all of the other joined disciplines in our industry means that we canprovide a much more integrated solution to the customer and obviously draw on all the expertise that exists in Azerbaijan."
AMDF provides drilling fluids and associated services with the benefit of extensive experience and support. It provides drilling wastemanagement including cuttings collection, transport, treatment, and re-injection and drying services. The company's drilling fluids and systems include water based and non-aqueous options, which can be supported with drilling fluids simulation software including ECD and ESD management, real time performance management bridging agent selection and engineering applications.
The company's expertise and ability to deliver trusted solutions have resulted in an increase in demand, as Nick observes: "One of the things the market is demanding is the use of ultra-fine grind barite. This is a technology that is available to all of the competitors, but rather then using conventional barite and instead using ultra-find ground barite we have brought great stability to the fluids we supply and great assurances to the completions process. We have had to upgrade our milling facility to keep up with the demand for that technology."
As AMDF moves into the future it is well placed to take advantage of Azerbaijan's increasingly important oil and gas market as Nick concludes: "I would say that this year one company's main focuses has been on developing our local talent and increasing the level of nationalisation and Azerbaijani content that we use. We have spent tremendous amounts of money on training, so we have been doing a lot of recruiting to fuel the pipeline, if you will for further national development. That is probably the current key focus for AMDF as well as maintaining performance at historical levels."
Azeri Mi Drilling Fluids LLC
Services: Drilling fluids, completion technologies and waste management