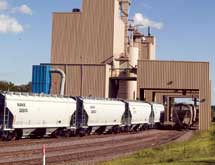 Badger Mining Corp./Atlas Resin Proppants
Badger Mining Corp. and Atlas Resin Proppants are the power duo of suppliers to the oil and natural gas industry. Badger manufactures industrial silica sand and other aggregates, and is best known for its Northern White sand, which provides the conductivity for natural proppants used in hydraulic fracturing. Its sister company, Atlas Resin, is a producer of pre-cured and curable resin-coated sand proppants for hydraulic fracturing applications.
Together, the two companies bring expertise and engineered products to the world of hydraulic fracturing. Atlas Executive Vice President Cody Wickersheim explains it simply: "The best sand plus the best chemistry equals best conductivity, which equals greater productivity for our customers."
Badger Mining Company
Badger's roots in the Wisconsin mining industry go back more than 100 years. Clifford Chier founded the C.A. Chier Sand Co. in 1949 near Fairwater, Wis. Badger Mining Corporation was created in 1979 in Berlin, Wis. by Cliff's son, Russ, and son-in-law, George Hess. Badger continues to be a family owned business, with members of the fourth generation of the Chier and Hess families still involved throughout the organization.
Badger – whose name refers to Wisconsin's state animal – possesses a sense of pride for its home state and especially for the local area where it is headquartered. As one of the biggest employers for the small city of Berlin – population of approximately 5,500 – the mining company is well-known in the region and highly regarded.
Although Badger may not be the largest silica sand manufacturer in terms of production capacity, Marketing and Sales Leader Steve Ryan believes Badger's quality products, customer service and support have earned the company a reputation as an industry leader. "We were one of the top five for years," he says. "But, it's hard to pinpoint our rank today, because the industry has seen such rapid expansion over the past few years. In terms of reputation and influence in the industry – attributes which go far beyond production capacity – we lead the way."
Rising in a Competitive Market
The onset of directional drilling and the increased use of pressure pumping in the oilfields have significantly increased demand for high-quality silica sand and proppants. Ryan notes this growing demand has attracted many new competitors to the silica sand industry, especially in the past few years. New companies have emerged, along with new sand mines and processing facilities, particularly in Illinois, Wisconsin and Minnesota. "The full effect of all this new capacity on the industry has yet to be realized, but there is no doubt the business will be changed forever," he says.
How does Badger compete and stay ahead in a saturated market? The sand producer recently completed a major expansion at its Taylor, Wis., facility that essentially doubled the company's frac sand production capacity. The upgrades included a new wash plant, as well as a new drying and screening facility. "More importantly," Ryan says, "is our adherence to quality production processes and continued focus on customer needs. We need to have products to sell, that's a given, but they have to meet customer requirements and be available when and where the customer needs are. That's what sets us apart from all the new-comers."
Some organizations might choose to take a respite after finishing an extensive project, but according to Ryan, Badger continues to look for opportunities for further expansions. "We're not resting if we feel our customers will continue to support us," he says.
Continuous research and development are key elements of Badger's customer support efforts. The company lends its testing and analytical services, and occasionally equipment, to clients through its lab and research facilities in Berlin and St. Marie, assisting with a variety of product development and research projects.
Significant investments have been made over the years by the company in research and analytical equipment used to understand the role silica sand plays in all industrial uses. Currently, Badger is working on an expansion in the corporate office that will eventually centralize its research facilities and equipment at its corporate headquarters.
A Dedicated Sister Company
Founded in 2005 in partnership with Badger Mining Corp., Atlas was acquired by Badger in 2007. It is headquartered in Taylor, Wis., and managed completely independently. Merely five years after its inception, Atlas tripled its capacity to 1.8 billion pounds per year of superior curable and pre-cured resin proppants. One production facility is located in Taylor on the Canadian National Railroad, while the other two production facilities are located in Merrillan, Wis., on the Union Pacific Railroad.
Although many competitors have surfaced with their own versions of resin proppants, Atlas has risen as one of the leaders in this market with products that have proven to be better than the rest. According to Atlas Executive Vice President Dan Valiquette, third-party testing has shown his company's products are better in the geological environments where the products need to perform.
With the saturation of the natural gas industry in recent years, Atlas has stepped up its services to stay on top. When the proppants producer joined the market, it was driven by natural gas, which was in short supply and led to stable pricing. Over the past few years, the market has become oversupplied, causing the price to drop significantly. The tremendous oversupply left little room for profit, forcing Atlas to diversify into more liquids-rich markets.
Atlas continues to diversify by being focused on product and service innovation. "One of those innovations is our new low-temperature [LT] proppant used with Atlas Activator for tail-in applications," Valiquette says. Generally when a curable product is placed into a well, the well's natural heat is what gives it the final cure to form a porous plug. However, in a low-temperature environment, the well may not give off enough natural heat and the product needs to be cured by another method. The new Atlas Activator is that method.
The LT proppant, used with Atlas Activator, forms a porous plug that prevents raw material from flowing back into the equipment. This has solved a significant problem for service companies. "What's remarkable about the LT proppant is it requires significantly less activator to cure the product than our competition," Executive Vice President Cody Wickersheim notes, "thereby being more effective and less expensive." Wickersheim says he firmly believes the LT proppant used with Atlas Activator has proven to be the most effective new product on the market.
The company is adding to its salesforce, expanding its distribution and doing everything in its power to operate its business as efficiently as possible. Atlas has transload facilities in George West, Texas; Gonzales, Texas; Etter, Texas; Oklahoma City, Okla.; Medicine Lodge, Kansas; Hobbs, N.M.; Midland, Texas; Minden, La.; Upton, Wyo.; Berthold, N.D.; Lordstown, Ohio; and Grand Prairie, Alberta, Canada. The company is constantly exploring more options to better serve its customers, wherever they are located.
Two Companies, Two Big Hearts
Both Badger and Atlas have a tremendous sense of public duty for their communities and the environment. Atlas recently voluntarily upgraded its equipment to improve its air emissions and works with Badger to reclaim the local area to support native prairie conditions.
"When we're done, we want the reclaimed areas to look as good, or better than, the condition they were in before we started mining," Ryan affirms. "My favorite spot on our website is where you see the before-and-after photos of the mine sites we have reclaimed so far."