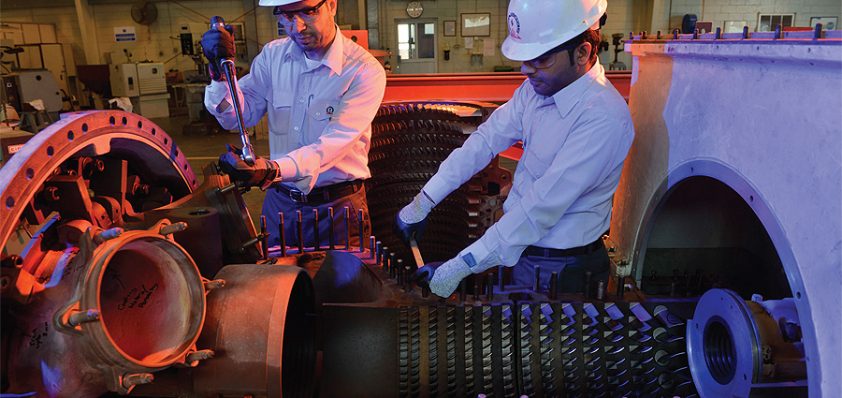 Bahrain National Gas Company
A expanding process
Inaugurated during December 1979 by His Highness Shaikh Isa Bin Salman Al-Khalifa, the late Amir of Bahrain, Bahrain National Gas Company B.S.C. (BANAGAS) was established as part of the Kingdom's Associated Gas Project – marking a major step in the Government of Bahrain's determination to use energy effectively. The first shipment of 5000 metric tons of butane was made in March 1980 and since that date the company has continued to produce products conforming to the highest international specifications that are subsequently are exported worldwide.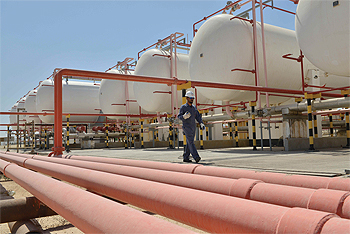 "The Bahrain National Gas Company was initially founded to process 110 million standard cubic feet per day (MMSCFD) to produce propane, butane and naphtha, which are exclusively manufactured for the export market," elaborates BANAGAS General Manager of Production, Khalid Ahmed Abdulkarim. "During our history we have grown in response to additional associated gas that had become available within Bahrain and started expansions and debottlenecking works until 1990 when we built an additional processing plant. This also included further compression facilities and storage areas, which enabled us to significantly increase our processing capacity so that today we are processing around 300 million standard cubic feet of gas."
Today BANAGAS operates two LPG plant facilities to recover propane, butane and naphtha from associated gas originating from oil wells as well as from refinery off gas. Liquefied propane and butane are transferred to refrigerated storage tanks located at the Sitra Wharf area for ship loading, while naphtha is sent to the Bahrain Petroleum Refinery (Bapco) for storage and subsequent export. Residue gas resulting from the extraction process is used as fuel for BANAGAS furnaces and gas turbines, while the rest is supplied to Aluminum Bahrain (Alba), Riffa Power Station and the Bapco Refinery. Around 250 million MMSCFD of residue gas is created per day and represents 20 per cent of Bahrain's daily fuel gas consumption. In addition to increasing the capacity of its gas processing plants, BANAGAS has also further expanded its gas compression capacity by adding new compressing facilities in 2004 and again during 2014. The company currently maintains a total of seven compression stations that carry low-pressure associated gas to the central gas plants for processing.
While BANAGAS works to ensure that it continues to grow its processing capacity in line with growing industry demand, the company assigns the highest priority to the safety and professionalism of its operations, as well as to social responsibilities. "I think that the company's main strength is that we have an experienced team of top management, as well as a culture of teamwork throughout the business. We have operated within the processing industry for a long time and developed a solid base of knowledge and experience, which is supported by highly qualified employees. This has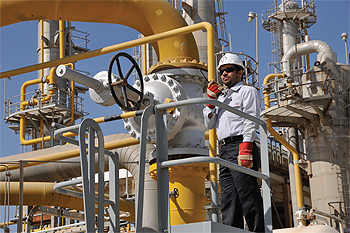 enabled us to achieve an excellent operations and safety record.
"In terms of the work that we do, we also have a robust tendering process and this guarantees successful projects as well as complete customer satisfaction. Our level of production is relatively small when compared to our neighbour in the region, which is good for many of our customers. Our port facilities for example, are able to receive both smaller and medium to large vessels and this gives us a certain strength as smaller vessels may not be able to find a port within the region as they tend to deal with very large carriers," Khalid elaborates.
"With regard to our social responsibilities, we operate many projects and initiatives and this is a growing culture within the business," he continues. "Over the years there have been many projects to which we have contributed, of course these can be through the financing or sponsorship of projects and activities. However we concentrate more on working with the Ministry of Education, public schools, universities, special need groups and charities where we can make a real contribution. We also work alongside organisations focusing on the environment and social programmes."
During the coming years BANAGAS will be focused on the execution and development of its latest round of expansion projects, while continuing to develop an on-going series of maintenance projects. Although the decreased oil price has had a significant impact on the market, Bahrain National Gas Company continues to demonstrate that the company is a vital part of the world's energy solution. "Over the next 12 months we will be very busy with our two main projects, while in 2018 we will be focused on commissioning activities and operating the new plants," Khalid concludes. "The challenge for us will be to implement the operation of the new plants both on time and on-target without any delay. We will also observe the market and hopefully see some improvement in the price of oil over the coming years, while continuing to execute our on-going modernisation projects."
Bahrain National Gas Company
Services: Operates LPG plant facilities to recover propane, butane and naphtha