Baker Hughes Drilling Fluids
Fluid ascent
Supplying many of the major players in the industry, Baker Hughes Drilling Fluids (BHDF) is committed to providing the most effective, efficient and environmentally friendly range of drilling fluids on the market.
The company, which is a division of Baker Hughes, designs drilling and completion fluids as part of an overall drilling and well plan, to ensure maximum productivity and minimum wellbore damage. The organisation has offices the world over, which cover all of the major oil and gas exploration territories.
The company's expertise is perhaps best illustrated in the areas of reservoir well and environmental services. The former has seen BHDF deliver best in-class technology to assist its clients in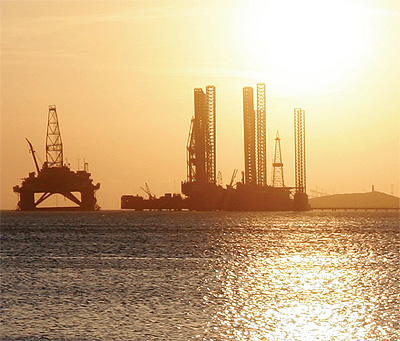 meeting production targets in a cost effective manner. It offers products ranging from pioneering drill-in systems, highly efficient displacement spacers and software, to a comprehensive range of completion fluids services and unique remediation systems. BHDF combines its people, products, infrastructure, and service to provide high efficiency in the drill-in and completion phases while driving exceptional incremental value in reservoir production.
In today's ecologically aware society there is a great deal of pressure to reduce waste and the damage done to the atmosphere – not least in the oil and gas industry. As a result environmental responsibility has become a key driver for BHDF. The company places major emphasis on understanding regulations and offering services and products that adhere to critical HSE standards and global regulations. The advances made by BHDF have seen it take up a position of market leader in the areas of cutting re-injection systems, cutting dryers, cuttings handling equipment and integrated fluid management systems.
Speaking to European Oil and Gas Magazine, Alan Austin, director at the company's site in Aberdeen, outlined the latest developments at BHDF: "The company has just invested $2 million on the laboratories in Aberdeen and Houston to prepare our technology sectors for the research that will be carried out on reservoir drilling fluids and to optimise the production from reservoirs for our clients. We are also expanding our FES product line (fluids and environmental service), which involves waste treatment and the handling of rig waste.
"We are currently building a new eco-centre in the UK where we will be able to develop new technologies and we are in the process of expanding that range, it is an area that we expect to grow rapidly. As this industry further develops and legislation gets tighter, the treatment of waste will expand. We are gearing up to participate in the sector and to provide solutions to our clients."
The site in Aberdeen is the location for one of the company's three technological centres, with the others situated in Houston, Texas and Kuala Lumpur. As the hubs of BHDF's research and development programme, they share and collaborate information to provide a global service to its many clients. The centres have been responsible for a number of innovative products and solutions; not least the Rheo Logic System that enables advanced drilling performance in critical applications. Such is the quality of the product that it was named as the winner in the best fluids category at the annual World Oil Technology Awards 2007. It has helped many of BHDF's US clients reduce mud loss costs and is scheduled for release in the North Sea area later this year.
BHDF's renowned Micro-Wash technology is also scheduled to be made available to the company's many North Sea clients in the near future. The system removes screen blockage, wellbore emulsions, filter cake and filtrate damage, which can cause shortfalls in production or lack of investment return in damaged wells. Micro-Wash is designed to remediate reservoirs previously drilled with oilbased mud. It starts working immediately to make oil and emulsions soluble and positively alter the filter cake and solids. The typical result is vastly improved production or injection rates
in previously damaged wells.
Part of BHDF's success has been based on its ability to adapt to new market trends, thus securing dominant positions in emerging sectors of the oil and gas industry. Commenting on recent changes, Alan reveals: "What we are seeing is that our clients are beginning to look at high pressure and high temperature wells. We are currently in the process of finishing the highest temperature well ever drilled in the North Sea. When that is completed the rig will be moved to Norway where two further high pressure and high temperature wells will be drilled, so we are taking our expertise worldwide."
Alan is also keen to stress the importance of being part of an oil and gas company that is renowned all over the globe. Speaking of the relationship that BHDF has with the various other segments of Baker Hughes, Alan says: "Because we are part of a larger service group, we are able to liaise very closely with Baker Oil Tools and other divisions. By doing this we are able to provide a more holistic approach to our clients rather than just a single product. Our relationship with Baker Oil Tools, is very close as it has the equipment to bring a reservoir into production. We work with them to provide the best fluid solutions that cause the least damage and will have the least impact on their production equipment."
As well as finding solutions and technologies that cause a minimal impact on the atmosphere, Alan cites the average age of personnel in the industry and the conditions of the UK market as issues that BHDF will need to overcome in the near future. "The sector in Britain is flat and has been for sometime. One of the other challenges is also that we are working in an area that is experiencing massive growth and yet most of the employees are in their late 40s or early 50s. However, we have an active plan in place at present that is actively addressing the concern of an aging workforce. This includes the hiring and training of a large number of young trainees on a regular basis," he states.
Not that Alan is downcast; the company is, after all, operating successfully in an industry that is positively booming. Looking forward, he concludes: "One of the main areas of growth will come from supplying tailored solutions for our clients in reservoir drilling. The investment that has been made into the UK technology laboratory will enable us to do that. As well as representing a sector where we can grow it is also an area of differentiation between our competitors and ourselves. We also see large growth in the fluid environmental services sector, where we are developing new technologies and building a new eco-centre. These developments will allow us to offer our clients a one-stop shop service for all of their needs."
Baker Hughes Drilling Fluids
Products Advanced drilling fluids