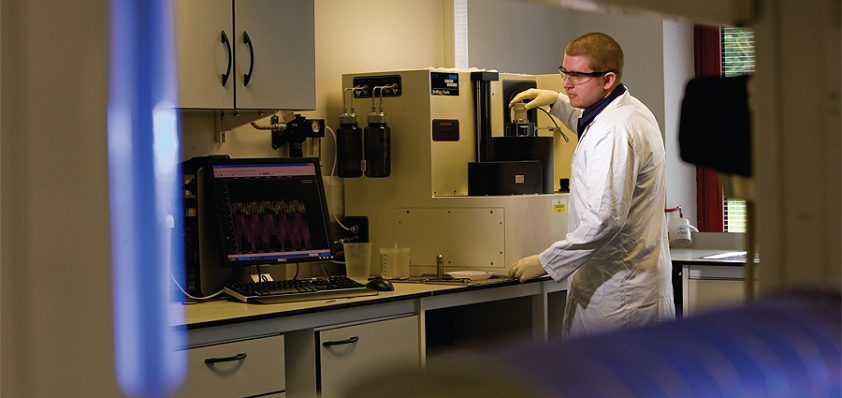 Baker Hughes Drilling Fluids
A drilling prospect
Baker Hughes has a century-long tradition of technology innovation in the oil and gas industry.
In 1907, Reuben C. Baker developed a casing shoe that advanced well cementing operations and launched Baker Oil Tools. In 1909, Howard R. Hughes, Sr. patented the first roller cone drill bit, which made it possible to drill through deeper, harder rock and which gave birth to the Hughes Tool Company. By the time the two companies merged in 1987, they were both global oilfield service leaders with many innovative product lines. Since then, the company has continued to grow through acquisition and internal investment. Today Baker Hughes has worldwide operations in more than 90 countries. The company is organised in three segments: Drilling and Evaluation, Completion and Production and Reservoir Technology and consulting.
The Completion and Production segment comprises of divisions that apply their products and services primarily during well completion, field production, transportation and refining processes. Operating divisions in this segment include Baker Oil Tools, Baker Petrolite, Centrilift, and the ProductionQuest.
The Reservoir Technology and Consulting segment focuses on helping customers understand their reservoirs and applying technology to create the most value from them. This segment includes two consulting firms, Gaffney, Cline & Associates and GeoMechanics International.
The Drilling and Evaluation segment provides products and services to support the drilling process, improving efficiency, reducing risk and acquiring accurate information. Operating divisions within this segment are the Baker Atlas, Hughes Christensen, INTEQ and Baker Hughes Drilling Fluids (BHDF).
BHDF is dedicated to providing the most effective, environmentally safe fluids available. These products aim to optimise the wellbore construction process and increase production for clients. The company's team of experts design the drilling and completion fluid systems as part of an overall well plan, with the aim of maximising project efficiency and minimising wellbore damage. In this area, Baker Hughes has a proven record of meeting its clients' specific fluids needs.
Headquartered in Houston, Texas, BHDF also holds a fluids technology and marketing group in Aberdeen, which shares the same principal roles and activities as the head office in Houston. The technical staff at the Aberdeen office work with advisors based in Houston to provide the delivery of technical expertise on location. These extensive technical support services are made up of laboratory services, research programmes, product management, and software and model development management.
Baker Hughes Drilling Fluids provides drilling fluids, reservoir services, and Fluids Environmental Services (FES). The drilling fluids product line includes speciality fluids, emulsion fluids, water-based fluids, engineering software and technical support services. As part of its speciality fluids product line, the organisation offers a complete line of innovative speciality products that can be suited to any drilling need. These vary from basic components for controlling lost circulation, maintaining shale control, and providing downhole lubricants to the more exotic products designed to prevent differential sticking in demanding wells.
Among these products is Black Magic, the pipe-freeing agent that had its first successful application in the 1940s. Black Magic spotting fluid has been widely recognised as the drilling industry's finest product for successfully freeing differential stuck pipe. It has spawned an entire range of Black Magic products to meet varying applications: Black Magic Clean is an environmentally-safe spotting fluid; Black Magic LT contains a premium-grade asphalt compounded in a low-toxicity mineral oil; Black Magic Phalt-free is a non-petroleum based fluid with no asphalt and finally, Black Magic SFT is a powdered mixture of optimum-sized air-blown asphalt, lime, fatty acids and dispersants.
BHDF is also committed to delivering the best possible reservoir services technology to assist its customers in meeting their production targets in a cost-effective way. This involves heavy investment in equipment, technological expertise, software, R&D, and the right personnel. The goal is to provide tailored solutions through systematic planning, world-class expertise, and a comprehensive knowledgebase, all of which are backed by industry-leading technology pioneered in the R&D departments.
In order to meet the growing demand for energy, it is essential that operating companies increase the production from their existing fields and continue to explore new reserves under increasingly difficult conditions. BHDF understands that these changing dynamics in the world of reservoir services and completions mean that the company must tailor its products to ensure they provide the best service possible, as well as dedicating resources and personnel to developing new innovative products to meet the increasing demand in this sector.
The organisation's goal is to assist clients in realising the full potential of their wells by ensuring that the reservoir section is properly drilled and completed, through the protection of the formation from damage, which will also extend the life of the reservoir. BHDF also focuses on looking ahead, and can provide remediation services for most damage mechanisms. From groundbreaking drill-in systems, highly efficient displacement spacers and software, to a comprehensive range of completion fluids services and unique remediation systems, BHDF combines the personnel, products, infrastructure, and services to provide high efficiency drill-in and completion phases while driving increased value in reservoir production.
Baker Hughes' dedication to producing pioneering drilling fluids systems was recognised at the World Oil 2008 Technology Awards, where it won the award for Best Production Technology for its Micro-Cure system. The system is a proprietary remediation solution, designed for cased and perforated completions to eliminate associated damage mechanisms. The action of Micro-Cure removes skin damage, allowing the reservoir to flow at its maximum potential, which in turn increases production rates to their optimum level.
As part of BHDF's sustainable future strategy, it aims to help protect the environment for future generations, which is paramount to the success of the oil and gas industry. BHDF's Fluids Environmental Services (FES) has implemented a programme that reflects its strong belief that economic progress and industrial development should not compromise a prosperous ecosystem. For this reason, BHDF has dedicated its R&D department to creating innovative cost-effective solutions that will address the industry's environmental responsibilities.
BHDF provides products, equipment and services that are designed to mitigate or eliminate the environmental impact of the oil and gas exploration industry. Baker Hughes has the aim of becoming the industry leader in the future, and is an environmentally responsible member of the global community, allowing the company to grow and develop accordingly as the industry changes.
Baker Hughes Drilling Fluids
Services Drilling fluids products and services for drilling and completion