Intelligent solutions
For many years the Norwegian market has yielded numerous opportunities for exploration, and in turn fuelled the development of advanced drilling and oilfield technologies to support these operations.
One development, the Troll field, has significantly strengthened the oil service industry both in Norway and internationally, and has demonstrated what can be achieved by the combined efforts of some of the sector's leading players.
One of the key technological developers for the Troll field, Baker Hughes INTEQ, has been a leading innovator in the Norwegian sector for more than 30 years. Barry Jones, sales and marketing manager INTEQ Norway, gives more detail on the business: "We have been in Norway since the 1970s in various guises, before ultimately becoming part of the Baker Hughes family in 1993. Our business consists of providing the vast majority of the major operators in the local sector with drilling and evaluation solutions, including directional services, Rotary Steerable services, applications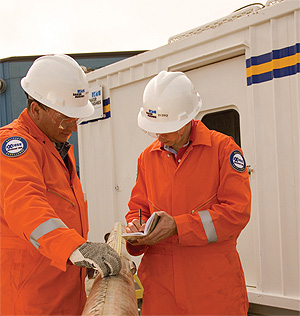 and engineering solutions, and technical support."
Nic Jepson, business development manager INTEQ Norway, explains that since the company has been active in the Norwegian sector, its drive for innovation has been perfectly matched by the demands of the market: "The Norwegian Continental Shelf, and the operators based in the region – particularly StatoilHydro – have been instrumental in the development and commercialisation of new technology and services. The high rig rates and rich drilling environment since the early 1970s has enabled us to develop a large portfolio of technologies and services that we maintain and repair at our local facilities in Stavanger."
The company has worked with the leading players in the Norwegian sector, co-operating closely to develop technology for specific demands: "Our key clients include StatoilHydro, with whom we have a large history of recordbreaking achievements, BP, and many others," says Nic. "Norwegian operators are predominantly focused on two key areas in terms of exploration technology. They want us to provide real answers while drilling, so that they can position their wells in the most accurate way possible. Secondly, it is very important that we are totally aligned with them so that we can minimise non-productive time (NPT) and increase reliability. Consequently, we ensure that our technology and services provide maximised performance and minimised downtime in every operation."
This co-operative work ethic has seen Baker Hughes INTEQ work alongside many of the industry's leading players to develop technology that has made projects such as the aforementioned Troll possible. In this instance, the business worked with StatoilHydro: "They have been instrumental in the development of many of our key technologies since the mid 1990s," says Barry. "This includes early pioneering work in Rotary Steerable systems, and the AutoTrak product in particular."
The AutoTrak rotary closed loop system combines the attributes of speed, precision and reliability into an integrated drilling and MWD/LWD system that provides precise directional control with continuous drill string rotation. Using the latest technology, the system considerably improves performance and hole quality in directional wells, giving clients lower drilling costs, improved well productivity and easier access to oil and gas reserves.
"AutoTrak has been a huge success story, both for INTEQ and StatoilHydro, in enabling drilling at the Troll field," Nic explains. "It offers significant advantages to operators in that it has made complex wells so much easier to drill in the correct place and with amazing accuracy, which in turn increases overall production and recoverable reserves. These advantages have been well highlighted at Troll. On this particular field there was a very thin oil layer, where the ability to steer within a 30 centimetre accuracy allows optimised production, and this would never have been possible without AutoTrak."
Aside from this, Barry explains that the company has a number of other innovative technologies in its portfolio: "A product that goes hand-in-hand with AutoTrak is our reservoir navigation solution, which uses real-time data whilst drilling that enables our specialists to analyse, and subsequently alter, the drilling position accordingly. Now that we can place the wells so precisely
geometrically we can drill to almost any point in the reservoir. This combined with formation evaluation technologies such as AziTrak, the new Integrated Azimuthal Resistivity tool, means that we can really maximise the hydrocarbon recovery potential for our clients.
"In addition, we have been at the forefront of the industry in terms of delivering real-time remote operations services for customers," he continues. "Named Beacon, this service comprises advanced remote control technology that operators and experts can use onshore to remotely control tools and operations downhole. The potential of Beacon is such that it can be used effectively thousands of kilometres away."
Much of INTEQ's success in Norway comes from the manner in which it has integrated itself in the local market, working closely with its customers and fully adopting local practices. Nic explains: "Over the years we have built up a very large workforce here that predominantly consists of highly skilled local Norwegian workers. Culturally we have adopted a strategy that is closely based around the requirements of our clients, and of the Norwegian market, and we are very proud of what we have managed to achieve. It really is a long-term commitment that we have here, and we hope that we can carry this forward."
Looking ahead, Barry believes that the wealth of exploration opportunities in Norway will yield further success for the company: "I think that it is no secret that we are in growth mode here in Norway, and we see no reasons to expect any change in the positive attitude of the Norwegian operators towards new, innovative technology.
"It is my belief that the increased plans for exploration will also have a positive effect on our technological developments. Much of this will be centred around the fact that due to increasing rig and drilling rates, everyday that is spent exploring has to be managed in the most efficient and cost-effective manner, whilst maximising the information available to the clients. Accordingly, some of the areas that we are particularly focusing on for the coming years include advanced telemetry to ensure that we get as much data up the hole as quickly as possible. Most importantly, we are seeing a huge investment in the sector, including the opening of the market to smaller independent companies, which is signalling a new, exciting era for the foreseeable future," he concludes.
Baker Hughes INTEQ
Products: Drilling and evaluation services