Balance Point Control B.V.
Well balanced
Balance Point Control B.V. (BPC) is a leading provider of hydraulic workover (HWO), live well intervention or snubbing, well control and E-Line/slickline services to the international oil and gas industry, including major exploration and production companies.
Initially founded in 1999, BPC has continued to grow and develop year on year, today operating three facilities including its headquarters in the Netherlands, a wireline base in Celle Germany and its newest site in Aberdeen, UK. Primarily focused on the European offshore market, where the company has built up a strong market share, BPC became part of Superior Energy Services in 2007.
Mike Graham, business development manager based at the Aberdeen site, describes BPC's key strengths: "We have the ability to tailor our products and services to a clients request. Unlike some of our competitors in the market which offer standardised products, we look at exactly what clients want and if we don't have theappropriate equipment already, we will build it. This customer-focused approach means that we have gained a high proportion of repeat clients. Our closest competitors within this sector are multi faceted service companies, whereas BPC has been built with a focus purely on HWO operations and snubbing. As a result we have accumulated a strong portfolio of HWO and snubbing units, including those designed and built to our own specifications, and years of expertise in pressure control operations. Being part of Superior Energy Services has given us the ability to call on its manufacturing capabilities, particularly through our sister company ISS, a snubbing company with a manufacturing facility in Australia, which is a real advantage."
At present BPC's clients are split between offshore companies such as Apache, Nexen and Wintershall, and onshore based names, including SSE (Scottish and Southern Energy) and Gasunie. "Primarily we work with these clients on gas storage projects, where we can offer a full service," explains Mike. "This includes completions, snubbing operations and heavy duty HWO's. A recent addition to our product service lines has been the acquisition of a suite of wireline and slickline units which now allow us to include cavern mapping, monitoring and sonar services. Recently we have completed an extensive HWO campaign for Apache North Sea, culminating in the successful workover of the 24th well. During that campaign we worked over an ESP well in less then nine days, which is a major achievement."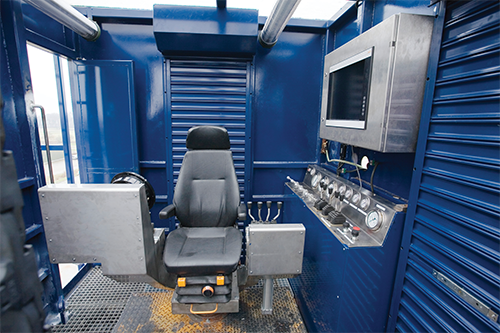 Snubbing opens up the possibility of running tubular on live wells, which allows interventions and repairs to be performed on live wells reducing costs and downtime. In contrast HWO operations are carried out on killed wells, although they are executed using the same equipment as snubbing operations. The innovative design of BPC's units means that they are able to work in locations where a small footprint is required in both onshore and offshore applications. Quality and safety are primary concerns of BPC with all its equipment built according to ATEX 95 regulations and German DIN requirements and are ISO9002/14001 certified. Describing one of BPC's latest innovations in this area, Mike says: "We have developed a sophisticated data acquisition system which is second to none on the market. Integrated within the set-up is a safety system of interlocks which enable us, on location, to control, monitor and record all of the pipe handling, well data and well control equipment functions. This can be locally from the unit but also remotely from a client's office."
Having established itself within the European market, BPC is turning its attention to the UK with a focus on three key areas – gas cavern storage, offshore workover operations and abandonment and decommissioning in the North Sea. In line with this BPC opened a new office and equipment storage facility in Aberdeen in November 2010, providing it with a local presence in the market. "In order for us to provide the most efficient service to our UK clients, we felt it was vital that we established a local base of operations. The Aberdeen facility is located in the same building as anotherSuperior Energy company – Wild Well Control. Given the complimentary synergies between well control and snubbing operations and the complimentary focus on decommissioning, we feel that this relationship could be very beneficial to BPC. We have a plan in place for the development of the Aberdeen facility with an ultimate goal of establishing a base with offices, a maintenance and storage yard, workshops and test well," says Mike.
With BPC targeting the North Sea industry as an area for expansion, Mike goes on to describe the potential of this market: "Certainly we see a continued opportunity for the business within the gas storage market. In terms of the North Sea sector, we have identified a niche within the market for our services. Financial pressures mean that increasingly major oil operators are looking at the economic viability, particularly with older platforms, of keeping a derrick on the platform permanently and ensuring it remains operational for the quarterly, or even bi-yearly, workover operations. In contrast one of the major advantages of our approach is that our units can either remain on the platform on contract, or can be brought in to carry out the work as and when required. In financial terms, this is a real benefit to clients as the maintenance and operational upkeep of the units are covered by BPC, so this is an area that we are really focusing on."
Combining operational performance with state-of-the-art engineering, BPC continues to lead the way in pressure control operations, and with its new Aberdeen office is expecting high levels of growth. Turning his attention to the future of the business, Mike concludes with his ambitions for the company: "We would like to see ourselves as the preferred supplier for HWO services in the North Sea and to that end we would envisage having three or four HWO units fully operational in that market at any one time. At present we have on-going contracts with Apache and SSE, which we plan to build on going forwards."
Balance Point Control B.V.
Services: Hydraulic workover, live well intervention – snubbing, well control, E-line and slickline services.