Liquid assets
Baltic Chemical Terminal (AS BCT) started providing liquid chemical fertiliser transhipment services in 2008 by putting into operation the high-tech terminal designed to handle over one million tonnes of ammonia and one million tonnes of urea-ammonia nitrate solution (UAN).
The high quality of the services provides top-level safety and contributes to AS BCT's successful operations in the Port of Sillamae, Estonia, located 25 kilometres from the Russian Border. The geographical location, Free Zone Status and a possibility to release goods into free circulation in the EU member states allow AS BCT to offer its customers the best co-operation terms.
"The market for liquid fertilisers is relatively stable. We have seen a moderate increase by six per cent in terms of volume over the last 12 months, although we have not undertaken any major construction activities that are attributable to this. We added a different type of UAN tank a year ago and that was our last investment, but since then we have been addressing procedure and support surrounding this. We are currently in the process of upgrading control systems but also adding some additional measurement instruments that can actually be submerged in water, bringing the older tanks in line with more modern data technology. The tanker market is actually full of growing potential for the business," says Aleksandr Volohhonski, chairman of the board.
Within seven years of operations the company increased its tank storage capacity to 140,000 tonnes: two ammonia tanks of 30,000 tonnes capacity each and four UAN tanks of 20,000 tonnes capacity each. The service range was additionally extended by using specialised containers for UAN transhipment: IBC, container tanks, flexi-tanks and providing ammonia polyphosphate (APP) transhipment services.
"There has been substantial plans and developments within the port area and we have taken an active role in the preparation for these activities. We have been busy developing a measurement station that records what type of products are released into atmosphere. There is also activity surrounding the construction terminals around us. Although we have not undertaken any major projects we have focused on our own systems, working to ensure their functionality and making minor product adjustments as we look for continuous improvement," explains Aleksandr.
With access to nearby EU port facilities benefiting from deep-water and ice-free port with a natural berth depth of 13 metres, harbour waters protected from winds by a 1km long pier make navigation possible 365 days per year. The free custom zone and the possibility to release goods into free circulation in the EU member states are all benefits that the business and its customers enjoy. The quality and safety level of the services provided by AS BCT conform to the EU standards and requirements and the company has implemented an integrated management system confirmed through certification. ISPS certificates owned by the Port of Sillamae and compliance with the highest EU environmental requirements ensure sustainable growth of freight flow for the port.
The integrated system is successfully functioning at AS BCT. Its efficiency is confirmed by regular audits performed by Lloyds RQA and operations undertaken by the business are supervised by the international governing body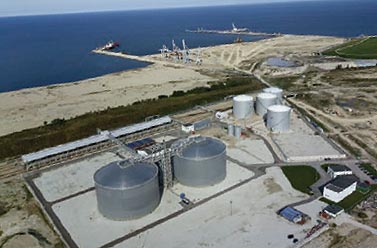 as Aleksandr says: "We are not producing the recommendations ourselves, we are clear on the international supervisor's conditions, which is quite clear to our clients, and our staff are willing to respond to any problem and offer advice when required, above and beyond our main business interests. This approach to business helps bring the client to us, but also helps us ensure that the level of service within the industry is up to date.
"We have a policy within the company that allows us to make specific investments ourselves, and if customers wish for us to add an additional cargo that is not already on our list then this is something we are able to do." System improvement of the integrated management system efficiently results in compliance with the established and approved requirements, valid regulations and growth of the company's success. There are many advantages of liquid fertilisers over dry, particularly in the warmer regions such as Africa where there is a requirement to add water. It is this versatility that has placed the product in high demand.
"Demand from the industry has been very high and in terms of UAN we are looking at doubling our capacity. However, the industry does of course depend on famers replacing machinery from dry fertilisers or liquid fertilisers. We cover a region that stretches from Australia to Latin America and there is some question of how to transport it, as many terminals are not equipped for the intake of fertiliser cargo. One solution we are looking at is how to transfer into normal containers or tank containers, although this does work out to be more expensive," Aleksandr points out.
The company is one of the few that operates in liquid ammonia. The product is not particularly easy to construct and there are not many competitors. Commenting, Aleksandr says: "We are a modern terminal, built by modern technology and we have a lot of reserves for safety. We currently exceed all recommendations and regulations in place so we are prepared for any increase in tougher regulations. All our equipment is expandable, so for us, if there is a requirement to add a new product, it is easy for us to do without having to rebuild a terminal."
As the company looks towards the future, Aleksandr explains that one main aim of BCT is focusing on the continued improvement of control systems in terms of safety: "We have been doing this heavily over the last two to three years and we have a strong desire to continue in this way. Expanding our product list and the products, which we can handle is also set to play a major part in our focus for the future. However, this is not the easiest thing to do as a large specialist chemical terminal and we want to avoid entering the oil market. There is some development with add on fertilisers and hopefully there will be some investments on that side, particularly within ammonia, and some additional asset investment."
Baltic Chemical Terminal
Services: Liquid chemical fertiliser transhipment