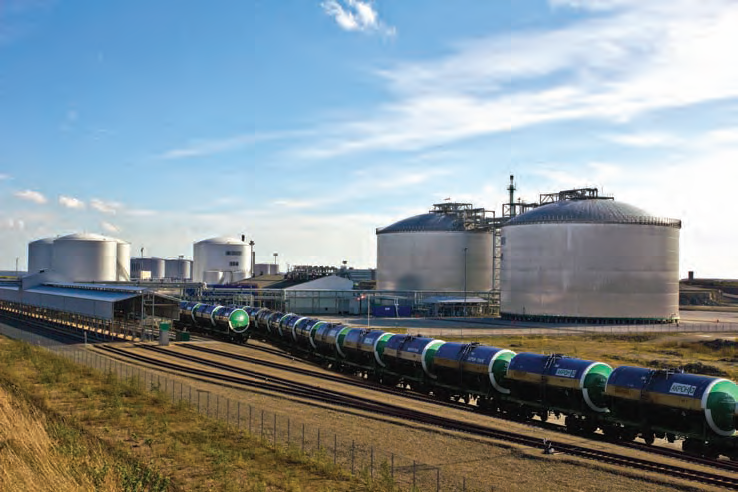 Sustaining growth
Since its inception in 2007, Baltic Chemical Terminal's (AS BCT) success has reflected the rapid growth in the chemical terminal market, with 3,000,000 tonnes of chemicals handled on-site achieved on 19th January 2013.
This is an impressive feat for the state-of-the-art Estonia based terminal considering its milestone of 2,000,0000 tonnes was reached in early 2012. Used for the storage and transportation of urea-ammonium nitrate solution (UAN) and liquid ammonia, the closed and fully automated high-tech transshipment facility was developed from an environmentally friendly concept and designed utilising the most innovative technologies.
Aware that a technologically advanced terminal is nothing without excellent service, AS BCT takes each customer's unique needs into consideration, and maintains an open dialogue with both clients and third parties such as port authorities, railway, safety departments and governmental bodies to ensure customer satisfaction is maintained. The privately owned company can also offer swift decision-making and fast execution, thus offering its customers an efficient and flexible service. Furthermore, the terminal's advantageous location on the Port of Sillamae means it is a mere 23 kilometres from the Russian border; it is the nearest and deepest port between the Russian Federation and the European Union and, with a depth of 13 metres, it allows the largest ships capable of entering the Baltic Sea through the Danish Straits access at any time. The port also ensures enhanced cargo flow from its rail connection to Russia.
Built with expertise at its core, BCT's suppliers were chosen for their impeccable skills and knowledge of the industry, which could then be incorporated into the terminal's design; Dutch firm Vicoma BV was selected to carry out basic engineering alongside Proton Ventures, which is known for its experience in the operation of ammonia terminals. These decisions ensured the highest possible standards would be in place once the terminal became operational. Furthermore, the company resourced a highly professional workforce, with long-term experience in the field of cargo transshipment and liquid chemical fertilisers.
Focused on client satisfaction, AS BCT provides an excellent transit service through its advanced chemical terminal that boasts a wide range of facilities including four UAN tanks capable of holding 20,000 tonnes of UAN each, two tanks for liquid ammonia capable of holding 30,000 tonnes each, UAN and liquid ammonia railway unloading areas with an unload speed of 600 tonnes per hour 130 tonners per hour, respectively. Other facilities include an MCC building with a power substation, administration and utility building, ammonia compressor room,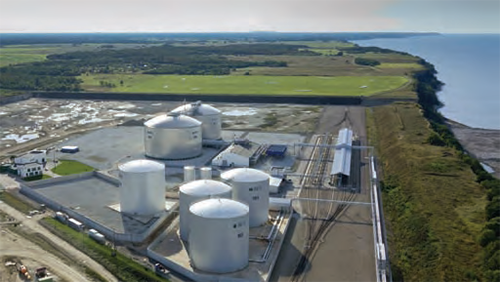 two pump rooms for ammonia and UAN, diesel generator room for ammonia, a series of pipelines for UAN and ammonia, two marine loading arms with a loading rate of up to 1200 tonnes per hour, deep sea berths of up to 13 metres, and a fire fighting complex that consists of a pump room and two fire water tanks with a capacity of 600 cubic metres.
Given the volatility of UAN and ammonia, maintaining health and safety through provision of the highest safety standards is crucial to AS BCT. Complying with the most stringent regulations, the company possesses certificates of IS0 14001:2004 Environmental Management System and OHSAS 18001:2007 Occupational Health and Safety Management System; these are successfully used in the terminal's everyday activities and enable its ongoing improvements. This commitment to safety and quality was proven in June 2012 when Lloyds RQA carried out a surveillance visit to assess the compliance of the Quality Management System and Environmental Management System to the requirements of ISO 9001:2008 and ISO 14001: 2004 standards.
The external audit was highly successful with no non-conformances found in the integrated systems, resulting in the company receiving the OHSAS 18001:2007 certificate on June 15th 2013. The new certificate means the terminal is compliant with all European regulations but also displays its dedication to providing the best possible service. To ensure standards continue to improve, AS BCT has Lloyds RQA audit and verify its compliance twice a year and also performs organised practical exercises in co-operation with the national safety and emergency authorities departments, Port of Sillamae authorities and the Estonian railway twice yearly.
An equal priority for the company is keeping its negative environmental impacts to a minimum through committing to the maximum approval of safe technology and enhancing staff and third parties' awareness of environmental issues and ensuring active involvement in the implementation of AS BCT's environmental policy. Dedicated to consistently improving its environmental management system, the company observes environmental laws and related requirements to prevent environmental pollution.
Having developed a strong reputation as a reliable partner in the field of safe, efficient and sustainable liquid fertiliser transshipment, AS BCT has seen considerable growth, with annual turnover increasing year-on-year since the terminal first began operating. With growth anticipated to continue, particularly with ammonia transshipment terminals becoming increasingly more rare around the world and the expected increase in the liquid chemical fertiliser market coming up over the next few years, the future of the terminal appears positive and secure. However, the company's facilities enable it to meet potential new requirements in the liquid chemical fertiliser field, which offers opportunities to expand into the shipping of a wider product range, both basic materials and more complex chemical liquid formulas.
Baltic Chemical Terminal
Services: Liquid chemical fertiliser transshipment