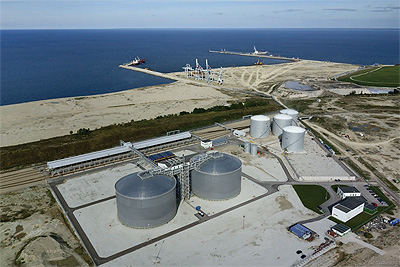 An accommodaing solution
Since it was previously featured by Energy, Oil and Gas magazine during May 2014, Baltic Chemical Terminal (AS BCT) has continued to demonstrate its effectiveness as a state-of-the-art terminal complex for the storage and transhipment of ammonia and liquid mineral fertilisers. Located at the Estonian port of Sillamäe, the terminal went into operation during 2008 and is designed to handle over one million tonnes of ammonia and one million tonnes of urea-ammonia nitrate solution (UAN). The complex draws great competitive strength from its strategic location for Russian ammonia producers, along with its high-technology equipment and its ability to operate year-round while servicing vessels of up to 65,000 tonnes.
The provision of high-quality services and top-level safety procedures further contributes to the terminal's successful operation. Its geographical location, Free Zone Status and a possibility to release goods into free circulation in the EU member states allow AS BCT to offer its customers the best co-operation terms. Therefore despite the shifting fortunes of the global economy, the market for AS BCT remains relatively stable, allowing it to sell into global regions including North America, Northern Europe, Africa, Latin America and Australia.
When the business was previously featured, Chairman of the Board, Aleksandr Volohhonski commented on the on-going development of the site. This included the addition of a new type of UAN tank as well a the upgrading of the terminal's control and measurement systems to bring older tanks in line with more modern data technology. Within the last 12 months AS BCT has continued to evolve and announced several developments that will further strengthen the terminal's position as a leading hub for the storage and transhipment of liquid chemical fertiliser products. For example, it has recently announced the development of a €1.5 million jetty for the transfer of ammonia, which will allow two vessels to load and offload simultaneously, increasing safety as well as the amount of product flowing through the terminal and turnaround. The new jetty is expected to be completed early 2016. "The new jetty will ease the transfer procedure and make sure that there are not blockages in terms of the shipments, vessels arriving and in terms of offloading," Aleksandr says. "We will be working two jetties at the same time and they will be exactly the same size and have the same facilities."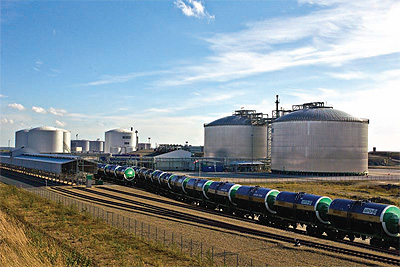 Presently AS BCT maintains facilities comprised of four 20,000 tonne UAN storage tanks; two 30,000 tonne liquid ammonia tanks; a UAN railway unloading area with an unload speed of 600t/hour; an ammonia railway unloading area with an unload speed of up to 130t/hour; MCC building with substation; administration and utility building; ammonia compressor room; two pump rooms for ammonia and UAN; a fire fighting complex consisting of a pump room and two fire water tanks at 600m3 each; a diesel generator room for ammonia; pipelines till quay for UAN and ammonia; two marine loading arms with a loading rate of up to 1200t/hour; and deep-sea berths of up to 13 metres.
AS BCT is operated as part of the Russian owned Acron group of companies, which also owns the Dry Bulk Terminal (AS DBT), located at the Muuga port in Estonia. AS DBT went operation during 1997 for the transhipping of mineral fertilisers and today represents one of the most technically advanced port facilities in Eastern and Northern Europe. AS DBT handles a significant percentage of the Acron Group's exported mineral fertilisers, while the terminal's 288-metre long and 14.5 metres deep berth allows it to service vessels with a capacity of over 70,000 tonnes. In an important milestone for both terminals, it was recently announced that AS BCT and AS DBT are to be amalgamated under a single management structure, which will allow greater collaboration and synergy between the sites.
Throughout all of its operations, AS BCT has enjoyed global growth in all of the products it handles. For example during 2015 the company has experienced a five per cent increase in its liquid business and a ten per cent increase in its dry goods business. "Demand from the industry has been very high and in terms of UAN we are looking at increasing our capacity. However, the industry does of course depend on farmers replacing machinery from dry fertilisers or liquid fertilisers. We cover a region that stretches from Australia to Latin America and there is some question of how to transport it, as many terminals are not equipped for the intake of fertiliser cargo. One solution we are looking at is how to transfer into normal containers or tank containers, although this does work out to be more expensive," Aleksandr observes. Over the coming years AS BCT will continue to seek to expand its capacity, while maintaining high levels of service and flexibility. With its new jetty set to increase the traffic of panama class and smaller vessels using the terminal, AS BCT will continue to gain a reputation as an important chemical and storage hub.
Baltic Chemical Terminal
Services: Storage, stevedoring and transhipment services of liquid chemicals