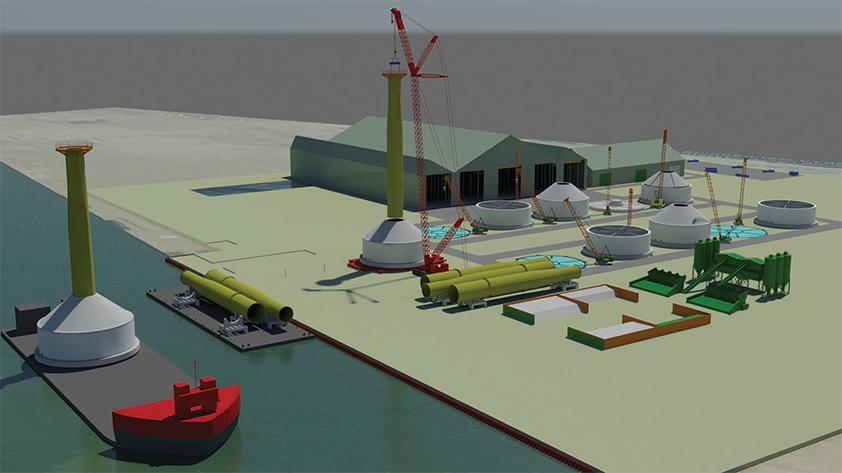 Integrated solutions
There have been major developments for BAM Energie since it was last in European Oil and Gas magazine in 2011; the company has progressed rapidly in the offshore wind programme and completed its product for UK round three, a cutting edge concrete gravity base foundation (GBF), as part of a joint venture with Van Oord.
"The basic design concept of the GBF was completed end of 2012 and was first shown at the Concrete Offshore wind exhibition in December 2012, before we exhibited a further developed version at the Manchester Central Convention Complex's Renewable UK conference in June. We shall also be present at the upcoming European Offshore Wind Conference in Frankfurt. Overall people have been impressed with our design, we have received very positive feedback and are currently entering into tenders with several developers for round three," says Ferry de Bruin, general manager of BAM Energie. "We have also made progress in other areas, such as the tidal market, compressed air energy storage (CAES) and the high voltage sector."
The GBF began life because BAM Energie could see that demand for sustainable energy was only going to increase. As a result BAM Energie, BAM Nuttall and Van Oord Offshore Wind Projects joined forces to develop a product specifically suitable for larger offshore wind turbines in deeper waters. The concept for the GBF was developed from BAM Energie and Van Oord's expertise in the design and construction of immersed tube tunnels and gravity base structures for the oil and gas industry. Working together, the two firms created a self-buoyant hybrid solution, which has undergone model testing and is adaptable for a range of water depths, wave heights and seabed conditions. Consisting of a concrete caisson and steel shaft, the base is cast onshore before it is installed into position offshore using standard vessels, thus eliminating the need for heavy lift equipment. In February 2013, following thorough examination and verification of the conceptual design basis, BAM and Van Oord obtained the DNV Statement of Compliance for the GBF, confirming to both companies that they have found a robust and reliable solution.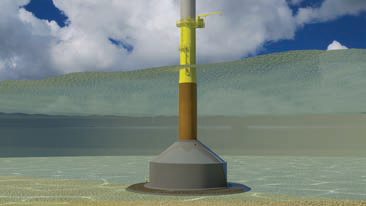 "Our concrete base and steel shaft is a market leading concept at the moment because it is different to our competitors' designs. The combination of the materials leads to a very compact design because of optimal use of materials and a weight distribution that creates a high degree of floating stability throughout the tow and installation phase. Offshore wind is really taking off at the moment in the UK, especially in Scotland for round three, and if our product is successful here our future plans are to sell it in other countries in Europe and around the world," says Sander Overbeeke, project manager for the offshore wind projects.
Having entered the market, BAM Energie has been successful in several pre-qualifications for round three of the offshore wind programme and aims to continue with a demonstration project to prove the capabilities of the GBF solution.
Formed by BAM Civiel, one of the 25 companies operating under the Royal BAM name, BAM Energie carries out multi-disciplinary projects in the energy industry. Serving as the single point of contact, BAM Energie delivers high-quality and sustainable services in the fields of design, construction, renovation, commissioning and maintenance of power stations and related plants. "We have advanced a lot in the high voltage market in the UK, the Netherlands and Germany, which is anticipated to be worth around one billion euros to one and a half billion euros when it comes into fruition over the next three years," says Ferry. "We are teaming up with Cofely Fabricom for this market, who we worked with on a successful waste to energy plant last year, and have already been successful in securing the Randstad 380kV Noordring in the west of the Netherlands. We expect a lot of work coming up in the high voltage market, and being succesfull on other projects as well."
Believing both project and process are paramount, BAM Energie has a strong reputation for offering a comprehensive service package to its customers, which is made possible through the company's own expertise, sophisticated in-house technologies, strategic partnerships and support from sister companies. A recent contract win for the firm is for one of the delivery Lots by SSE electricity transmission network business, Scottish Hydro Electric Transmission PLC (SHE Transmission) as part of a joint venture with the Power Transmission Division of Siemens Transmission and Distribution Ltd. With an initial value of up to £200 million, the framework is part of a major system reinforcement by SHE Transmission to accommodate onshore wind, new offshore wind and emerging marine generation developments, as part of Scotland's ambition for low carbon emissions.
The award for Lot Three includes five new substations, which Siemens and BAM are required to design, manufacture, construct and commission to incorporate site access, platform construction and foundations as well as both AIS and GIS substations. Building on an already successful relationship between Siemens and BAM, the project is expected to start in late 2013 and continue through until 2018. Throughout 2013 the company is looking out for further opportunities in the offshore wind, nuclear power, high voltage and compressed air energy storage (CAES).
BAM Energie
Services: Designs and constructs solutions for the energy industry