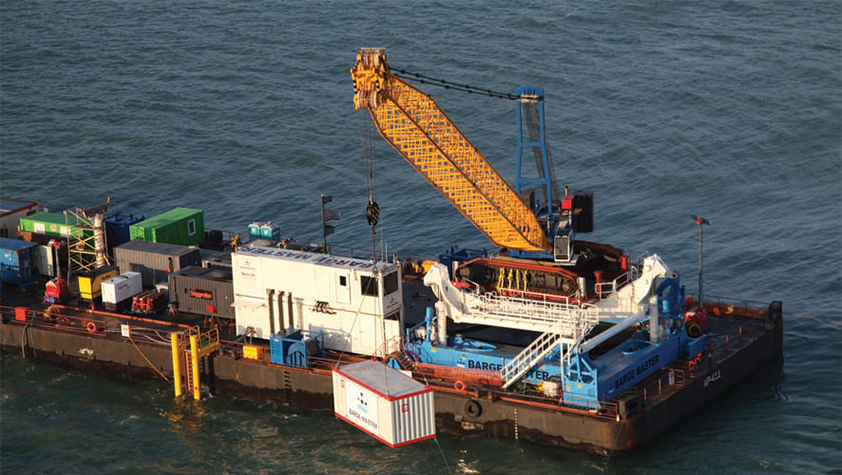 Ruling the waves
It has been an eventful and successful 12 months for Barge Master BV since it was last in European Oil and Gas Magazine, as it has continued with the ongoing developments of its wave compensated platforms for the marine and offshore construction industry.
"There have been some major changes over the past year, the latest being the awarded contract from a large Dutch dredging contractor following its tender win for a major offshore installation contract. This followed the sea-trials last year, which resulted in us passing the testing phase and gaining recognition in the industry for having a system that works," says Martijn Koppert, inventor and director of Barge Master BV. "The system has been Lloyds certified and DNV approved, so we are seeing a lot of interest from major contractors who are using it in their tenders for projects in 2014, 2015, 2016 and so on."
Launched on the 12th December 2012, the BM-001 system is Barge Master's first operational motion compensating platform to provide safety and stability to crane and supply operations offshore. Suitable for all kinds of standard marine vessels and now available for commercial use, the BM-001 will allow cranes to operate in swells up to five times larger than current systems, thus significantly expanding the use of standard cranes and minimising operating expenses and manufacturing costs for offshore projects. Pre-launch, various sea trials were performed in the North Sea alongside maritime contractor GeoSea, using both a crane configuration and the Barge Master as a supply platform. A Liebherr LR1250 crawler crane was placed on top of the Barge Master platform in one single lift before it was sea fastened and tested with a counterweight. The pontoon with the Barge Master was then taken further offshore where a range of load-lifting tests was undertaken in a variety of sea-states and mooring setups. With the Barge Master switched 'on', the crane hook and load hung perfectly still.
"Things are going very smoothly so far, the Barge Master works very well, with 95 per cent motion compensation achieved, it has proven itself through testing in the North Sea as well as with MARIN," explains Martijn. "It has a payload capacity of 700 mT, which means the customer can put a total load of 700 tonnes on it, whether this is a crane with a load in the hook or
a supply load only, the Barge Master will compensate 95 per cent of the vessel motions and can handle significant wave heights of up to two metres at wave periods ranging from five to 18 seconds. It is a modular system and easily mobilised and demobilised due to it being fully containerised with only 12 40-foot containers. Following the success of the BM-001 we have received a lot of interest and requests for custom made systems, due to the Barge Master scaleability and versatility. It can be placed on any vessel and deploy any crane."
With a whole career in marine construction and marine services, Martijn used his engineering expertise to find a way to stabilise the whole crane on a floating barge or other vessels without the use of jack-up legs, thus vastly reducing the dangers and challenges related to crane loads swinging during a swell offshore. "A small movement of a few degrees can be extremely dangerous as it leads to a pendulum effect – when the load on the crane starts to swing due to the moving of the barge. This leads to the crane swinging in a wide arc, even swinging the load over the deck of the vessel, which can be highly dangerous for those on board. From this experience I had the innovative idea of stabilising the whole crane on the barge, and thus, the Barge Master was born," explained Martijn in his last interview.
To develop the innovative system, the Netherlands based Barge Master worked with a range of leading companies as technology partners, such as MARIN Maritime Research Institute for numerical and scale model testing as well as motion behaviour; Bosch Rexroth for the drive and control system, and Temporary Works Design (TWD) for the structural design of the platform and foundations. "For the control system we worked closely with Bosch Rexroth, the number one drive and control company in the world, and we are very happy to work with this firm to develop these systems and they are happy to work with us. In 2010 Frans Van Seumeren, owner of shipping and heavy lifting firms RollDock and Roll-Lift invested in Barge Master and made it financially possible to develop and build the first Barge Master," says Martijn.
To compensate sea-induced motions during offshore and near-shore installation work, Martijn took three of the six degrees of freedom (DoF), one translation (heave) and two rotations (roll and pitch) into consideration before developing three controlled hydraulic actuators. The other three DoFs are compensated through restraining two translations (surge and sway) and one rotation (yaw) of a barge or vessel with the utilisation of a dynamic positioning or traditional anchor system. Using the Barge Master results in increased safety, increased workability, a higher vessel payload capacity and a flexible low cost solution to companies involved in lifting and supply operations offshore.
Having concluded tests and proven the advantages of its game-changing system, the future looks positive for Barge Master as it continues participating at conferences and exhibitions to gain further exposure and potential contracts. "We have expanded our office because we needed the extra space due to increased and expected upcoming demand," says Martijn. "We are also in the process of making a second Barge Master, which is based on the same principle as the Barge Master C400. The Barge Master T40 is capable of compensating a small offshore knuckle/boom telescopic crane with a 20mT capacity; as a smaller example of the Barge Master it will compensate for smaller cranes, resulting in more deck space. Over the coming years our key focus is to develop new Barge Master systems, adaptations and bespoke systems for our customers."
Barge Master BV
Products: Wave compensation platforms