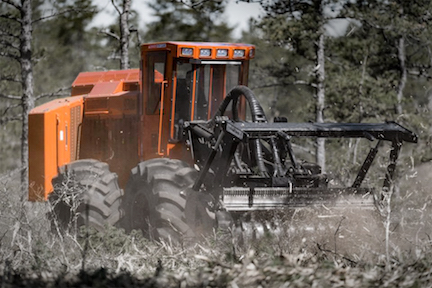 Barko Hydraulics is working to continue to manufacture innovative products for another 55 years and beyond.
Since 1963, Barko Hydraulics has earned a reputation as a leader for innovative forestry and land management solutions. Over the course of its history, the Superior, Wis.-based company has continued to enhance its product offering with cutting-edge technology, providing its customers with a complete line of machines to deliver optimal results for demanding jobs.
From harvesting to loading to land clearing, Barko Hydraulics builds every machine with rugged components that deliver exceptional productivity at an affordable price. Barko will celebrate its 55-year anniversary in 2018. Product Manager Steve Talaga attributes the company's success to having great people who care not only about its products, but also its customers. "A lot of our engineers have come from local universities," Talaga says. "We have an internship program, and some of those who participate join us full-time after graduation. We have a very experienced team as well. Some of our employees have been with us for 40 years."
The company also owes its success to its dealer relationships, adds Marketing Coordinator Katie Grymala. "We have a great dealer network that not only connects with our customers, but they also know their markets really well," she says. Grymala notes that some of Barko's key industrial wheeled tractor dealers include Lynn Hendrix Equipment, Richardson Service, DDI Equipment, Morin Diesel, TraxPlus, Equipment Linc, and ARDCO Equipment.
In addition, President Joel Larsen joined Barko almost two years ago. Talaga notes his role included a focus on the company's products. "We needed to ensure we offered meaningful products to our customers and dealers, as well as excellent customer support, to be successful," he explains. "It really allowed us to refocus and reset our core values to move forward into the future."
Continuous Improvement
Manufacturing innovative products has been key for Barko since its inception. Talaga recalls that Barko was one of the first companies to build a high-capacity merchandising knuckleboom loader built for the forestry industry. The company since then has continued to improve its technology, productivity and fuel efficiency.
Barko also offers high-performing industrial wheeled tractors (IWTs). "They deliver exceptional hydraulic horsepower for mulching jobs, while offering the versatility to tackle many other applications with different attachments," Talaga explains. "You can use these machines for right-of-way maintenance, vegetation management, site preparation and land clearing."
The company offers its IWT in two models, the 930B and the 937B. "They are similar machines overall, but the main differences are the machine horsepower and the attachment pump hydraulic flow. The 930B has a 320 horsepower Cummins Tier 4 Final engine, while the 937B has a 380 horsepower Cummins Tier 4 Final engine," Talaga says. "The 930B has 91 gallons per minute (GPM) of hydraulic flow to the attachment, and the 937B has 113 GPM."
In addition, Barko offers track harvesters and feller bunchers. The track harvesters and feller bunchers are built from the ground up to provide exceptional performance, using extensive input from experienced forestry professionals and come equipped with responsive operator controls that can be set to the operator's preference. "We offer both track machines in two models, the 240B and 260B," Talaga notes. "Both of those models are offered in three different configurations, which include a fixed harvesting head, a dangle harvesting head and a felling head. The main difference between the 240B and 260B is their undercarriage sizes. Both models are also offered with mulching heads for site preparation, right-of-way-maintenance, and vegetation management."
Barko prides itself on gauging its customer and dealers' feedback to find out how it can make its machinery more efficient for them. "We want our machinery to be more productive and easy to operate," Talaga says. "For instance, we want to ensure there are comfortable operator cabs, good visibility from the cab and excellent serviceability. We also incorporate many easy-to-get-to components as well as convenient access panels."
Looking Ahead
Barko Hydraulics aims to grow strategically as it moves forward. "We're looking at our product offerings and making improvements, and developing new innovative products," Talaga notes. He adds that Barko is also investing in people.
"We're recently filled some open positions we had by hiring manufacturing engineers and a few assembly technicians," he explains. "Our shop has come a long way, especially in the past few years. We have invested in our operations to make it easier and safer to manufacture our products from initial assembly to final testing before they are shipped to a customer."
Ultimately, Barko is working to continuously provide meaningful products to its dealers and customers. "We want to build upon the reputation Barko has been known for productivity, innovation, operator comfort and efficiency," Talaga explains. "For example, we designed the purpose built 270B Processor to help operators work more efficiently and productively."
"There's still a good demand for pulp and paper and we know we can fulfill that need," Talaga concludes. "We're not looking to make a new name for ourselves, but reaffirm our name in the market, among others. It's an exciting time to be here, and we are all very optimistic about where we are going."