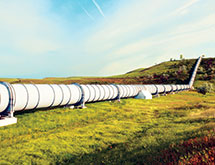 Like all construction companies, Barnard Construction Co. strives to achieve customer satisfaction by completing its projects on time, under budget and at a high quality. However, the civil contracting and pipeline construction company goes about achieving this common objective in a different manner than many of its peers.
"For starters, we are organized around one home office and we rely on our people as our greatest asset and resource in all aspects of our business," the company notes. "We started small, first one man, then one team, and we found we liked the team approach to construction. Consequently, we don't have satellite offices or regional headquarters that compete for business or spread our resources thin."
Barnard maintains a single office in Bozeman, Mont. "This means that if someone on a project in British Columbia has a question, he or she calls the same number that someone in upstate New York calls for an answer. Field staff can be sure that they reach the people they need for support, assistance or some well-deserved kudos," the company says. "If a question requires more than one person's answer, we can walk down the hallway, hold an impromptu meeting and work out a solution or answer without the effort becoming a scheduling event."
The efficiency and easy access to management created by this approach is a large part of the company's culture. Barnard's executive management team meets with department heads monthly to stay in the loop when it comes to ongoing projects and bids. "We also stand out among our competitors in our practice of pairing a field supervisor with a project engineer to form a team that is strong in office and field skills," Barnard Construction adds. "This eliminates the problem of not knowing who to ask for a material order or not understanding if the schedule is being met, and creates a culture of accountability."
Superintendents and project managers are also paired. "We believe that the more we empower our people, the better off we'll be," the company says. "After all, we are people building for people."
Experience Applied
The company applies its experience and culture to infrastructure projects of various types, including oil and gas pipeline work. "We have a long, successful history building the most complex and challenging gas transmission pipelines and major heavy civil construction projects across North America," the company says. "We are experienced in pipeline construction up to 42 inches in diameter, in all types of locations and conditions, urban or rural, remote high altitude or desert. Our work often involves water crossings, and working around or through wetlands and in mountainous terrain in freezing temperatures."
The company's experience includes a variety of contract types including open book pricing and shared risk. "Barnard is a unique organization. Among our strengths, our highly qualified staff accurately estimates costs and effectively manages the many facets of project design and implementation," Barnard Construction says. "Our ability to interact with related agencies, landowners and the general public is of great value to our clients."
One of the company's largest ongoing projects is a natural gas pipeline modernization program for Pacific Gas and Electric Company (PG&E), which it began in 2012. The project is dedicated to "strengthening and improving the integrity and safety of its natural gas transmission system in Northern California over the next decade," the company says.
The project includes placing pipelines ranging in diameter from eight to 36 inches across river crossings and in densely populated areas and other challenging terrain. "PG&E created a pipeline safety enhancement plan and set out to hire a handful of contractors who could help them accomplish this goal under an alliance program structure," the company says. "In addition to the challenging physical construction work that would cross crowded urban neighborhoods as well as rural and agricultural terrain, the alliance partners would help plan and estimate each segment of the work."
In addition to coordinating construction efforts, Barnard is conducting natural gas pipeline construction, testing, valve replacement and integrity management services in the field. "Working with PG&E, our teams in the field are addressing pipeline safety, particularly in high-consequence, populated areas," the company says.