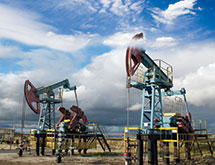 Drilling fluids lubricate many different types of drilling. Rather than the oilfield, Baroid Drilling specializes in industrial drilling.
"We do a lot on the exploration side," says Mike Houston, manager of Halliburton's U.S. Northern Region and president of Baroid Drilling, which is a product service line of Halliburton. "That's probably the bigger part of our business, where they're drilling reverse circulation or core drilling to retrieve cores so they understand where the orebody is and the percentage of the mineral content, if they were seeking gold, silver, copper or palladium."
Baroid's products also are used in construction, water wells, geothermal heat loops and horizontal directional drilling (HDD) for pipelines, utilities and fiber-optic cables. "If they can't trench it, they have to drill it," Houston points out.
Although many of the drilling fluids Baroid uses are also employed in oil and gas exploration, some of Baroid's fluids have different polymers than those used by the energy industry, and 85 percent of them are certified by the National Sanitation Foundation, which is now known as NSF. This certification indicates that the fluid is inert and no organic materials such as cotton seed hulls and certain fibers are in it.
The company's fluids additionally are used in exploratory drilling for coal or phosphate or to drill shafts for piezometers – which measure water levels in mines – as well as for dewatering wells to relieve underground water sources.
Baroid Drilling takes advantage of its own mining of bentonite to control the quality of this drilling fluid ingredient. The company's research and development efforts are ongoing. Baroid Drilling sells its products through distributors. Complicated fluid customization can be done at Baroid's lab in Houston.
Mud School
Baroid Drilling also offers its customers – who range from exploration companies through end-users to distributors – what it calls its "mud school." "They're one week held in Houston at our facility," Houston explains. "We're going to do at least six next year. It gives them a good basic foundation of understanding what drilling fluids are, why we use them and how to use them."
Houston cites these mud schools – which have been held for the past 52 years – as one reason for Baroid Drilling's success. "They're a commitment to the industry," Houston declares. "We don't charge for it."
One school is held in Spanish for the company's Latin and South American customers. Another is a mineral school for mining companies, another for water well and geothermal drillers and another covers HDD for utilities and pipeline companies.
The other reason Houston cites for Baroid's success is its employees. "We've got some top-notch folks working for us," Houston maintains. "Some guys are icons in the industry for some of the different disciplines they've worked in over the years."
Mix It Up
Another important factor in Baroid's success is proper mixing of its products. "A good mixing system is key, because if you don't have a good mixing system, some of our products don't get yielded and don't get mixed into the fluid," Houston warns. "It's actually just wasted money sitting in the bottom of a mix tank."
For the future, Houston sees continued innovation in North America, along with potential growth in Latin America and an uptick in Europe. "The competition is out there and is always innovative, so we always try to stay one step ahead," he concludes.