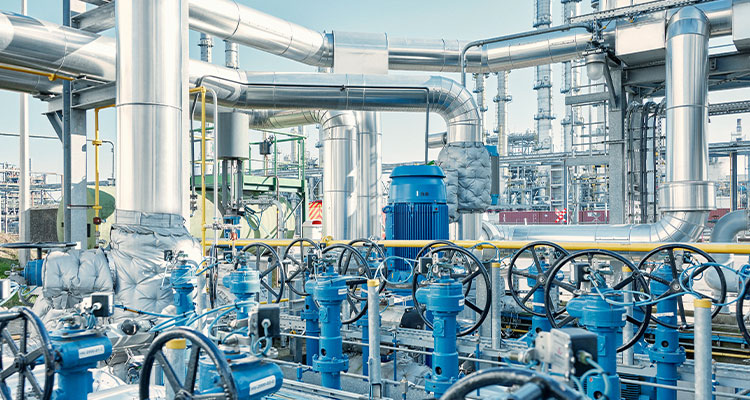 Bas Verkooijen, CEO at liquid energy storage expert Advario, reveals how the business is enabling the energy transition  
Could you describe how Advario came to be where it is today? 
Advario is a carve-out from Oiltanking, which is a company that has been active for more than 50 years and has a strong reputation in the global storage industry. Two years ago, we conducted a strategy review at Oiltanking, taking a closer look at macrotrends that we saw in the industry. We saw three big trends, the first one being that the energy industry and its supply-demand patterns are changing. We see that the demand for oil is declining, chemicals and gases continue to grow, and we see accelerated growth in alternative energy. The second thing that we saw is that climate change is evident – what used to be a concern is now a reality. We have an ambition to play a frontrunner role in our industry's transformation for the energy transition. And thirdly, we saw that ESG can no longer merely be an add-on to a company's activities. Rather, ESG has a central role to play in protecting a company's license to operate. If you want to attract talent, or have the right financing, or build long-term customer relationships, you need to embed ESG in the way you do business rather than see it as a hygiene factor.  
Based on these trends and our ambition to enable the energy transition, we took quite a bold decision as a company to completely restructure Oiltanking. We carved out 13 terminals globally and assigned them to Advario, a new company we launched in May of last year, which is focused on accelerating growth in chemicals, gases, and new energies and aims to play a front-running role in the energy transition. Advario was created with ESG at the core of the way we do business. We also took the strategic decision to locate our headquarters in Rotterdam, to be closer to our partners and key decision-makers. Rotterdam is one of the energy and chemical European hubs and a frontrunner in the energy transition.    
We are building on Oiltanking's legacy while pursuing our vision of enabling the energy transition. Creating Advario, a new brand and strategy, and moving away from a strong Oiltanking brand was a bold decision, but it is one that we passionately stand by. That's what makes Advario unique. We are proud to reflect on that one year later and reveal considerable progress in turning our ambition into reality.  
We'd like to know more about you and your career. How did you come to be the CEO at Advario?  
I have a 25-year history in the energy industry, holding leadership positions in Shell, OMV, and Oiltanking, and it's an industry that I'm deeply passionate about. I have also been lucky enough to work across the world, leading teams in Europe, Asia, and Australia, which gave me a global, multicultural perspective.  
Throughout my career, I have gained a deep understanding of the energy industry and developed a long-term outlook for the future of storage logistics. I ran both the commercial and operational sides of energy companies and have led significant change programs. Increasingly, I developed a belief in the need for transformational change in the industry. For example, during my time at OMV, I set up the organization's first department for alternative energies for transportation. My interest in the shift from fossil fuels to more sustainable products expanded as a result.   
What was your vision when you launched Advario? 
When I started my role as Advario's CEO, I envisioned building on the strong legacy of Oiltanking and leveraging its talent, assets and partnerships that were built over decades to become a front-runner in the energy transition.  
I recognize that we are a relatively small player in a much bigger system, but I firmly believe that we have a critical role to play in enabling the transition. The supply and demand of low carbon energies and feedstock are in different locations, and therefore need to be logistically connected. And this is where we come in, connecting supply and demand through the development of export and import infrastructure for liquids.  
I also envisioned a very ambitious growth plan, and we are currently working towards doubling our business by the end of the decade. We want to grow, but we want to do it sustainably.  
Advario's strategy reflects this by embedding sustainability and safety in every part of the business, driving growth in new energies, and maximizing the value of existing assets. That is what we're doing now, and if I look back to a year ago, I feel we've made great progress in all these three priorities. 
What would you consider to be the most challenging aspect of achieving this vision? 
Uncertainty is one of the biggest challenges. If you look at the energy transition, the direction is very clear and undisputed. You do, however, still see a lot of uncertainty around the selection and adoption of low carbon fuels and feedstocks. As a business involved in the energy transition, we invest in long-term assets and projects that last over 20 years. Therefore we must forecast a long-term outlook into the industry to make sure that investments are made at the right cost, in the right locations, and with the right technical configuration. You cannot invest in a terminal and put it elsewhere a few years later.  
With the many changes our industry is facing, and new projects being announced almost every day, it can sometimes be challenging to pursue the right opportunities. This is why we believe in prioritizing close partnerships and combining knowledge and experience. We must share capabilities, risks and opportunities with our partners to realize shared value. That is why 'Partners for Progress' is our tagline.  
Advario looks at its relationships with partners as one of its strengths. How would you describe your relationships with your partners? 
Over the years, working in close partnership with the private and public sectors has become part of our DNA and a key ingredient to our success. Over the past 50 years we've become very close to our customers and we play an important role in their value chains. We would not be able to successfully run our business without the ability to form and maintain our partnerships. As a family-owned company, we're not here just for quick gains. Our partners appreciate this, and the strong relationships we have built over the years are a testament to my predecessors.  
Additionally, our relationships with our partners are based on trust by being transparent and holding ourselves accountable for our business impact.  
Could you share some highlights from Advario's 2022 Sustainability Report?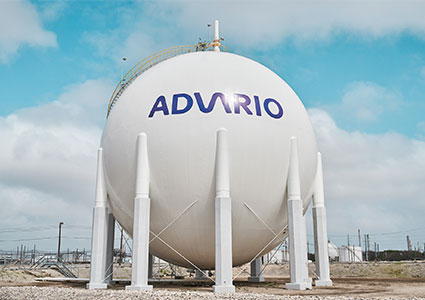 In our sustainability report, you'll see that we have a firm objective to grow sustainably and reach Net Zero by 2040 at the latest. You can read about our sustainability framework and the progress we are making on reducing our emissions and our wider ESG agenda. Our approach outlines several focus areas that align with the United Nation's Sustainable Development Goals.  
One focus area is 'Growing with a clear sustainability focus toward new energies', which means pivoting our portfolio towards new energy and increasing the volume of new energies that we store at our terminals. For example, working together with Neste in Singapore, we upgraded our facilities to be able to store sustainable aviation fuels (SAF). More recently, we announced the  acquisition of a site in the Port of Rotterdam and are looking to develop this large site into a future-focused storage facility for new energy. We have also joined different consortia to learn about the production of green methanol in Singapore and in Antwerp.  
Another focus area is 'Reducing our environmental footprint while driving innovation'. Electricity is the biggest contributor to CO2 emissions within the storage industry. If you look at our sustainability report, you'll see that about two-thirds of Advario's yearly carbon footprint derives from our electricity consumption. We're acting to drastically reduce our Scope 1 and Scope 2 emissions by gradually switching to more renewable electricity for our operations. For instance, our Galveston terminal in Texas was the first to operate using 100 percent carbon-free electricity, and our Texas City terminal will operate under a carbon-free electricity contract by mid-2023. In Antwerp, we are looking at shifting from combustion engine vehicles to electrical vehicles.  
What's also very important to Advario is our people, as 'People and culture' is an integral enabler for our strategic ambitions. That is why we have focus areas for our people. We focus on 'Caring about individuals and communities' and delivered an excellent improvement on safety performance in 2022. We also focus on 'Fostering talent while being inclusive and diverse', as we believe that a diverse workforce is critical for innovation, as it brings unique perspectives to the workplace. We strive to promote equity in our different departments and, as the energy and chemical industries continue to be male dominated, our recruitment process includes special efforts to achieve a gender balance across technical positions. 
What would you say is the most rewarding aspect of your job? 
First of all, I find the quality and diversity of the people we work with and our various geographical presence very rewarding. As an international company, we have more than 40 nationalities in our workforce, and we are continuing to diversify our people. Together, we can foster greater innovation because we have various perspectives contributing new ideas for how we can reach our targets. This leads me to another gratifying aspect of my work, which is the passion I see in our organization for our vision of enabling the energy transition. When I talk to our colleagues worldwide, I am motivated by their eagerness to get involved with our sustainability targets and to drive positive change.   
Another thing that excites me about my role is the opportunity to drive transformational change and see concrete progress being made. I enjoy being able to drive a strategy that we created together with the leadership team and the rest of the organization forward. We are steadily growing and are selectively investing in sustainable projects. Step by step, we are seeing our vision become a reality. 
What are your predictions for Advario and the industry in the next couple of years? 
If 2022 has taught us anything, it would be the great need for energy security while we advance the energy transition, and that's a significant mission for our industry. There is greater momentum for the energy transition than ever before, and our industry will have to step up to its crucial role in enabling the transition. Additionally, the supply security of energy has received a new meaning following developments in the current geopolitical environment. We see that the world has a growing need for energy. Our industry holds the responsibility of ensuring that energy is made available and decarbonized at the same time. Therefore, I think we will see our industry grow and increasingly decarbonize its operations. 
Advario has an important role to play in this supply security as well as the energy transition. We have the ambition to double our business by 2030 with sustainable growth, to both provide energy security and enable the transition. While we pursue new growth opportunities, we will simultaneously continue to develop our existing sites. One of our objectives for the future is to also have a material share of our revenue from renewable products. 
In the coming years, we will start seeing several of our commissioned projects come to life. We are excited to see our Texas City complex commence the operation of one of the largest ammonia tanks in the world this year, reinforcing our position as one of the leading storage hubs for chemicals. And in the next years we will see several more projects being implemented, for instance, the construction of an import terminal with two feedstock tanks for ethane in Mexico that we have partnered with Braskem Idesa to invest in. Not only will this be a further expansion of the geographies we operate in, but the partnership also strengthens our network for servicing the petrochemical industry. I do expect to be able to announce several other new projects in the works that we are excited to reveal later this year. 
We will drive our growth and sustainability targets forward. We realize that enabling the energy transition is a marathon and not a sprint, but I believe that Advario's future is bright. By staying fully dedicated to our strategic goals, we will solidify our position as the partner for progress in the storage infrastructure industry. 
Could you tell us more about the company culture at Advario? How do you work to motivate and support your team? 
The bottom line of our culture is that safety and integrity are deeply held values that guide us in everything we do. With that in mind, we strive to empower our people to play their part in our collective vision by modelling values and behaviors. In 2022, we have identified a set of five workplace behaviors to define a culture that supports our strong and inclusive workplace and maintains the highest operational standards for our customers and the communities in which we operate.  
Our values encompass being results-oriented, externally focused, emphasizing teamwork, embracing a growth mindset, and fostering inventiveness to prioritize sustainability and safety while achieving our goals.  
These behaviors shall form our company's DNA, and they help our employees to understand what is expected of them, feel more confident in their roles, and be empowered to communicate and collaborate effectively. 'People and culture' is an integral enabler for our strategy of sustainable growth and our employees are at the heart of our operations.