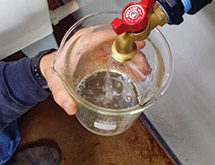 Basin Wastewater Solutions
Now is a good time for Basin Wastewater Solutions (BWS), President Justin Moulton says. With the oil industry experiencing a downturn, "Everyone's trying to pinch pennies as much as possible," he says.
BWS can help them do that, Moulton says. Based in Victor, Idaho, the company provides fresh water to rig sites and recycles wastewater with portable treatment systems, enabling its clients to use the water again.
Moulton started BWS in 2012 after working as a mason. "I was looking for different opportunities," he recalls, adding that he got the idea for BWS after meeting with a friend that worked in the oilfield industry.
"He told me that domestic waste on a rig location was a problem, and there had to be a better way to deal with it than the 'pump and dump,'" Moulton recalls. That led him to buy computer-operated treatment units from a company in Mexico.
Moulton later visited wastewater treatment plants and learned how the facilities treated the water using bacteria. He designed BWS's current systems based on those plants' operations.
"The ones I designed were simplified, with the use of gravity," he says, noting that the units can recycle up to 2,000 gallons daily and allow the water to be used twice onsite. "We can put two units side-by-side and treat up to 4,000 gallons."
The units are also completely portable with already existing equipment on hand, he adds. They have the ability to be moved, set up and ready to work in the same day.
Last year, BWS had sales of $1.8 million. "This year, we're picking up with the oil market being down," he says, noting that the firm eliminates its clients' costs of using trucks to haul away the raw human waste. "We can recycle it on site and give it back to the rig."
A Safe, Sustainable Choice
BWS's units provide benefits that are far more important and meaningful than mere cost savings, Consultant Roy F. Cammarano notes. "We provide a tremendous, environmentally responsible alternative," he says.
The sustainability aspect, Moulton notes, comes from using water on site for sinks, showers and such. "After it goes down the drain, through our innovative process, we process this waste into re-usable water for applications in the drilling industry like cementing, pressure washing and drilling itself," he says. "From down the drain to down the hole in a safe, sustainable manner."
The units also divert the waste from being dumped in inappropriate locations. Such actions, Cammarano notes, have led to BWS's competitors earning fines.
They also cut down on the amount of pollution from 50,000 to 80,000-pound trucks that transport waste, Cammarano adds. "[It] lowers the carbon emissions and reduces the fuel," he says. "It makes it a safer environment."
Reducing the number of vehicles moving to and from the site also lowers the risk of accidents. For example, "Trucks in North Dakota are the No. 1 source of accidents," he says. "If you're having to bring trucks onto your site, you're adding another risk component.
"They may be able to get that truck from point A to point B with no accidents, but from a management perspective, why would you want to do all that?" Cammarano asks. "We're a substantially easier choice."
Leading the Way
BWS is a leader in its market, despite the presence of competitors in the United States and Canada, Moulton says. "We feel like we're leading because we utilize gravity instead of computerized programs," he says.
This allows less needed maintenance for BWS's machines and prevents a complete shutdown during power outages. "[For] our other competitor down south, we've heard that when the power goes down, the system doesn't reboot itself," Moulton says. "With ours, even if the power goes out, gravity is still doing its job."
The company also performs more frequent equipment checks in person than some competitors. "We go out every day and check our stations and make sure no failures have occurred," he says. "[Our] service is proactive, not reactive."
Making Believers
BWS often needs to educate prospects who do not understand the benefits of its systems.
"Any time you're treating sewage, a regular Joe Blow thinks you're putting [waste] right back into their tank," Moulton says.
"Educating them on the biology and how that breaks down into a clean liquid again can be challenging, until you show them," he says. "Once they see it, they believe it."
BWS's employees operate under a tight work schedule. "They're basically on call 24/7," Moulton says. "They work an eight- to 10-hour day."
But the company avoids employee fatigue by utilizing a cycle where they work for two weeks and then spend the next two at home. "I value people's time with their families," he says. "I want to provide them a job [where they can] spend time with their family and afford a nice lifestyle."
The company also maintains an easy-going environment where camaraderie often grows between its associates. "I really push our employees to have a good time and get the work done," he says.
"My motto is, 'You work to live, you don't live to work.'"
Branching Out
Moulton wants to expand BWS's reach. "I would like to see us on all of the drilling locations in the United States and branch out into other verticals," he says.
One possibility is the construction industry, where the recycled water could be used in road building. "Why not recycle the waste people are using and put it on their roads, whether it's for dust suppression or even before they grade?" he asks.
Cammarano also sees a strong future for the technology. "Justin is a great technician," he says. "He's built an innovation that no one else has been able to figure out. [For] the person in the office, trying to figure out the cost of capital and insurance, this is a risk mitigator." He notes the units cut down on actions where its clients would take a chance. "They'll just be safer."