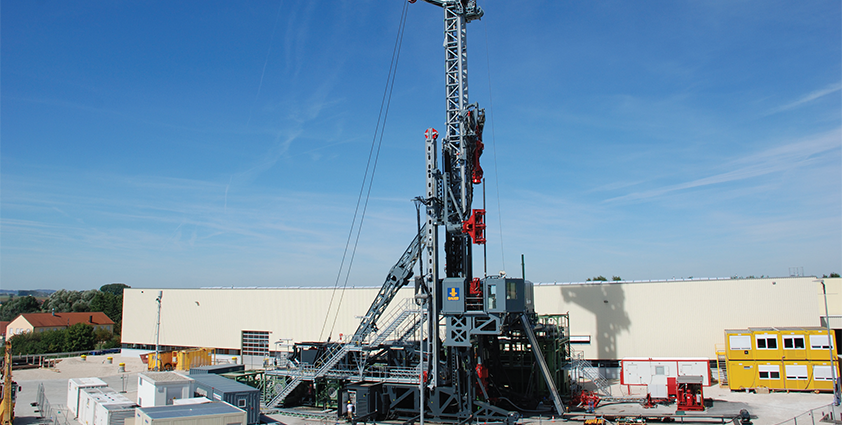 Digging deeper
As part of the Bauer Group, Bauer Maschinen has become one of the biggest and most respected names in civil engineering technology.
Though the company has over 200 years of history, it rose to prominence during the 1960s when it began to design and manufacture drilling equipment; Bauer was unable to find appropriate machines for its own applications and so used its professional knowledge to bridge this gap.
Ulrich Schoepf, project manager of Bauer Maschinen's deep drilling division, details how the company has expanded its operations from civil engineering into the oil and gas market: "By the 1980s we started selling drilling rigs to third parties: water well drilling rigs, pile driving rigs and so on." This was a response to increasing demands by construction companies for Bauer machinery. He continues: "In 2007 we made a decision to branch into oil and gas drilling and open up new areas of market development. The decision was made in August and by the end of that year we had our first deep drilling rig concepts."
Using its 40 years of experience manufacturing equipment in the civil engineering sector, Bauer Maschinen began designing deep drilling rigs for the oil and gas market. By April 2009 its first deep drilling rig was displayed to the public and now the company offers a full range of rotary, anchor and exploration drilling units as well as pile drivers, foundation cranes and trench cutters amongst a wide range of other products. Ulrich explains that, when it began its journey into oil and gas equipment, the company had high expectations: "The idea was to introduce a new level of safety, energy efficiency, service comfort and productivity."
He adds: "In order to do this we designed equipment to have a small footprint and reduced transportation costs. That means our products have 'container-sized' dimensions: if it is taken apart all the components are container sized. This allows easy, fast transport and set up." With innovations like minimised footprint and hands-free operations, Bauer Maschinen has come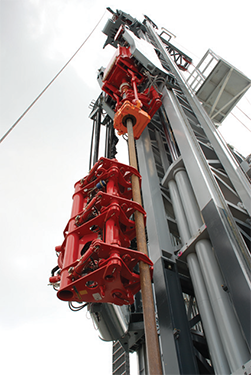 to lead the market not only with its business practice but also in shaping the development of geological engineering technologies. For example the company's previous design firsts, such as the UBW anchor drilling rig and BG7 rotary driller, became industry standards.
Such innovation involved a series of rigorous assessment, though, and Ulrich tells of the company spending millions of euros on equipment testing: "Part of our company philosophy is that we put a huge amount of money into drilling tests before we send a rig out to the market. All prototypes get a complete test run. We even have the capability of placing a complete deep drilling set up on our test yard." This process of carrying out prototype testing under realistic conditions is unique amongst European manufacturers, once more portraying the company's cutting edge position in the market.
To maintain this market lead it is necessary for Bauer Maschinen to engage in a continuous research and development programme. Currently its largest rigs have a 300 tonne lifting capacity and these are currently being installed around South America, the world's top region for oil and gas operations. Ulrich explains that the company is not going to rest on its laurels though: "Developments happen steadily, so there is the 300 tonne rig, then there will be a 440 tonne and after that a 440 tonne rig with doubled range II operation. These happen in half-year steps and we will have launched this by the end of the year. The big innovation will come when we have a 440 tonne rig with the same layout and footprint as a 300 tonne rig. This is our biggest selling point: we will have a 440 tonne rig with a 23 metre by 32 metre layout."
Standardised products are only an example of what the company can offer. From initial design stages, Bauer Maschinen has consulted with contacts operating oil fields and taken their requirements on board. This flexibility has resulted in making tailor-made equipment options available to all of its clients, allowing them to get equipment suited specifically to the situations they face.
Although it has a sister company within the group called Bauer Resources that is able to provide rig crews to clients, Bauer Maschinen itself is devoted to manufacturing equipment. Nonetheless, part of Bauer Maschinen's comprehensive customer service is the provision of start up crews alongside its installations whom provide mechanical and electrical services. It does have a training centre, however, on which Ulrich elaborates: "It is an EU-recognised training centre for the drilling business located here in Germany where we can train clients' staff. They are also invited to join the last two months of testing where they can learn hands-on about the rigs. Our crew also goes with them and trains the clients on site. As part of the negotiation we train them for one, two or three months. If the client requests it is also possible to provide a one year rig maintenance crew."
Oil and gas has become the company's new emphasis for its future. With 8800 people working for the Bauer Group worldwide, it has already cemented its position as civil engineering market leaders. Over the next few years, however, the company expects to invest a lot of money into expanding its network within the European and South American oil and gas industry. With the latter market's rapid expansion in recent years, the company sees that as an ideal opportunity to expand its business. Ulrich concludes with high hopes: "Overall our target is that Bauer will be well recognised as an equipment manufacturer for the oil and gas sector much as it is in civil engineering, where the Bauer name is like BMW or Mercedes for the car industry. We don't want to be a typical mass producer, we want to be recognised for German engineering."
Bauer Maschinen GmBH
Products: Drilling and civil engineering equipment