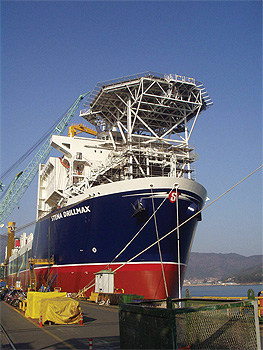 Proving its metal
Bayards is a multi-faceted manufacturer of aluminium and stainless steel constructions across a number of industries.
Founded in 1963 by Jacobus Johannes Bayards in the Netherlands, the company has enjoyed a history of steady growth, gaining a reputation for its innovative designs and approach to the construction of aluminium products. At the turn of the millennium Bayards was taken over by new management to propel the company into the next century and a new level of business, it is now one of the major companies in its sector. Since then the organisation has been involved in a number of lucrative projects and has expanded its production facilities; Bayards now holds offices in the Netherlands, Italy and Singapore.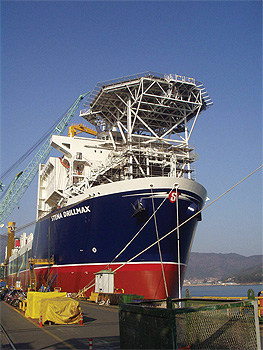 Dick De Kluijver, commercial director of the company outlines its background: "When Bayards was established over 40 years ago it was one of the only companies working with aluminium, right from its inception the company was seen as an expert in the uses and abilities of aluminium for construction. We are now one of the top three companies in the world due to our range of competences, we don't just supply the material we can aid the design and installation as well. We operate in a range of industries working with the latest technologies and have gained a reputation for the quality we can offer."
With decades of experience, Bayards is an expert partner and supplier to those in the helideck, offshore, shipbuilding, defence, civil, tank, vessel, transport and high tech industries. The use of aluminium in these key industries has become increasingly popular due the combination of outstanding features it offers. Its lightness in weight, low life cycle costs, environmentally friendly, corrosion resistant and recyclable credentials make it stand out from other materials in product development for demanding locations. Its lightness in weight is especially important in regards to the offshore industry, whereby added weight can have an impact on a structure's functionality.
Bayards has been designing and building helidecks for over 25 years for the offshore and marine industry, as well as structures for living quarters, stair towers, support structures and antenna modules. Aluminium is ideal for anything that is being added to an existing structure or that has to survive in a marine environment; conventional steel can overstress a construction with its weight, while aluminium is light and can be made virtually corrosion resistant.
Due to the increase in the use of helicopters over recent years, Bayards was employed to install over 30 helidecks in 2008 onboard ships and offshore structures. An equally important area for helideck construction is for hospitals, where a lightweight solution is needed for the landing of emergency helicopters. Most recently Bayards has been involved in the construction of a rooftop helideck 84 metres above street level for the Royal London Hospital and on top of a car park for the University Hospital in Birmingham. The strength of these helidecks is measured according to the heaviest type of aircraft the facility is likely to receive, and its diameter can range from 22 to 34 metres. "We have recently won a contract for Samsung Heavy Industry for the installation of ten helipads and a possible four more in the future, as well as a number of hospital helideck projects in the Netherlands, Italy and Germany – it is an enormous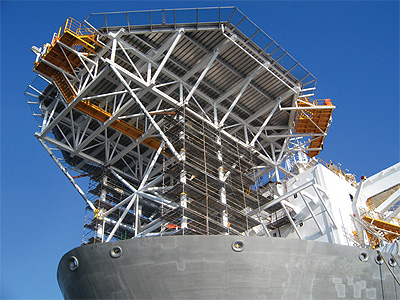 market for us," Dick comments.
In 2004 the organisation gained its most prestigious contract to date; the manufacturing of 351 aluminium chassis for the new all terrain reconnaissance vehicle 'the Fennek' for the Dutch and German ministries of defence. This project demanded the highest standards of Bayards' machining and welding capabilities, and required the installation of a dedicated facility incorporating one of Europe's most advanced high speed machining centres. This contract recognised the company's versatility and expertise, spurring further contracts involved with the production of decompression tanks, minesweepers, transport containers, canister frames for patriots and several different types of girder bridges for the NATO armed forces.
Bayards' expert know-how enables the company to handle all aspects of aluminium construction including the design and engineering, project management, welding, ukmilling and quality management. As a complete package provider the organisation is able to lend its distinctive knowledge of aluminium design to architects and contractors across the world. Last year Bayards received the 2008 European Aluminium Award as Dick explains: "This was a project in Italy for a big congress centre where we were asked by the architect and contruction team to come onboard and carry out a lot of the design. We added a number of unique solutions to the existing plans, as well as carrying out the production and installation. This award was in recognition of the freestanding aluminium staircases that literally surround the building, making it an architectural masterpiece.
"We pride ourselves on being a proactive co-operative partner that clients enjoy coming back to time and again," he adds. "We provide the high quality and competitive price, as well as the skilled expertise and knowledge that the construction industry is looking for. Our portfolio is unique in covering such a diverse range of industries and I believe our already strong position can only continue to develop over the coming years."
Bayards
Products Aluminium construction