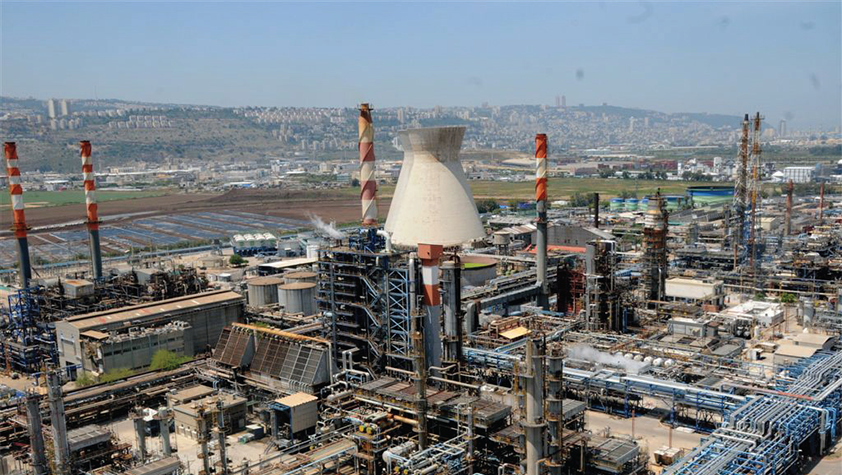 Highly refined
Located in Haifa Bay, Oil Refineries Ltd (ORL), or the Bazan Group as it is known locally, is one of Israel's largest and most complex refining and petrochemical groups processing around 200,000 barrels of oil per day (bopd).
State-of-the-art facilities that are fully Euro V compliant enable ORL to manufacture a broad range of refined products for industry, transportation, agriculture, infrastructure, and household consumption. About 75 per cent of these products are distributed on the domestic market with the rest exported, mainly to the Eastern Mediterranean.
Whilst refining makes up the largest percentage of its business, ORL is uniquely integrated with petrochemicals through its 100 per cent subsidiaries Carmel Olefins Ltd, Gadiv Petrochemical Ltd, and Haifa Basic Oils Ltd. In 2012 the business took the strategic decision to consolidate all of these entities into one business, which enables it to extract as much value as possible from its raw materials and final products. All four facilities are located on the same site, which enables ORL to drive synergies through integration to improve margins and flexibility.
Elaborating a little on what each of these divisions brings to the business, chief technology officer Yaron Nimrod says: "The refinery itself is a full-cracking facility, which means we are processing all the vacuum gas oil (VGO) product. We operate three crude distillation unit trains, two Visbreakers, a catalytic reformer, a hydrocracker and mild hydrocracker, and a catalytic cracker (FCC) and several Hydrodesulfurization (HDS) units for the production of the various products.
"Carmel Olefins produces around 150 kilotonnes of polyethylene, and 550 kilotonnes of polypropylene each year. It also produces the monomers by processing feed streams from the refinery such as LPG and Naphtha. Carmel also uses ethylene and refinery produced Butelene in a metathesis reaction to make even more propylene, which can then be used for polypropylene production. Our second subsidiary, Gadiv, is an aromatic complex which takes the reformate naphtha that has been through the catalytic reformer and extracts the aromatic compounds to produce a range of products. Finally, Haifa Basic Oils uses components produced at the refinery to manufacture base lube oils and wax for local industry," he continues.
In November 2007, ORL announced a five-year strategic investment plan of $1.1 billion to improve and expand its operation. Included within this was a $500 million investment project into a new VGO hydrocracker, which was successfully activated at the end of last year. The hydrocracker is currently working on an input of around 25,000 barrels per day and producing LPG, naphtha, kerosene, and diesel of a very high quality. The new unit significantly improves ORL's competitive positioning by increasing its complexity and ability to produce a more profitable product mix.
"It has been very successful since its introduction exceeding not only the forecasted capacity, but also the efficiency and quality properties," notes Yaron. "The investment has given us excess cracking capacity, which means we can import cheap VGO, crack it, and sell the premium products that come from it."
Zachi Ben Moshe, VP strategy & business development continues: "We have the flexibility to go to the market and react according to the benefit of each product. We can improve production depending upon the profitability of each element at the time, and have a much wider range of options in terms of working with different types of crude, which opens up new opportunities."
Unusually for the industry, the project was managed and executed by ORL's own development group as opposed to an EPC contractor. "As a group we have strong engineering capabilities and this was proven by our ability to deliver this complex project," highlights Yaron, who also served as the Hydrocracker project manager. "The advantages of this are that the know-how remains within the company, and that the operation and maintenance teams are involved at a very early stage when they can still influence the design. Likewise, this means that at the start of the commissioning stage we were able to bring the hydrocracker online in a very swift and streamlined way."
Other investments contained within the strategic plan included a hydrogen plant to accompany the new hydrocracker, the conversion of an old desulfurization unit into a mild hydrocracker, and the addition of a distillation column and heater to the large crude distillation unit. This increased its ability to process both very light and very heavy crudes.
Around 25 per cent of the investment in the strategic plan, or $270 million, was allocated for environmental projects, the largest of which was ORL's decision to exclusively use natural gas as its primary energy source. This resource has been part of the company's energy mix since 2009, but with the full commercialisation of the Tamar gas-field offshore from Haifa, it has now converted the refinery to gaseous fuel only.
Describing the reasons behind this shift, Yaron says: "The most important motivator was the environment. Even burning a low sulphur fuel oil meant we were emitting sulphur oxides into the atmosphere. By changing to natural gas, which is sulphur free, we have reduced these emissions to almost zero, which has had a very positive effect. Furthermore, nitrogen oxide levels have dropped significantly as well as particulate emissions. This required investment into all of the heaters and boilers around the site, as well as a network of piping in order to bring in and utilise the gas. We also see an economic benefit from using natural gas as it costs less than fuel oil, which we hope to see reflected in our balance sheet."
Having placed a focus on profitability, flexibility, and the environment for the last five years, ORL is now confident it will be able to reap the benefits of its investment. The company believes that it is better placed than ever to exploit the opportunities in the market, and as such is now discussing its line of focus for the next years.
"Having executed the majority of our strategic plan for 2007 to 2012, we are planning on the second half of the year to begin work on our next five-year strategic plan in order to realise the new opportunities and synergies of our re-organisation and the new investments. We are also looking at new opportunities that come with the availability of natural gas in Israel," explains Ben-Moshe.
"The fact that we have the petrochemical, aromatics, and base oils plants within our group as well gives us a lot of advantages over traditional refineries," concludes Yaron. "As we continue to optimise our new integrated structure and realise the benefits of these synergies, we will be able to offer even more improved and higher quality products to our marketplace."
Bazan Group (formerly Oil Refineries Ltd – ORL)
Services: Refining and petrochemicals