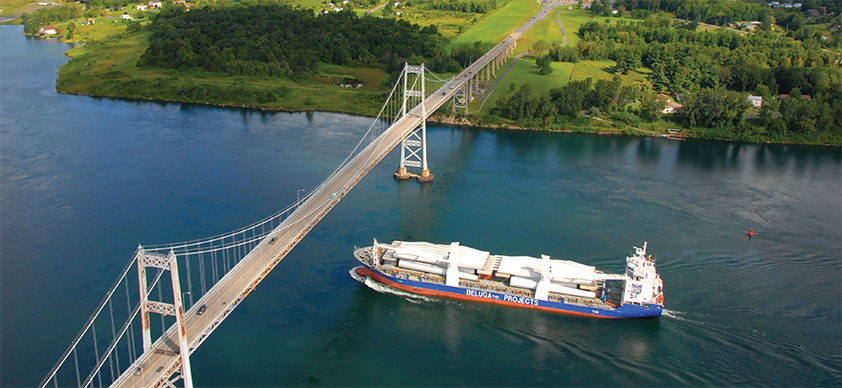 Voyage to success
Back in 1995 Beluga Shipping was founded in the northern German city of Bremen. At this time many businesses were focused on container shipping, yet Beluga Shipping's president and CEO Niels Stolberg had a vision of what the project and heavy lift shipping market could achieve.
His foresight proved right – the market has grown enormously and Beluga Shipping's development has paralleled this success. The demand for project cargo shipments has been very strong over the past years and according to various reports is about to rise further in the future, particularly in the super heavy lift segment.
From the very beginning, Beluga Shipping was strategically built for expansion, and the fleet has seen many new additions. Niels Stolberg, still the president and CEO at Beluga Shipping, described some of the most important developments in the company's history: "A significant development occurred in 2004, when we opened our own training institution, called 'Beluga Sea Academy'. Up to 160 cadets have been trained on our vessels each year since," he began.
"Then in 2008 we saw the maiden voyage of MV 'Beluga SkySails' which was outstanding. MV 'Beluga SkySails' is the world's first new build multipurpose heavy lift project carrier, which uses a towing kite system as an auxiliary propulsion force, thus currently reducing about ten to 15 per cent of bunker consumption."
He continued: "2009 has seen the Maritime Research Centre in Elsfleth open its doors. The Maritime Research Centre is lead and managed by Beluga Shipping and is part of the new public/private partnership maritime campus in the city of Elsfleth. Creating the Maritime Research Centre is part of our long-term vision and we are expecting some promising results from this resource in the future."
Niels continued to discuss his plans for Beluga: "We want to uphold and even expand our role as world market leader in project and heavy lift cargo shipping. We will expand our fleet size to reach a strategic optimum on the project- and heavy lift market, and of course, we are going to implement further innovations, working in areas such as wind energy, hydrogen and fuel cell technology, maritime information and communication technology and electronic cargo information."
Although all segments of merchant shipping have been impacted by the global financial and economic crisis, the niche market of project and heavy lift behaves slightly differently because it is characterised by relatively long-term contracts. Thus, the market adapts slower to changes in the economic situation. Niels said: "While we are suffering from a declining volume of orders in the lower cargo segment (200 tons and below), the super heavy lift segment with cargoes between 500 and 1400 tons remains in a very stable position. Hence, we are able to compensate losses in other sectors. Thankfully the Beluga fleet has been occupied and busy during the whole course of the financial crisis in both the ordinary and the super-heavy lift segment.
"The whole team at Beluga Shipping needs to find creative solutions and to work hard to navigate through these insecure times in order to arise from them even stronger," he said. "Most important to us for the future are our three core markets – infrastructure including the construction of power plants, oil and gas as well as wind energy. These sectors promise excellent business prospects since they keep attracting solid investments."
Moving onto the fleet, Beluga Shipping currently runs 66 multipurpose heavy lift project carriers with a present maximum of 700 tons lifting capacity and in total 1500 seafarers on board. "The fleet size will be expanded to 75 units by 2012 in conformity with market trends," said Niels.
He continued with a description of a recent project that perfectly highlights the fleet's specialist capabilities: "MV 'Beluga Formation' transported the world's largest buoy to an offshore destination in the Gulf of Mexico," he said. "The experts at Beluga prepared and executed this challenging shipment by working in close co-operation with the customer. The dimensions of this buoy were out of range for many conventional vessels – a weight of 1100 tons and a height of 27 metres made it the worlds largest in its category. The loading of such a both large and highly sensitive object required absolute precision and detailed preparation."
Niels pointed out that the team is the most important part of a successful project such as this: "The transport of such cargo requires enormous preplanning and calculations from the staff. For example, the dimensions of the cargo restricted the sight from the bridge of the vessel. So Beluga's transport engineers implemented several measures to compensate this disadvantage and to comply with the high safety standards required by the client, the flag state and other involved parties."
The offshore area is one where Beluga is keen to increase its activity and to this end, the company has created a new joint venture with Hochtief Construction AG. Niels explained: "The official name of the newly set up company is BELUGA HOCHTIEF Offshore. The joint venture partners are developing a new type of vessel enabling installation and maintenance of offshore facilities with overall heights of more than 120 meters in water depths of up to 50 metres. The offshore market is booming, whereas capacities and adequate tonnage are short at the moment. But we have the answer and the first vessel that is capable of loading, transporting and installing offshore all-in-one, will be launched in 2012."
Innovative solutions from Beluga also encompass its routes. As Niels explained, 2010 may see the start of Beluga P-series units voyaging through the Northeast Passage. In fact, history was made in global merchant shipping terms in August and September 2009, when two Beluga Shipping multipurpose heavy lift carriers mastered the first commercial transit of the legendary Northeast Passage from Asia to Europe.
"Beluga Shipping believes that the Northeast Passage entails a lot of trade potential and offers great opportunities," said Niels. "Connecting continents is nothing new in the world of shipping – doing so by utilising a short cut through the Arctic Ocean, however, is a real breakthrough."
The route, which is only open for a short time frame in summer due to global warming and melting ice, shaves off some 3000 nautical miles from the 11,000 mile-long traditional journey through the Suez Canal and the Gulf of Aden. "By using the Northern Sea Route we realised financial savings of about $100,000 alone for bunker costs with Beluga F-series vessels, plus $20,000 daily for each day travelling the Northeast Passage shortens the usual voyage time," added Niels.
No other foreign merchant vessels had formerly sailed this sea route nor has any even been allowed to try by the Russian government. "To transit the Northeast Passage so well and professionally without incidents on the premiere voyage is the result of our extremely accurate preparation as well as the outstanding team work between our captains, our meteorologists and our crew. Before the final cargo was discharged, we had already succeeded in passing any inspections and clearances as well as having been granted the official permission, which also is a great achievement. The challenges of an intense preparation and planning for such a project could all be exemplarily mastered by an ambitious teamwork of which I am very proud indeed."
The 2009 pioneer voyages are the beginning for further innovative projects. In 2010, Beluga Shipping will probably apply the new generation vessels of the Beluga P-series to this route. These super heavy lift powerhouses could result in financial savings of about $600,000 per vessel and transit. This will create another new dimension for the utilisation of the seaway that has just opened up.
Niels concluded: "The heavy lift segment is this area I see the future for Beluga. We are particularly aiming at this market with our new multipurpose Beluga P-series heavy lift project carriers, which can safely and flexibly ship super heavy lift modules. These are not nearly oversupplied in available tonnage, therefore the demand keeps up, and the charter rates remain solid and the order situation profitable."
Beluga Shipping
Services:Heavy-lift cargo shipping