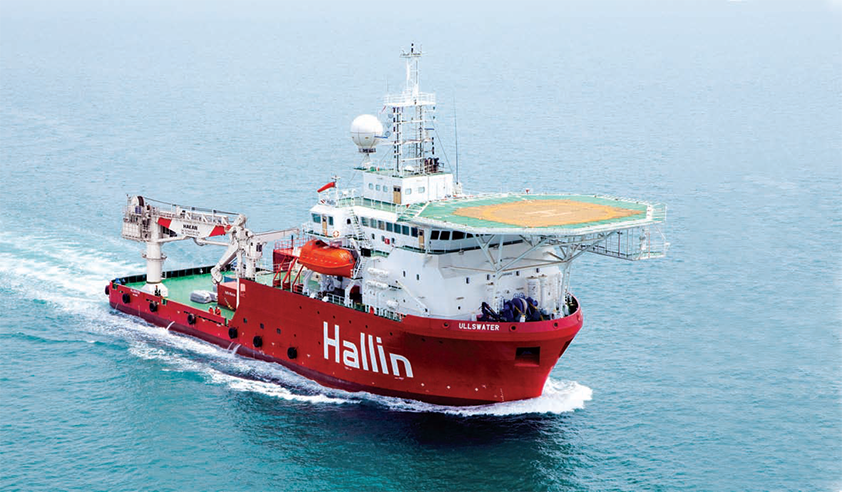 First class support
Privately owned marine services and logistics provider Ben Line Agencies Ltd has been active in Asia for more than 150 years.
Operating within four business divisions, liner agency, port agency, offshore logistics and project logistics, the group has expanded its services since its inception as a ship owner in the 19th century and subsequently as a drilling contractor in the 1970s. Boasting more than 100 offices spread across 16 countries in Asia, the group's comprehensive office network, combined with its history in the region, gives it a major advantage in a competitive market, as Edward Thomson, regional general manager of Ben Line Agencies' Offshore Support division, explains: "Due to our longevity in the region we have a solid understanding of local operational and customs formalities in each of the countries that we operate in. Through our vessel and rig owning background we can offer the best possible services in the highly pressurised environments that our clients operate in. We fully appreciate the importance of being available 24/7, the need for flexibility and, above all, the requirement for a proactive approach."
Working with major operators in the oil and gas industry, such as Maersk, POSH Semco, Fugro, Heerema Marine Contractors, McDermott, Rowan Drilling and Swire Pacific Offshore, Ben Line Agencies recognises that the offshore marine sector is unique and strives to ensure a consistent first class service across a range of target market segments. "We believe in developing long-term partnerships with our clients by offering a consistently high level of service throughout our office network together with bespoke solutions to assist them with specific challenges. As testament to this approach, a number of our key customer relationships go back more than ten years," says Edward.
The division offers a wide range of services, and target market segments within its offshore support sector include survey, subsea, inspection repair and maintenance (IRM), engineering, procurement, construction, installation and commissioning (EPCIC), drilling contractors, exploration and production (E&P), floating production systems (FPSO, FSO, FLNG), oilfield services, as well as subsea power cable installations. "Whether our clients are looking for assistance with costs, local formalities and process flows for their project bids, or a one-stop-shop solution for an offshore project installation with multi-site vessel and equipment mobilisations, we have the proven track record to assist them," highlights Edward.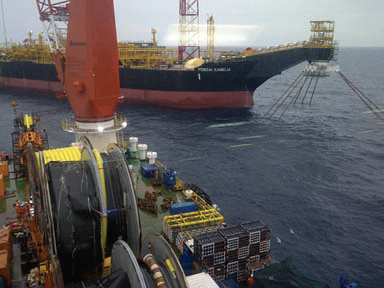 Currently providing marine agency and logistics support services to EMAS-AMC and EOCP in connection with the installation of FPSO Perisai Kamelia in PM301 block in the Kamelia Field off Kemaman in the Northern Malay Basin for Hess. EMAS-AMC's scope of work includes the installation of the mooring system, towage of the FPSO from Singapore to the field and the hook up of the mooring system on behalf of EOCP. "The marine spread for this project consists of the main construction vessel, two tow tugs, two tug and barge sets and a fast crew boat," says Edward. "We assisted with the mobilisation of the marine spread in Pasir Gudang where the chains, piles and accompanying equipment were prepared and loaded onto the departing vessels. Our scope of work included arranging Petronas and FOMEMA medicals, sign on/off, meet and greets, hotel bookings and the associated transport needs of the project and marine crews, customs, clearance, and the supply of cranes, forklifts and specialist heavy lifting equipment."
In Kemaman Ben Line Agencies is offering a similar range of offshore support services to ensure EMAS delivers to its customer on time and within budget, as Edward highlights: "Whatever our client requires, we will endeavour to provide a workable and affordable solution as quickly as possible."
Aware that it is operating in a growth market, Ben Line Agencies has invested heavily in its offshore support services division over the last decade to ensure it can take on increased demands from its increasing client base. Specifically the company has opened up offices in 11 supply bases throughout Asia to cater to the needs of its clients. Most recently, an office has been opened in Ranong port, on the west coast of Thailand next to the border with Myanmar, which acts as an alternative logistics support base to Singapore with offshore support vessels frequently calling there to take bunkers and supplies and to conduct crew changes.
Furthermore, following a number of positive enquiries from its established customer base, the group has also set up operations in Timor Leste. "Our offshore support services division is certainly a growth market for us. The World Subsea Vessel Operations Market Forecast 2012-2016 noted that $77 billion is to be spent on worldwide subsea vessel operations in those years, an increase of 63 per cent over the previous five year period. We expect to see a significant increase in EPIC projects such as PLEM and SURF subsea installations and also an increase in high capability vessel demand in the region," says Edward.
With a keen eye for finding new opportunities, Ben Line Agencies is following the development of new sectors within the offshore sector, such as offshore platform decommissioning, offshore wind and wave farms and anticipates an increase in future FSO projects in Asia, as Edward concludes: "According to a recent report by energy industry research and consultancy group Douglas Westwood, the continued expansion into deepwater locations could drive a doubling of worldwide investment in Floating Production Systems over the next five years to $91 billion. A total of 121 floating production units are forecast for installation worldwide during this time period, representing a 37 per cent increase in the fleet. With our recent experience with EMAS AMC and EOCP, we believe we are best placed to participate in future FSO projects in Asia."
Ben Line Agencies
Services: Specialist marine agency and logistics support