Market penetration
With around 80per cent of its production dedicated to clients in the oil and gas sectors, the offshore & subsea industry is clearly a vitally important market for Benestad.
Initially founded in 1973, the company, based in Lierskogen outside of Oslo, has been developing sophisticated design and product solutions in the field of glass/ceramics-to-metal sealing since 1985.
Over the last two decades the company has continued to follow its philosophy of understanding, developing and employing innovative material technology. Highly specialised proprietary processes are at the heart of Benestad's products and production. The company works beyond technological barriers designing products where glass/ceramic-to-metal sealing provides a competitive advantage.
Today, Benestad is a leading company in manufacturing high voltage, high current penetrators and sensors for extreme applications. The organisation's advanced technology enables it to produce hermetically sealed barriers and sensors that can withstand the most hazardous environments for long periods of time. The company supplies glass-ceramic penetrators to subsea oil and gas installations and to the defence industry where one of its products is used as a barrier against pressures exceeding 14,000 bar.
In its current product range Benestad has high-voltage penetrators up to 24kV AC/700A. The company's glass/ceramics-to-metal sealing technology is however perfectly suited for voltage and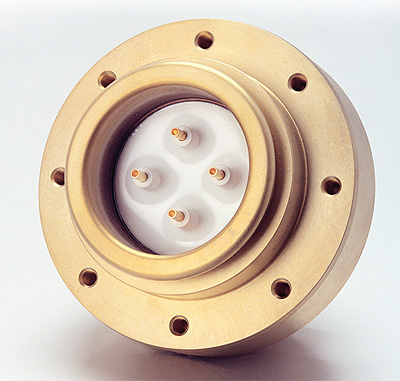 current levels way beyond today's applications, and Benestad has in-house facilities for testing up to 70kV AC. Its products are in use at subsea installations all over the world, and it is frequently present at record-breaking deepwater production wells.
Still a privately owned company, Benestad can supply complete engineering solutions. Its most successful products are the result of close cooperation with its clients, where it has been entrusted with significant design responsibility for the integration of its product into the client's system. The company provides the best solution when taking part in the early design stage of its clients' end product, and the difficult interface between electrical and mechanical engineering is Benestad's speciality.
Having worked with prestigious clients such as StatoilHydro, FMC Technologies and Framo Engineering, Benestad has evolved to become an important player in the offshore industry. In fact, the company has been manufacturing products for subsea installations for several decades. Its core competence lies in sealing the glass/ceramic penetrators to special materials like titanium using its GTTS technology (Glass To Titanium Sealing). Benestad is the only company able to do this on an industrial scale. Instrumentation systems for subsea monitoring and control meanwhile are manufactured and sold by its sister-company Phaze Technologies AS.
Benestad offers a comprehensive array of products and solutions for this market place, which include penetrators & connectors, ex-penetrators, high voltage penetrators, and glass/ceramic sensors.
Penetrators for subsea electronics enclosures have traditionally been the company's largest business area. Typical applications are Subsea Electronics Modules (SEM) for subsea control systems and subsea instrumentation.
Large sealing furnaces make it possible to seal the glass/ceramic directly into the baseplate or end lid of the SEM/electronics enclosure. There are no welds or seals that can cause leakage, and the designs are extremely compact and cost efficient.
As an example of its work in this area, Benestad has been the sole supplier of penetrators for SEMs to FMC Kongsberg Subsea since 1989. Its worldwide market share for SEM penetrators in 2005 was in excess of 50 per cent, while in 2006, Benestad supplied approximately eight tons of titanium penetrators to a variety of clients and projects.
Moving onto its range of ex-penetrators, Benestad has certified a series of multi-pin Glassto-Titanium Sealed penetrators for use in potentially explosive atmospheres. In addition to the ATEX certification, the penetrators have been qualified to withstand pressurised gas at an operating temperature of 750°F/400°C. Typical applications are electrical penetrators or connectors for topside and land based separator tanks and related pressurised enclosures. Benstad's development of power penetrators started in 1991 with the supply of medium voltage penetrators for subsea developments in the North Sea.
In 1996, the company built upon this by developing a new series of high voltage penetrators for subsea power distribution and in 1998 it was responsible for the complete delivery of HV penetrators to the first subsea separation unit ever – the Troll Pilot Project. The penetrators were rated at 12kV AC (phase to earth) / 400A, and were used in ABB's underwater connector MECON, and in Framo's submersible pumps. All the penetrators delivered have been in service from the start of the project without any problems or failures of any kind.
Other developments within this area include hybrid (electrical/fibre optic) HV penetrators for the seismic industry, and multi-pin penetrators for the Ormen Lange Gas Project and several other subsea developments.
Since 1993 Benestad has also been the sole supplier of microwave sensors to Roxar, a leading company within subsea and topside multiphase and water-cut metering. This gives the business unique experience with glass/ceramics sensors directly exposed to well fluids.
Furthermore, Benestad has developed and patented two specific capacitive sensor designs for subsea and topside applications. The first of these patented designs has been applied in hydrocarbon leak detectors, monitoring oil and gas leakages on subsea installations since 1998, and in water leak detectors for subsea enclosures. The other design is being applied in water fraction metering, developed for subsea and topside installations.
As a sole supplier to all of its customers, Benestad's reliability is critical. Clients rely on the company's products to provide maximum levels of operational performance and stability in critical applications. Thankfully for the leading international companies in the offshore industry, Benestad delivers high quality, field proven products with extremely long life expectancy.
Benestad
Products: Penetrators & sensors for extreme applications