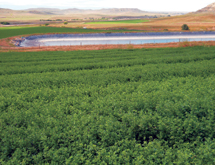 One of the first things that stands out about BeneTerra is its name. While many company monikers tend to refer to an organization's broad capabilities, geographic location or ownership, BeneTerra's name succinctly sums up its entire philosophy. The name – derived from the Latin adverb "bene," meaning "well" and the noun "terra," meaning "land" – literally means "healthy land." Protecting the soil and solving problems with a land and water stewardship approach is a guiding principle for BeneTerra.
The Sheridan, Wyo.-based company promotes the beneficial reuse of wastewaters through water management solutions including a proprietary technology that collects, treats and reuses wastewater. "We promote integrated land and water stewardship and provide beneficial-use solutions that bring value to our customers, and are dedicated to finding ways to derive the most benefit from wastewater while caring for the environment in a sustainable manner," BeneTerra says. "Our commitment to responsible stewardship of the resources allows our customers to focus on their core businesses while we look after the environment."
BeneTerra's commitment to the environment and overall approach to water management earned it the 2012 Water Management Company of the Year award for the Rocky Mountain region from the Oil & Gas Awards. "We're honored to have received this award," Controller Lesley Pearson says, noting the honor is voted on by a panel of oil and gas company executives. "The judges are the decision-makers in the types of companies that are our clients, and it's always rewarding to be recognized by our peer group. We're proud of the fact that our water management services and approach have helped our clients address water challenges while allowing the wastewater to be beneficially reused."
Although most of BeneTerra's projects are located within the Rocky Mountain region, the company is open to working with companies elsewhere in the United States. "We're willing to work wherever the need is, as long as it fits into our criteria for project size and scope of services," Pearson says. "The economics of reusing wastewater streams have to work for our customers in order for a solution to be viable."
Company Services
Much of the water treated by BeneTerra is generated by oil and gas production, mining and industrial processes. "For any industry that creates a wastewater byproduct, our goal is to find a beneficial reuse solution for that water," Business Development Manager Adam Zimmer says.
"We have the ability to use various technologies to treat produced water depending on the volume and quality of the water and the desired end use of the customer," he adds.
The wastewater treated by BeneTerra can be reused in a number of capacities including agricultural irrigation.
BeneTerra is experienced in irrigation techniques including center pivots, large park and golf course systems, and its own patented process utilizing subsurface drip irrigation (SDI) technology. SDI is used to disperse produced water from coal bed methane natural gas wells and can provide year-round water dispersal to producers.
In addition to its water management services, BeneTerra also provides land management and environmental services including soil sampling, soil characterization, environmental monitoring, reclamation, permitting, environmental compliance reporting, remediation and erosion control.
BeneTerra utilizes a Geoprobe 7822 drilling unit to provide some of these land management services in the mining sector. These services include geotechnical drilling, depth to groundwater sampling and coal coring.
BeneTerra's services go beyond initial consultation or one-time-only projects. "One of the ways we differentiate ourselves is our focus on not only designing and building water management solutions but providing the day-to-day operations for that system if it fits the client's situation," Pearson says.
"Other companies may make recommendations, put in a system and then walk away, but we take on the day-to-day operational and environmental compliance tasks as well as the associated environmental liability. Producers have the peace of mind of an actual transfer of custody for the waste water."
'All-In-One' Solutions
BeneTerra was formed in 2002 by four Kansas-based companies with strong agricultural ties that saw a need for the beneficial reuse of wastewater across multiple industries. The company initially worked solely within the Powder River Basin in southeast Montana and northeast Wyoming, where it provided water management solutions to coal-bed methane gas producers.
The up-and-down economic nature of the natural gas market led the company to diversify its offerings and customer base. "In the past, we were focused on water management as related to the Powder River Basin," Operations Manager Derek Lowe says. "We have broadened our focus to include other services such as land management, and are not just looking at produced water from oil and gas, but other processes that produce wastewater."
As an example, BeneTerra is in the early phases of working with a local wastewater treatment plant to find a beneficial reuse for the bio-solids it produces during processing. Potential uses include land application as part of a mine reclamation project, he adds.
Another diversification opportunity is being tested and used in the company's Australia office, established in 2010. The Brisbane-based Australian arm of BeneTerra, which initially focused on applying the company's patented SDI technology to manage produced water from coal seam gas, recently developed an "evapo-concentrator" unit that evaporates water and condenses solids into a semi-solid waste product. "Our goal is to tie multiple technologies together when it comes to the wastewater stream," Zimmer says. "We strive to provide clients with a total package solution for wastewater treatment, disposal and dispersal."
A Common Goal
BeneTerra's management team of Zimmer, Pearson and Lowe oversee a small but talented staff of full-time soil scientists, water specialists and agronomists. The three report to the company's board of directors, which is elected annually by the ownership group. "Our people are really what distinguish us," Lowe says. "We're not large in terms of numbers, but are big when it comes to quality. From our owners to our entire team, we have really good people with a common goal of environmental stewardship and finding beneficial-use solutions to many of the issues the industries we serve deal with every day."
Most of the company's staff is directly involved with the troubleshooting and maintenance of its projects as well as regular operations. The collective skill sets and backgrounds of the company's team members are the driver in finding creative solutions for client's challenges. The company's staff includes Gary Kitzrow, who is one of very few people in the country with credentials as both a certified professional soil classifier and a certified professional soil scientist. "We are very heavily science-based and our people have specific technical expertise along with scientific and agricultural backgrounds," Pearson adds.
Kitzrow's past experience includes classifying and writing approved management plans for more than 1.25 million acres of soils in the United States and overseas.
"In regards to mining, one of the biggest problems I have seen over the years is the fact some soil scientists and general environmental scientists cannot accurately testify to exactly where the soil (or topsoil) ends and where the geology begins," says Kitzrow. "This can lead to over regulation for the operators in terms of topsoil management."
Through Kitzrow's previous work with mapping soils for the National Resources Conservation Service, he identified some major problems involving the accuracy of the USDA soil surveys. Although they offer excellent baseline information regarding soils, these reports are typically not site-specific. That means they are not dependable at the mine level.
"At BeneTerra, we validate the precise distribution and capabilities of all soils on a given site. This pre-disturbance assessment allows our clients to efficiently restore disturbed areas and re-establish proper vegetation to a site once a project is over," Kitzrow says.
BeneTerra's internal culture is focused on continuous improvement as well as safety. Both of those areas are regularly addressed through training and development programs. As a result, the company has gone more than four years without a lost-time incident, Lowe notes.
"We're excited about our prospects in Australia as well as in the United States, and we think there will be opportunities for BeneTerra in the long term, as there is always a need for water and finding reuse solutions for wastewater streams," Pearson adds.