Drilling down to international success
With more than 125 years of experience, Bentec is one of the world's leading manufacturers of drilling rigs and oilfield equipment, delivering high quality, cost effective solutions to meet the demands of the international oil and gas drilling industry.
Bentec is headquartered in Bad Bentheim, Germany with additional production and service facilities in Tyumen, Russia and Nizwa, Sultanate of Oman.
The company's roots can be traced back to 1888, although the Bentec brand was first established in 1994. Today, Bentec employs over 800 staff and runs as a fully independent subsidiary of its parent company, KCA Deutag.
Since it was last featured in European Oil and Gas magazine during February 2012, Bentec has continued to increase the scope of its product portfolio with the introduction of a further element in its top drive range. The resulting 275 tonne top drive, which was introduced during the latter months of 2012, further strengthens the company's ability to service lower-end drill applications, complimenting the 350 and 500 tonne top drives. The company is also planning to launch a 750 tonne top drive later this year to meet the demands of the offshore market. "We launched the 275 tonne top drive in Germany and also in Russia over the course of two major events," says Carsten Freyer, vice president of business development.
"We have had several successes, especially in the Russian market with regard to the design of equipment for smaller rigs and this is also the case within the Asian Pacific. We have also increased the company's production capacity significantly, all Bentec top drives are designed in and built within Germany and all of the necessary parts are likewise sourced from German businesses."
In addition to expanding the capability of its German production facilities for the production of top drives and other equipment, Bentec further developed its aftersales and global sales operations between 2012 and the present day. "We have also built a separate pillar to our business to undertake aftersales services," Carsten explains. "Aftersales has always been part of the company's service offering, but we decided to create a specific branch like we had done with business development and sales. During 2012 a team was hired to manage aftersales with specific goals and targets.
"We have increased the effectiveness of the company's sales division, not simply by adding more people to our Russian or Middle Eastern regions for example, but by making it a comprehensive organisation with a greater global footprint and additional agents within potential growth markets."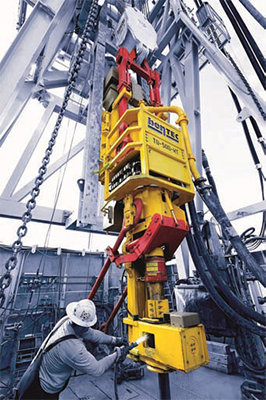 The combination of over 125 years of industry experience and investment in expanded production capabilities has enabled Bentec to further develop its product portfolio and to provide turnkey solutions to a number of clients across the globe. During 2013, Bentec confirmed a multi-million order for a brand-new rig from Todd Energy to be initially deployed to Todd's Mangahewa oil and gas field inland from Tikorangi, where noise concerns had been voiced by local residents. The new Bentec rig is designed to operate at a noise level of 45dB at a distance of 350 metres away. This is about nine decibels lower than the rig that is currently in operation in the area. Commenting on the design of the rig Carsten says: "The client came up with a couple of specific product requirements like a new walking system that we added to the 450 tonne Bentec Euro rig. We also added a new hydraulic catwalk system, meaning that during the course of this design we significantly added new components to our equipment portfolio."
A key strength for Bentec is that the company enjoys a strong vertical manufacturing capacity, which allows it to deliver turnkey solutions to projects like the Todd Energy rig, as Carsten elaborates: "We have almost 100 per cent vertical manufacturing capacity, everything that is around the bore hole on a drilling rig has been designed, engineered and manufactured in-house by Bentec. Our aftersales service is another key business strength. As the market is becoming increasingly competitive and as technology becomes more complex, customers need to have the right people and services available 24/7 in order to successfully maintain their rigs."
The combination of proven, reliable technology and dedicated aftersales and support services has enabled Bentec to expand its global footprint, and the company has enjoyed continued expansion and tenders in North Africa since 2012. "The first breakthrough in the North African market was an award for 14 top drives in 2012," says CEO Dirk Schulze. "It was a very competitive tender and at that time we had just launched the company's range of top drives and were competing against existing, well known brands. However, we were able to gain the upper hand and win the order. Later we were awarded a tender for four fast moving desert rigs in the face of competition from larger organisations."
The four rigs were delivered to clients in Algeria by 2013 and following the timely completion of the project; Bentec received its largest single order to date for seven land rigs from Enafor in Algeria. This order is an impressive success story for Bentec as it represents an important landmark for the company as well as a keen endorsement of its technology.
"What we have seen is a customer that purchased its first rig in 2013 and subsequently observed the benefits of Bentec operation," says Dirk. "Enafor is now looking forward to receiving its new rigs over the next 15 months. We work hard to maintain the highest quality standards across our drilling rig systems and our success is testament to that, the services we provide and our continued commitment to developing additional business in Algeria. We may not be the largest rig supplier in the world. However, our dedication to increasing drilling efficiency and exceeding health and safety targets has been a key factor for our customers and is just one of the reasons why they return to us after a successful operation."
As well as its expansion into new markets, Bentec can expect to see strong business within its traditional markets in both Russia and Oman during 2014 and beyond. Within Russia for example, there is a forceful drive to expand oil and gas production as Dirk explains: "We definitely see growth potential in Russia, the increased targets that it has introduced will mean it needs to modernise its existing fleet as well as introduce new, modern rigs. This is well known to the industry and we will see more activity in this market, with our facility in the region we are well placed to address this activity."
Furthermore, Bentec's parent company KCA Deutag was awarded a significant tender from BP during early 2014, to supply three fast moving desert rigs in Oman through a multi-million dollar contract.
With contracts and tenders coming Bentec's way from some of the oil and gas sectors most prevalent operators, the company has grown exponentially from around 300 staff in 2010 to its current level of 800 today. The relationship between Bentec and KCA Deutag will be mutually beneficial to both organisations as the strong reputation and global influence of Bentec continues to grow.
Bentec GmbH
Services: Manufacturer of drilling rigs and oilfield equipment