Out in the field
Over the last century the drilling industry has evolved hugely, but one constant has been the name, and quality service, of Bentec.
Having continually manufactured market leading drilling rigs and oilfield equipment over this time – both in its own right, and initially as a division of German drilling contractor DEUTAG – few can offer the wealth of experience that Bentec does. Today an independent subsidiary of the KCA DEUTAG group, Bentec prides itself on offering German engineering from its Bad Bentheim
headquarters, supported by a hand-picked network of international branch offices.
In a manner perhaps befitting of this heritage, Bentec has embraced the oil and gas industry's drive into more challenging territory with the creation of high quality, cost effective and durable drilling and oilfield systems targeted at the harshest and most hostile environments.
This has given rise to four distinct products lines – Euro rigs, desert rigs, arctic rigs, and special rigs. Whilst the Euro rigs are highly mobile land rigs aimed at small and sensitive locations, the desert and arctic rigs are robustly designed for their challenging and individual climates.
Shedding light on the even more specialist rigs of Bentec's portfolio, Dirk Schulze, CEO of Bentec says: "The highly automated Euromatic rig was built in partnership with KCA DEUTAG for the specific needs of a client, and the European onshore market in general. It is based upon the highly successful Euro rig, which we have sold throughout Europe, but embraces a number of new, innovative features. All of the usual Bentec components utilised in various rigs around the world have been integrated into the Euromatic rig, including low noise emission and a flexible modular concept, but in addition to that the Euromatic design boasts a fully remote controlled pipe handling system."
On a broader level Bentec is well aware that its long market experience puts it in an elevated position when it comes to proven field performance. "Bentec is not a mass producer of rigs," notes Dirk. "We are a high quality producer that assists clients to reach their long term goals, such as lowering the overall ownership costs of rigs and components, which in turn enables clients to effectively complete services at better rates, all for having a strong equipment partner. The industry in general has a high safety focus and we have incorporated many unique features into our products that enhance the safety performance of the rig operation. By focusing on this when designing our products, we consequently help our customers to achieve these targets as well."
Over the last few years Bentec has invested significantly not just in building rigs, but in developing its own components around the bore hole. As such, it now markets itself as a complete supplier of integrated oilfield systems including mud pumps, draw works, and the highly successful Bentec top drive. Since the launch of this product in mid 2010, Bentec has sold 25 of the 500-tonne model, which has prompted the company to also offer an equivalent 350-tonne version.
"In the past we would incorporate other manufacturers' top drives into our rigs, but after 25 years of experience in repairing all these top drive models we felt that we could offer a better alternative," explains Dirk. "On listening to our customers and their challenges we developed a robust and reliable top drive with 25 per cent more torque drive than others on the market. It also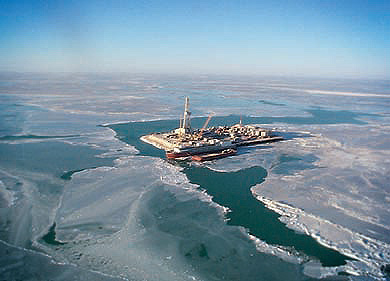 has twice as much link tilt capacity than our competitors and can be used in variety of environments from arctic and desert to onshore and offshore.
"Success of the new top drive can be seen in the results. All of our customers have seen extreme reductions in their drilling non- productive time (NPT) rates. Given that a common cause of rig down time is related to top drive failures, this gives us a massive advantage in a competitive market. Even the prototype is still in operation after a year with a NPT of under 0.5 per cent, whilst the latest rigs supplied are operating in the Arctic at an NPT of 0.19 per cent during the first six months of operation. Driven by this success, we are looking to add a 275 and 750-tonne top drive to the range. Both products are currently in the stage of research and development but we expect the 275 tonne version to be on the market in early to mid 2012, followed by the 750 model," he adds.
Within its manufacturing facilities in Bad Bentheim Bentec's workshops have the capacity to commission and test rigs for complete turnkey projects. It also makes use of these resources in providing service, repair and overhaul programmes including spare parts. This is an area where Bentec is redirecting its focus, particularly in regard to offering a more localised service.
Over the last seven years the company has invested substantially in its global presence, beginning with a joint venture IDTEC in Oman in 2005. "Last year we moved this manufacturing, repair and service facility to a brand new site in Nizwa, which is the centre of the local oil and gas industry. This enables us to serve our clients far closer to where their actual endeavours lie, and has helped raise our profile within this part of the world," comments Dirk. This decision was partly sparked by the realisation that regionally based companies were beginning to move into the rig market, and with a state-of-the-art facility Bentec would be able to maintain its superior service.
This was followed in 2007 by a subsidiary in Tyumen, Russia with an investment of more than $20 million into the manufacturing facility, which commenced operation in 2009. The company has now started to produce several sets of components for the Russian market, and is moving forward on the basis of building up to ten rigs annually in this location alone. "This concept of designing rigs and components in Germany and manufacturing or assembling them in our locations around the world is something that we will pursue further in the future," reveals Dirk. "We are currently revising our strategy and focusing much more on the component sales and after sales part of the business, which requires opening new facilities in those areas where we see the biggest growth potential for Bentec products. This includes some countries where we are not yet present such as the US, South America, Northern Africa and Australasia. Whilst we may do certain things via an agent, our ultimate goal is to have after sales service centres across the globe, either on our own or together with a local joint venture partner."
A crucial aspect of such an approach is the training of the individual staff members that populate Bentec and its subsidiaries. As such, the company places high value on the training of its own apprentices as part of a yearly programme, which encompasses candidates from both the German market and globally across its respective network. "This is something that is very deeply set in our roots and valued by the company," describes Dirk. "This has afforded us a good balance of highly experienced individuals that have a lot of theoretical and hands-on experience, with younger people that are learning the basic components and philosophy of rigs. It takes some time to train these people but we see it as a significant investment into our future to ensure that our services and capabilities remain at the highest level."
This remains the cornerstone of Bentec's strategy, not just historically, but also for the years to come. Elaborating on how the company is bringing together the various different facets of its activities into a defined approach, Dirk concludes: "We want to maintain our capacity to sell a standard fleet of rigs that are capable of servicing the oil and gas industry, but on top of that to prove we are capable of creating special rigs for customers as required. In conjunction with this, we will also increase our focus on the component side of the business and endeavour to break into new markets, not just with the leading top drive product, but with the rest of our portfolio. Furthermore, we constantly benchmark ourselves to increase value engineering in our products, and ensure our portfolio is what customers expect of us."
Bentec
Products: Drilling rig systems and components