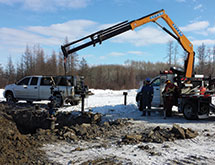 Beretta Pipeline Construction Ltd.
When Darrell Carter joined Beretta Pipeline Construction Ltd. in 2010, the company was at a critical point in its history. "My main goal when I was brought in was to save the company," says Carter, the general manager of the Lloydminster, Alberta-based company. "We were in a financial mess at the time, and it was really a coin toss whether we would go bankrupt or take a serious shot to get going again."
The company, founded in 1984 and purchased by the Onion Lake Cree Nation – a First Nations community based in Onion Lake, Saskatchewan – in 2003, was finding it difficult to sustain business during the global recession as a result of a decline in the local pipeline market.
After joining the company, Carter – an oil and gas industry veteran who had previously helmed a Cree Nation-owned natural gas cooperative – put a four-year plan in place to rebuild the company and take it out of debt. Carter took a cue from his own diverse industry background, which included time spent as a welder and equipment operator entrepreneur and politician when planning out the company's next steps. Carter is also a proud member of the Cree Nation, having grown up on a farm and giving his father a hand on the trappline when he was a child.
"Pipeline construction alone was too volatile an industry to maintain a fairly significant workforce, so we looked at what we had when it came to the equipment and staff we had on hand and started looking at different disciplines within the oil and gas sector," he says. "We got away from being one-dimensional by becoming multi-dimensional."
In addition to its core capabilities in pipeline construction, Beretta Pipeline since 2010 has provided facility construction and infrastructure services including tank and containment installation, road construction and utility installation. The company also maintains a rock quarry and supplies aggregate. "We did not give up – we kept pushing forward at a time when other companies would have ducked and run," Carter says.
Beretta Pipeline's diversification efforts put it back on track well ahead of Carter's four-year plan. "We went back into the black financially in less than three years," he notes.
Diverse Capabilities
Beretta Pipeline is applying its new skillset to one of the largest ongoing oil and gas projects in its region. The company is performing a number of jobs related to the construction of a $700 million processing facility in Onion Lake for Black Pearl Resources. "We've committed a large amount of our company resources to Black Pearl because they're working in our immediate area and are a great company to work for," Carter says.
The company's work on the project includes installing a water pipeline as well as pumping stations and compressor stations. Beretta Pipeline is also creating access roads on the site and maintaining the equipment it installs.
"The only things we're not doing for them are servicing the wells and hauling the fluids," he adds.
Although Beretta Pipeline itself is not a well operator or transportation company, its ties to the Onion Lake Business Development Corp. – owned and operated by the Cree Nation – give it access to other companies that can provide those services. The corporation owns five other oil and gas-related companies including entities specializing in well service, fluid handing and de-sanding. Being owned by a First Nations entity also gives it an affiliation with other native groups across Canada. "We have a huge network of potential alliances and the ability to act on them in different parts of the country," Carter says.
Beretta is taking steps to further diversify its capabilities. The company is designing a mobile soil reclamation system it hopes to soon patent. "If we can get the necessary government approvals and get this system operational, we'll have something no one else in this region has," he adds.
'Second to None'
All of Beretta Pipeline's projects are performed with the safety of its personnel and clients in mind. The company is one of only a few of its kind in its region to employ a safety officer certified through the Canadian Construction Association's Gold Seal program. "What this means for our company is that, when we're standing side-by-side with a competitor during bidding and are within pennies of one another price-wise, we can say that our safety program is second to none," Carter notes. "This makes us even more attractive to potential clients."
The company's dedication to safety is a reflection of its corporate focus on quality. "Quality is the biggest difference between us and our competition," he adds.
For the past eight years, Beretta has developed hundreds of safety procedures governing everything from proper shoe tying, wrench holding, welding and working in confined spaces, to dangerous areas such as hot tapping into live 1000psi natural gas lines. The company also has an extensive drug use and drug awareness policy that includes pre-employment and post-incident drug testing.
"There are a lot of companies that have problems with drug abuse and we are no different, so we're taking a proactive approach and helping the people who want to get help while preventing possible injuries and retaining valuable employees," Carter says.
Community Support
All of Beretta Pipeline's strengths are ultimately derived from the same source. "Our company is built on a staff of talented men and women with diverse capabilities," Carter has assembled a very formidable management team and notes that the company cross-trains its employees across several functions.
The company's First Nation status gives it a large pool of potential employees. "We have a very talented base of experienced and non-experienced people we can choose from and train," he adds.
In addition to providing jobs to the region, Beretta Pipeline supports the community by donating to local sports and civic organizations. The company also spends the majority of its parts and supplies budget locally. "We spend millions of dollars on parts, equipment and all the other things our company needs to keep going here in Lloydminster, and we're thanked by the local businesses," Carter says.