Bergen Group Shipbuilding
Ship shape
Bergen Group is a maritime industrial group that predominantly focuses on the offshore industry, within fixed and floating constructions, and special purpose vessels.
Bergen Group's companies serve the high technology segment of the offshore and shipbuilding industries and, thanks to a series of strategic acquisitions, the Group specialises in four areas – shipbuilding, maritime service, offshore, and technology.
The main office is located at Laksevåg in the centre of Bergen, with other sites strategically placed along the coast of Norway, from Kirkenes in the north to Stavanger in the south, hosting about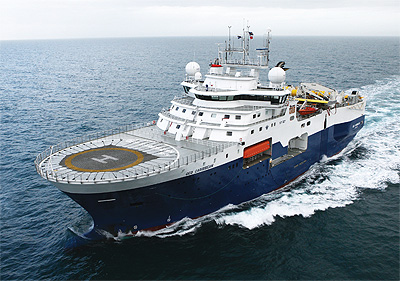 2000 employees; 1500 of which are permanent employees while the others are contract workers.
Bergen Group was established in May 2007 as a result of strategic planning to establish the company in the offshore and maritime industries. Bergen Yard Holding's company leader, Magnus Stangeland, completed the acquisition of 19 offshore maritime related companies with a considerable share directed towards the offshore and technology sectors. Bergen Yard Holdings, which would later become known as Bergen Group, progressed from being a traditional shipbuilding yard to include all segments of highly technical developments within offshore and shipbuilding. This transformed the company from a traditional yard to an offshore and-technology-based industrial group, and so the new name, Bergen Group, was adopted.
The shipbuilding and maritime service section of the company dates back over 100 years. In the past, Bergen Yards consisted of BMV, Kimek, Halsnøy and Hanøytangen commissions of different dimensions but after a contract with the Ellen Forlands shipping company, the shipbuilding activity within the company flourished. In October 2007 Bergen Group delivered the world's largest seismic vessel, Geo Celtic, to its ship owners, which was an important milestone and proved the company could provide high technology, custom designed ships of quality.
Bergen Group's shipbuilding division has accrued a great deal of competitive experience and competence in state-of-the-art special purpose vessels, particularly in offshore vessels (ROV, OCV, DSV, PSV) and seismic vessels. What's more, Bergen Group boasts a unique expertise in building vessels and maritime workboats. Being able to proficiently cooperate with partners and suppliers is integral to Bergen Group's continued success, as its hulls are built abroad by skilled suppliers, before the vessels are fully equipped at its specialised shipyards in Norway.
Its talent for shipbuilding is widely recognised and, consequently, the business enjoys a leading position within shipbuilding internationally. Bergen Group continuously invests in development and innovation in order to maintain its competitive edge in an industry that is constantly developing. It safeguards its future by consistently delivering vessels of a very high standard that can operate in very difficult conditions. In fact, the business has a considerable order backlog of supplying special-purpose vessels running until 2011.
Bergen Group's shipbuilding is undertaken at four of the company's yards – BMV, Halsnøy, Fosen and Landskrona – which all produce a variety of vessels. Bergen Group BMV, previously known as Bergen Mekaniske Verksted, was established in 2002, although it has roots dating back more than a century. Laksevåg in Bergen is the setting for the yard, which has established an excellent reputation and lies within the vicinity of other companies in the ship and oil industries. The yard offers a full spectrum of activities, placing emphasis on building seismic vessels and other custom designed ships for the oil industry. BMV has a sound contract portfolio, with agreements extending into 2011, and the yard has a promising future to look forward to while it concentrates on the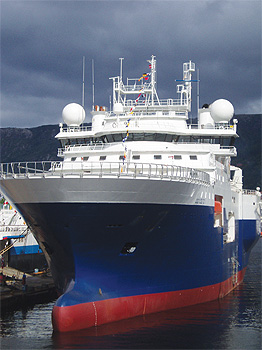 shipbuilding market.
Bergen Group Halsnøy covers a multitude of areas including shipbuilding, ship repairs, reconstruction and extensions of civil and naval vessels; overhauling, repairs, manufacturing, machining and welding services for the offshore and land based industries; steel and welding work; development and delivery of workboats; and specialised products for the aluminium industry. The yard offers its services to all types of vessels and offers excellent docking facilities, as well as several larger quay areas for the undertaking of service tasks. In its steel hall, within the vicinity of the quay area, it is able to build large steel constructions and modules and the yard possesses all the requisite competence within the trades to plan and carry out larger constructions, classification of vessels and routine dockings.
Fosen Yards was acquired by the Bergen Group in August 2008. Now branded Bergen Group Fosen the yard employs 250 people (not including subcontractors) and has shipbuilding facilities at Rissa in Norway. By constructing high quality RoPax vessels, the engineering department at Fosen has developed several ship designs for numerous highly efficient RoPax vessels. It offers ship owners a large range of services, as well as years of knowledge and experience in creating excellence for those owners and their charterers – it has been involved in shipbuilding since 1918.
Bergen Group Landskrona, formerly a part of Fosen Yards, is located 40km north of Malmø on the Swedish West coast, and boasts the distinction of being the last Swedish shipyard to be actively producing large ships. Landskrona is specialised in hull and hull section construction, and fabricates a wide range of heavy steel structures for local, national and international industries. Of its 220 employees, 60 are permanent employees, and the yard is known for its extremely high standard of work and on time deliveries. Despite the fact that Bergen Group Fossen and Bergen Group Landskrona have been awarded a contract by Volstad Maritime AS in Ålesund, Norway, in November 2008, the recent slowdown in the shipbuilding market also has affected Bergen Group Shipbuilding.
"I do not think the industry will be at the same level as 2007 and the first half of 2008 for some years, and the industry will see the consolidation of energy companies, ship owners, ship yards and subcontractors in the next six to 18 months", VD of Bergen Group Shipbuilding, Inge Tangeraas, states. "As there will be a rising demand for oil and gas in the future, at some point the energy companies will have to get back on track in regards to the search and exploration of oil and gas. Much of this exploration will take place at large depths, requiring large specialised offshore vessels."
In terms of future development, Bergen Group's strategy is to grow the activities that require a high degree of competence and quality, expressly directing this strategy to special purpose vessels and the offshore industry. The company's intention is to maintain its position as a significant participant in shipbuilding, maintenance and repair, offshore services and the development of high-technological products. "We will continue to secure work for our yards by continuing to build excellent ships", Inge concludes.
Bergen Group Shipbuilding
Services: Shipbuilding