Norwegian quality
The last time that European Oil and Gas featured Bergen Group, in late 2010, the offshore market had just begun its recovery from the biggest market crisis in years.
The major Norwegian industrial and offshore construction group had secured steady business for itself by diversifying outside of its traditional shipbuilding roots and taking on unique high capacity projects. The last 18 months has seen the worldwide maritime and offshore markets revitalising, with many previously shelved projects once again coming back online, and Bergen Group has been at the forefront of picking the most interesting prospects available on the Norwegian Continental Shelf (NCS). The Group has 1600 skilled and motivated employees, working in well-established companies strategically located along the coast of Norway. Close to half of the workforce are placed in the Offshore-division.
"Since the market picked up at the end of 2010, we have been rather successful in winning tendered contracts," says Kristin Færøvik, executive vice president at Bergen Group Offshore. "We have become an important EPCI supplier on the NCS and have a broad project order book at the moment. Primarily our work involves brownfield modifications throughout the region, of which there are currently a lot. We have also had a steady flow of fabrication work. The pure fabrication contracts are primarily for subsea structures such as manifolds and spools, giving a good log of quick turnaround work. Our biggest project at the moment is a major modification of Statoil's Kvitebjørn gas platform."
Bergen Group Rosenberg is currently constructing a 1200 tonnes precompression module that will be lifted onto the Kvitebjørn platform next summer. This module contains processing equipment as well as a gas-turbine compressor that will compress gas before letting it into the pipes. It will improve recovery rates and accelerate production by allowing for reduced wellhead pressure. Bergen Group Rosenberg's task involves an engineering, procurement, construction, and installation (EPCI) contract valued at over one billion NOK – the most valuable project Bergen Group has tackled in many years. It was awarded at the end of 2010, engineering began immediately, whilst steel cutting commenced in 4Q 2011. The project's projected completion date is in 2014.
In the wake of the Kvitebjørn announcement, Bergen Group Rosenberg continued collecting projects in its order book. The company is one of three to hold a framework agreement with ConocoPhillips for brownfield modifications in the Ekofisk area. A steady flow of work has been coming under this contract, with the most recent award being the Hook-up and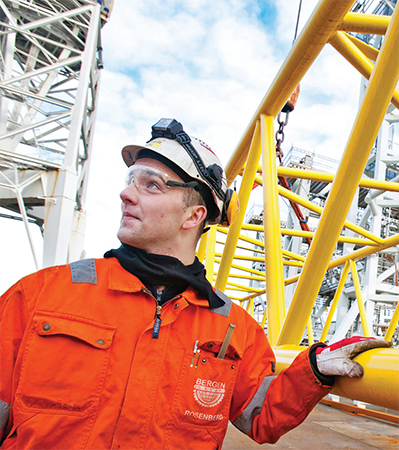 Commissioning contract for the new Ekofisk Living Quarters due to be installed in 2013. A recent contract with Statoil is work on the Njord Bravo floating storage and offloading (FSO) vessel. It began in August 2012 with a FEED study in preparation for the dry-docking due to take place at Rosenberg in 2013. The work to be undertaken then includes upgrading of its accommodation section as well as improving the machinery, engines, thrusters, and onboard control systems. Sub-contractor Kaefer Energy will perform surface protection upgrades to the deck and outer hull. Structural work will begin in summer 2013. There have been many other EPCI brownfield modification projects to keep the company busy as well.
"Over the last two years we have managed to grow our engineering department by between 60 and 70 per cent," says Kristin, highlighting Bergen Group Rosenberg's rapidly growing commitments. "Alongside securing plenty of new work for the company, we have built the organisation as well. The biggest challenge for Norwegian supply industries is undoubtedly resources so we are very pleased that during these very competitive times we have been able to attract people – and in particular, engineers – to Bergen Group Rosenberg. More importantly, as important as bringing in new people is, it's been even more successful that we have retained those already in the company that have the experience we need. I believe this is a sign that Bergen Group Rosenberg has a lot of exciting work, not just today but in the future as well."
Bergen Group Rosenberg has many benefits to bring to the market, the retention of experienced engineers and acquisition of fresh knowledge being just one. Another of its strengths that has made it stand out in today's cost-conscious environment is its ability to deliver excellent cost-versus-quality packages. In terms of labour and material costs Norway cannot compete with countries in Asia, for example, where manhour rates are significantly lower. Where Bergen Group succeeds, however, is in being reliable with project windows and creating high quality products that save on overall lifecycle costs. The repair rate on the first 13 kilometres of welding for the Kvitebjørn project, for example, was a minimal 0.01 per cent. Reliability and quality have ensured Bergen Group retains a good order book despite strong competition.
Looking forward, then, Kristin is confident in Rosenberg and the rest of the Bergen Group to defend its position as an innovative supplier of products, services and solutions to the offshore and maritime industry.: "We learned in 2008 that taking on too many projects is not a good idea because there is a risk that some may end up falling below customer expectations, therefore we are now very selective in what we bid for. Nonetheless we have a fairly good horizon in terms of new projects coming on: plenty of brownfield EPCI modifications work. Ideally we'd like to also like to position ourselves for Greenfield topsides projects in the future. We've built many at Bergen Group Rosenberg in the past and it's an area we would like to position for again."
Bergen Group
Services: EPCI supplier