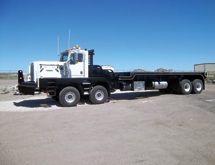 Bessemer Enterprises/Castleman Truck Inspection
When rig operators across the United States and beyond need a long-lasting, durable truck to meet their needs in the oilfield, they look to the Castleman family. Family patriarch Larry Castleman has built custom trucks for more than 40 years as one of the owners of Bessemer Enterprises, and his son, Allen, founded and is vice president of Castleman Truck Inspection (CTI), which tests, reverse-engineers and certifies oilfield winch trucks. Both firms share family ownership as well as facilities in Casper, Wyo.
Founded in 2009, Bessemer Enterprises specializes in building custom rig trucks from the ground up. "With our company, you're going to get a custom truck 100 percent of the time," says Allen Castleman, who also works as a shop foreman for the company.
"We're not pre-building a bed or other parts for a truck before it comes in. Every plate placed and every hole drilled is there for a reason – if you come to us, you're going to get a truck that completely meets your needs."
Bessemer fabricates, welds and assembles truck beds, raising rolls and gin poles for trucks used to haul and move oil rigs. The company also builds truck and trailers for its customers. "Depending on the truck, we will build the bumper and everything else from the cab back based on customers or our own designs," Castleman adds. "Customers usually come to us when they're looking for the best product in terms of strength and durability. The biggest selling point of our trucks is the quality – we have a better-working, heavier duty and stronger product than what a lot of other companies build."
In addition to Larry and Allen Castleman, other members of the Castleman family are involved in the operations of both companies including Kate Castleman, Allen's mother, who co-owns and serves as president of both companies; Larry Castleman Jr., a shop foreman and Allen's brother; and Office Manager Genie Castleman, his sister.
Meeting Standards
Truck strength and durability are also the goals of CTI, which Allen Castleman founded in 2011 in response to the International Association of Drilling Contractors' (IADC) adoption of certification standards for gin pole winch trucks. Shell and other major oil companies enforce these standards on trucking companies they hire, Castleman says.
CTI performs a variety of inspection methods including visual, mag-particle, ultra-sonic thickness and hardness testing. Trucks are tested for inferior welding, design flaws and correct steel usage.
Each truck is issued a certification and load chart matching its capabilities. This certification is derived from drawings of critical truck components made by the company's engineers using computer-aided drafting software. The load chart and certification are then used by safety personnel in the field to determine how much the truck can safely lift.
Bessemer Enterprises takes advantage of its sister company's engineering capabilities to offer its customers trucks that already meet IADC standards. This includes applying a safety factor to gin pole trucks that allows them to meet more rigid standards. "One of my engineers who does this kind of work on his own, in addition to working with our company, has told me that he hasn't seen a better-built truck on paper of the others he's certified," Castleman says.
Advanced Technology
Both Bessemer Enterprises and Castleman Truck Inspection apply the newest available technology to the trucks the companies build and inspect. Castleman Truck Inspection recently designed a portable load test trailer that can be used to test trucks lifting capacity up to 65,000 pounds anywhere in the United States. The trailer is hauled by a truck, and then placed on the ground by a hydraulic lift. Once placed, trucks can be pulled on top of it for testing, Castleman adds.
Allen Castleman and one of CTI's engineers recently helped develop a load cell and angle indicator with an in-cab screen that can be used for gin pole trucks. Bessemer Enterprises is serving as a distributor for the product, manufactured by Load Systems International.
"This allows the driver to see on the screen just how much he's lifting and at what angle, which was only possible previously for crane operators," Castleman explains, noting the technology was developed in part because of an industry demand. "We are trying to emphasize that not only can we engineer a truck that has a safety rating similar to that of a crane, but that we also can allow gin pole truck drivers to see a load chart and have the same sort of quality of safety as crane operators."