Use the force
Originally established as the high-pressure technology division of the Boehler Group, BHDT's heritage extends as far back as 1958.
Since then the company has diversified its services and developed a strong presence in new markets, most notably by expanding into high pressure pumps in 1979 and progressing into the oil and gas industry in 2009; a move that has proven highly fruitful for the company, with dramatic growth of 50 per cent witnessed yearon- year since 2011.
A private entity since 1996, BHDT GmbH adopted its current name in 2007; although the name was synonymous with the specialised design, supply and manufacture of high pressure equipment and components for the chemical and petrochemical industries, BHDT used its knowledge and expertise to successfully develop a reputation for superior products and service in the demanding oil and gas market. These NORSOK conforming products include a wide range of compact flanges, orifice spacers and reducers, which are developed and manufactured with high quality materials such as Duplex, Super-duplex, high strength carbon steel and low alloyed carbon steel. In addition, BHDT produces pipe spools with complex shaped geometry with the highest accuracy. These pipe spools for instance are widely used as "Inner Pipes" of high-pressure swivels for stateof- the-art FPSOs or FLNGs. BHDT has recently delivered its products for the Prelude, Ichthys and Stones floating units.
Since it was previously featured in European Oil & Gas Magazine in July 2014, head of BHDT's oil and energy department Manuel Prohaska claims that although the oil and gas industry has been affected by oil prices and project delays, the company has enjoyed a strong financial year thanks to an impressive number of orders: "The first two quarters of the financial year have been fantastic, with a lot of orders for our special types of flanges, pressure spools, valves and cladding, which have been used in a number of projects. In fact, two to three months in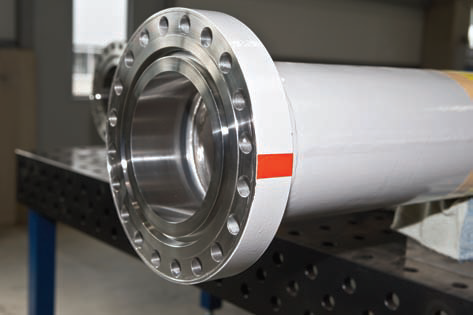 we have already achieved 60 per cent of our goals for the year; since these positive developments our oil and energy department has unfortunately been severely affected by the postponement of several projects that were announced for the second half of 2014. This has been difficult for us, but by the end of March 2015, when our business year comes to a close, we will see if we achieved our goals for 2014."
Key to the company's success is its commitment to maintaining a traditional approach to business while also focusing on the continued improvement of its products and services. Most notably this has involved the development of high-pressure ball valves, as Manuel discusses: "One of our major activities throughout 2014 was to establish an expert group to develop high-pressure ball valves for the subsea market and deepwater applications. This will more or less complete our product range as these types of valves are only common type of high-pressure valves that we are not yet manufacturing; I have had a number of application talks in November and December 2014. These discussions are now almost finalised and our development group will begin operations in March 2015.
"The most important aspect of developing this new product line is to comply with all relevant API certifications; the required modifications of our processes and quality system are already ongoing. By mid 2015 we will have the first innovative prototypes available. Our goal for the second half of the year is to have the first orders for these high-pressure ball valves to allow us to enter the market. To ensure this happens we will strongly focus on sales activities and approaching clients," he adds. Although the company delivers approximately 2500 highpressure valves annually, the implementation of ball valves into its scope of supply is viewed as a critical development for the innovative firm. The relevant API certification will be also finalised by December 2015 at the latest.
This commitment to meeting the stringent and ever changing demands of customers within the oil and gas industry has resulted in BHDT increasing its scope of supply to FPSO's over recent years and progressing into more complex offshore projects. "A recent notable project for us is the FLNG Prelude project, which is the first project where we have supplied all of the inner piping, flanges, bolts and other equipment in the centre of the turret. This was a very challenging project, as Shell does not allow for any deviation, even if this deviation would have absolutely no impact on performance, and it rejected for instance one of our parts as it was six micrometres too short after performing one demonstration measurement during an inspection. Anyway, we have learnt our lessons and are now well prepared for upcoming projects, e.g. the Browse FLNGs," explains Manuel. "Meanwhile, the Stones FPSO was interesting for us as it allowed us to do all of the pre-assembly of SBM Offshore's new piping design on site so no further assembly was necessary; this way of working reduced costs for the client considerably and increased our involvement, so it was a positive project for both of us." Despite the short length of time that BHDT has been active in the oil and gas industry, the company's flexibility to market demand has led to the accumulation of a number of blue chip clients, such as Petrobras, Shell, BP, SBM Offshore and Aker Solutions. "We are being increasingly selected because we have a unique combination of highly accurate measuring, approximately 100 expert welders and expertise in flange fabrication. On top of this, all of our engineering is in-house, so all drawing, advising and manufacturing takes place in one place," says Manuel.
"Our vision over the next three years is to become a well-known and respected player in the subsea equipment market, particularly for our high pressure ball valves. Meanwhile, over the next 20 years, we will focus on delivering a total package solution to our customers," he concludes.
BHDT GmbH
Services
High-pressure equipment and high-pressure components