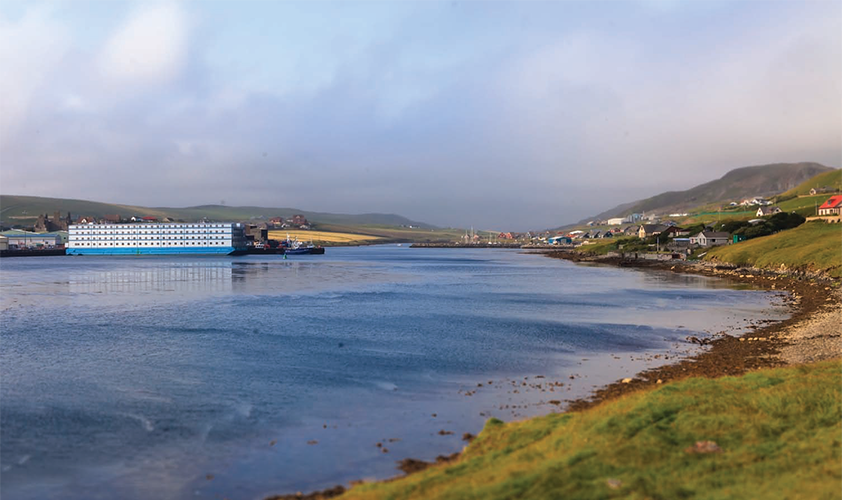 Comfortable living
As a provider of floating accommodation in a variety of forms since 1982, Bibby Maritime is now regarded as the market leader in shallow water floating accommodation vessels.
Based in Liverpool, the company maintains a fleet of five Coastels, which offer high quality facilities for projects worldwide.
"We provide accommodation on large developments, usually construction in the private sector, but also typically oil and gas in recent years," says managing director Jon Osborne as an introduction to Bibby Maritime's business model. "We supplement the land accommodation that these projects have as a matter of course. Often we are either the pioneer camp at the very start of the project whilst they are building the land facilities, or we assist during the peak construction period." The company is used to working with other accommodation providers due to the size of the projects in the industry and the temporary nature of the facilities.
There are significant benefits to Bibby Maritime's concept though, as Jon outlines: "Our vessels can be moored close to a work site, which reduces the operational difficulties and costs involved in moving workers between sites. Furthermore, we are temporary by nature, which means we have very good environmental credentials. We can float in and out without leaving any footprint behind, whereas if you build or rent a land camp the infrastructure can be quite telling on the environment.
"We also provide access to more remote locations such as the Shetlands or north of Norway, where often there is a desire to not increase the urban footprint through development. In fact there are very few places we can't go, with berth availability being the main challenge that we face. Likewise, we are very cost-effective as a solution compared with land camps," he continues.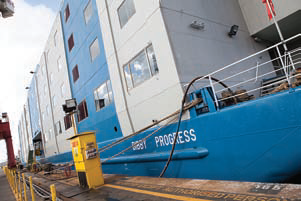 At present Bibby Maritime's vessels are effectively divided between two fleets – one in its home market of northern Europe, and the other in Australia where one vessel is already working, and set to be joined by a second at the end of the year. The vessels are predominately the same, although the Australian fleet is more self-sufficient in terms of power, sewage and water supplies, whilst the European one requires more access to the main supply.
"In the last two years four of the five vessels we operate have had millions of pounds spent on them in a full refurbishment to bring them up to 21st century grade accommodation," notes Jon. "This includes Wi-Fi onboard each vessel, TVs in most rooms, and en-suites. We see our business as being very similar to a hotel, and so it's about making sure that our vessels meet those same quality standards. The provision changes subtly over time but it's more about a lifestyle choice now."
Bibby Maritime is also speaking to suppliers in Europe and Australia about securing two new vessels for these markets. "We hope to make that investment in the next few months," highlights Jon. "The market is very good for us at the moment with strong utilisation of the fleet, and I believe that is based on the fact that we have such a strong product. We've been in this business for 30 years and we feel we are becoming a more accepted solution. As we work on more projects, a lot of the workforce have stayed on vessels in the fleet before and we actually find that we are usually viewed as the most popular accommodation option on a project."
By investing based on this success, and the company's track record in gas projects, Bibby Maritime hopes to have additional availability to take on new projects. The company has also introduced a number of changes to its business proposal in order to make it simpler for customers to do business with it.
This includes managing compliance with the different standards and legislation in each country on the client's behalf. Another measure is to remove the high upfront charge for movement of the vessels between locations by setting a single day rate, which includes recovery of the mobilisation fee.
"On many projects the requirement for the workforce goes up and down as the work progresses. Therefore when renting our vessels we will give the client a flat rate for their base requirement of rooms, and then charge per room for any additional used. This gives the client the flexibility to adjust their requirement, without having to pay for any rooms they don't use," describes Jon.
"Later this year we will be taking another vessel to Australia where we have secured planning permission for a berth in Darwin, and are subsequently in talks with a number of contractors doing work on the Icthys LNG project in the area. This is a new approach for us, but we are taking the initiative to get all of the berth permissions in place for areas that we know are hotspots for accommodation, and then securing the contracts after," he concludes.
Bibby Maritime
Services: Floating accommodation