Proving the American Dream is still alive
Few company stories are as astonishing as that of Big Elk Energy Systems. The provider of custody transfer metering systems used in transactions between pipeline companies, and in particular its founder and CEO – Geoff Hager, encountered challenging obstacles just to get the business started, which would have disheartened many, but owing to Geoff's admirable perseverance and resolution, Big Elk overcame all challenges to become one of the fastest growing startups in America's energy sector.
Geoff himself provides us with a detailed account of the difficulties he faced to launch Big Elk: "Ours is not the type of business that allows you to start small and grow from there. The equipment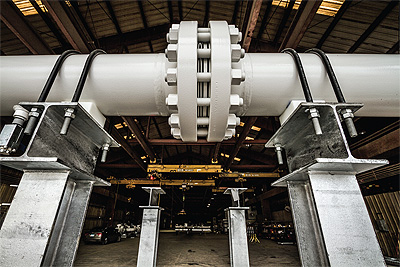 we build is really large, which means that from the outset we needed big infrastructure and therefore, a lot of capital investment to get the company off the ground. Our facility spans around 140,000 square feet and required a multimillion investment, which could often be a challenge for a start-up company."
Through a friend of his who was an investment broker and who helped him secure an investment contract valued at $10 million, it was now up to Geoff to find the property of his dreams, which, indeed, he did. "The moment I walked in, I was overcome with the sensation that this is where we are supposed to be. In order to secure the site, however, I had to make an earnest money payment of $80,000, which had to come from my family's savings. I was hoping that closing the investment contract would allow us to recover this expenditure quickly, but when the time came to sign, they informed me that they needed another 90 days, which was to result in an extension of our property contract, as well, and ultimately, in us losing more money," he recalls.
With Geoff's back pushed firmly to the wall, he was at a loss of how to proceed, but it is for a reason that they say it is darkest before the dawn. It was divine intervention, as he calls it, that gave him the strength to carry on. "A dream just before I woke up on the day I was supposed to close on the property and I knew I was not going to be able to do so, was the only thing I could hold on to. In it, I saw a lady I knew from the church I grew up in. When she heard my voice, she turned around and spoke in a voice that sounded just the way John describes God's voice in the Book of Revelation – 'the sound of many waters'. Her exact words were: 'Thus saith the Lord: I have two things to tell you and the first is: I will not fail'. When I woke up, these words were still reverberating in my mind. It was not Geoff that would not fail, it was God telling me that He would not fail."
Suddenly, there was a glimmer of hope. Geoff was given an extension of another two weeks to pay for the property, but during this time, his investment contract fell through completely and he was forced to give up on the facility. Temporarily, as it turned out. He continues: "We were not ready to file bankruptcy just yet and I still had the feeling that I had a divine directive in my life to get this business started. I started looking for new investors and I found a banker who was willing to loan money to a start-up company. Miraculously, then, I was able to raise $2.4 million in private capital in two months, and he loaned me the rest, which was just over $5,000,000.
"As soon as that happened, I knew we would have to find a new property, but I could not let the old site out of my mind, so I thought I would give it one more shot. I got in touch with the company asking them if they would consider taking a look at my new financing. Apparently, they were in due diligence with another company, but upon checking our finances, they agreed to sign a contract with me. Finally, I was able to close the deal and just before signing, something extraordinary happened. There was one final change that needed to be made – the owner had added the following words to the settlement: Credit to buyer: $140,000. It was a remarkable act of compassion by this multibillion-dollar corporation for a single person to give them their money back, but because of their benevolence, my family survived for the next 18 months," Geoff reveals.
Big Elk might have put behind itself one tribulation when another followed almost immediately after the company started in October 2014. "The oil prices crash meant that we were losing money on a month-to-month basis and at the time, we could not afford even to pay my salary. By mid- 2016, we had lost so much money that, due to a certain tax relief scheme, my family was able to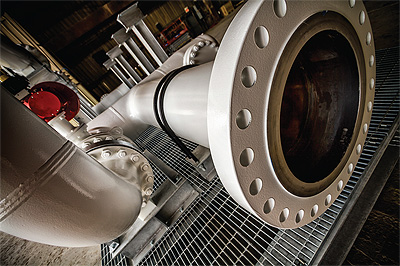 refile our tax form for the previous two years with the losses allocated, which allowed me to get back as a refund everything I had paid in this period. That was about $70,000, which sustained us in the next 12 months when we were finally in a position to start paying ourselves a salary."
Now in full swing, in 2018, Big Elk hit a record turnover of $31 million – a 50 per cent year-on-year growth, all to the Big Elk team's credit, affectionately called by Geoff 'the dream team'. "We assembled the best professionals in this business who, in their previous jobs, had already been dealing with some of the largest energy companies we were looking to work with, being on their approved manufacturer lists. The strong relationships we were able to cultivate with our core customer base are the chief reason why Big Elk rose so quickly in the North American market," Geoff comments.
The all-star team wasted no time in starting doing what it does best, backed by the extensive opportunities the company's vast facility has provided them with, in regards to the efficiency of the production process. Geoff adds: "For example, we have invested $2 million in a state-of-the-art coating facility that is a major differentiator, which enables us to run the process indoors at any time. Most other companies tend to do coating outdoors, because of the large equipment that is needed, but that might expose them to adverse weather conditions and increased lead times. What is more, each layer of coating requires 24-48 hours of cure time before you can put the next layer on. To reduce that time, we have an in-built, climate-controlled curing facility equipped with a special air handling system to help our coatings cure in just four or five hours."
Although a fairly young company, Big Elk has been bold enough to shake the energy industry up by developing innovative products with the sole aim of solving a number of age-old issues. "For more than 20 years, the technology of meter proving has existed to help companies verify the accuracy of a liquid meter. During all this time, the Holy Grail for the industry was to find a way of applying the same method to gas transactions and we are proud to announce that in 2018, we released a patented device called M3 (Mobile, Master, Meter) to provide this option without the need of pulling the whole system out of the pipeline. It is one of the several products we have planned to launch, the second being released in Q2 of 2019. Just like M3, it will be a revolutionary device that eliminates historic issues and reflects our team's passion of moving the industry forward and bringing a level of innovation that is not typically seen from a business like ours," Geoff enthuses.
Finally, he declares Big Elk's grand ambition of expanding outside North America in the coming years: "Starting this year, we will make a strong a push for establishing a presence in key foreign markets, so we're currently looking for partners and sales channels to gain access to these areas. I expect us to see our first largescale international projects secured in 2019 and by 2021-2022, we hope to have the majority of our work coming from abroad."
Big Elk Energy Systems
Products and services: Measurement systems; fuel gas skids; pigging; electronic flow measurement and gas quality analysis