Big step for the industry
Neste successfully processed 400 tons of liquefied plastic waste at its refinery in Finland in the Autumn of 2020. This was the first time Neste processed liquefied waste plastic at an industrial scale. During the run, packaging and mixed waste plastics were upgraded into high-quality recycled feedstock for petrochemical industry uses, e.g. for the production of new plastics.
The processing run marks a very important milestone with regards to Neste's strategic aims of driving circular economy and replacing crude oil use at its own refineries. Neste's target is to process over one million tons of waste plastic annually from 2030 onwards.
Neste aims to increase the volumes of liquefied waste plastic processing gradually to continue learning and developing the value chains and processing technologies. The next processing runs at Neste's fossil oil refinery in Porvoo are already being prepared for 2021.
"We are very excited to have successfully completed our very first industrial-scale processing run with liquefied waste plastic. While there is still a lot of work to be done, this is a huge step for our industry towards turning hard-to-recycle plastics from waste to a valuable resource, making circularity a reality," says Mercedes Alonso, Executive Vice President, Renewable Polymers and Chemicals at Neste. "Together with the renewable feedstock that we have already been providing for the production of high-quality, high-performance polymers and chemicals with reduced carbon footprint, these new volumes produced through chemical recycling of plastic waste will significantly contribute to accelerating the necessary shift towards the circular bioeconomy for plastics."
Landmark North Sea project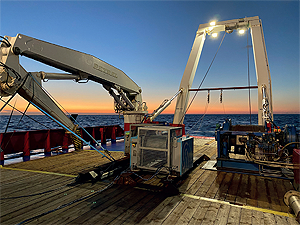 The UK entity of iSURVEY has completed its largest project to date. The seven-figure project not only breaks the Aberdeen-based team's single contract value record but has also seen a ten-strong group of offshore survey experts complete an incredible 6,300km of survey since mobilisation in late July.
The contract – which consisted of two workscopes – was awarded by Norwegian ocean bottom seismic experts, Magseis Fairfield ASA. The two circa.500 square km surveys have contributed to Magseis Fairfield's ocean bottom node (OBN) exploration project within the Cornerstone area, which has been described as one of the most challenging locations in the North Sea.
iSURVEY Managing Director, Andrew McMurtie commented: "November marked the end of a long and successful seabed survey programme for the iSURVEY team. Mobilising on the Northern Survey OSV Cecilia just a week after contract award, I am hugely impressed with the results we have achieved and proud that our client has been so pleased with our performance.
"Equipped with multi-beam echosounder (MBES), side-scan sonar (SSS) and magnetometers, our spread of equipment and personnel dealt with the full gamut of North Sea weather, whilst safely achieving all workscope objectives and completing this milestone project on schedule."
Gas giant
H-Energy, through its wholly owned subsidiary Western Concessions Private Limited (H-Energy) has entered into a binding commitment with Höegh LNG Holdings Ltd. for the supply of its Floating Storage and regasification Unit (FSRU) Höegh Giant under a ten-year agreement, for deployment at its LNG regasification terminal project located at Jaigarh Port in Ratnagiri district of Maharashtra, India. The FSRU will be delivered to H-Energy's Jaigarh project in the first quarter of 2021.
The FSRU will deliver regasified LNG to the 56 km Jaigarh-Dabhol pipeline connecting to the National Gas grid and will also deliver LNG onshore for LNG truck loading facilities. The FSRU is also capable of reloading LNG onto other LNG vessel's for providing bunkering services.
Upon the delivery of the FSRU H-Energy will commission its Jaigarh LNG regasification terminal project in March 2021. This LNG terminal will become India's first FSRU based LNG regasification terminal.
H-Energy's Jaigarh LNG terminal is also constructing truck loading facilities to deliver LNG through trucks to its customers. H-Energy further plans to develop L-CNG stations across India to enhance the utilisation of LNG and CNG as transportation fuel.
Smart pipelines
California-based smart pipeline innovator Tri-D Dynamics Inc. (Tri-D) and Japan-based global steel distributor Marubeni-Itochu Steel Inc. (MISI) have signed an agreement to develop smart pipelines that bring the benefits of digitally-connected infrastructure to the energy industry. Under the agreement, Tri-D will provide design and advanced manufacturing IP to integrate sensors and electronic components into MISI pipelines used in oil and gas production, in a market with over 14M metric tons of demand in 2019.
Embedded sensors and electronics will enable digital tracking of the pipes, called Oil Country Tubular Goods, or OCTG, over their lifecycle – from fabrication at the mill to transportation, storage and incorporation into the wellbore. The partnership will provide Exploration and Production (E&P) customers with increased accuracy, reliability, transparency and efficiency for one of the most critical pieces of well infrastructure.
"Adding full traceability to our tubular products from mill to wellbore is part of MISI's commitment to delivering the highest quality products to customers. We look forward to working with Tri-D to provide new digital functionalities and value for E&P end users," said the management of the Tubular Products Division at MISI.
"Bringing automated digital tracking to smart pipeline and tubular products will enable real-time and counterfeit-proof supply chain management, improving the safety and efficiency of delivering and using the fundamental pipe infrastructure of energy production," added Tri-D CEO Deepak Atyam
Building success

Separo has been awarded a three-year contract for the provision of produced water treatment services from Neptune Energy. Separo's SepSORB® water treatment system has, over the last two years, successfully reduced hydrocarbon content in produced water, supporting consistent environmental compliance on Neptune Energy's Cygnus Alpha gas production platform, which is located in the UK Southern North Sea.
The new contract is another endorsement of Separo's expertise in dealing with reducing hydrocarbon levels in produced water, with SepSORB already being used on platforms in the Dutch sector of the North Sea.
Andrew Hardie, General Manager UK, said: "We are delighted to continue our ongoing collaboration with Neptune Energy. We developed the SepSORB range to enable customers to lower the hydrocarbon levels in produced water, and it is great to see these systems in operation across the UK and Netherlands sectors of the North Sea. "We are determined to build on this success and further expand our Wastewater Treatment Services division."
The Wastewater Treatment Services (WTS) division was recently launched following the company's rebrand from Solids Control Services, which has been operating around the world for the last 30 years, to Separo. The exciting move also saw the creation of Solids Control and Industrial Waste divisions, which serve energy and industrial clients.