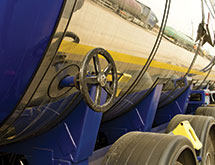 Lee Robison knows how difficult it can be to establish family or personal ties in the oilfield service industry. Before founding Big West Energy in 2013, Robison owned and worked for trucking companies serving the oil and gas production industries in Utah, North Dakota, Wyoming, Colorado and Montana.
"When I started this company, I had enough experience to know what it felt like to be a nomad and travel around and not be with family much," he says. "I wanted to build something where there could be a balance and a more sustainable model where people can come home at night and be with their wives and kids."
For his newest venture, Robison chose the east Texas region, one of the many places he had experience with. "I had lived down there for a few years, knew there was a strong infrastructure and experienced people, so felt there was a good opportunity there," he adds. "Nothing specific drove me there, other than just having a good general feeling about working in Texas."
Down to the Details
Based in Dallas, Big West Energy provides transportation services to oil producers and midstream companies throughout east Texas. Crude oil is the company's main cargo, though it also trucks frac sand and water, Robison says.
Big West owns six trucks and works with a number of independent owner-operators on its jobs. The company works only with owner-operators with prior oilfield experience and exemplary driving records who operate clean, up-to-date equipment. The majority of the company's drivers are local to the Dallas region. "We work very, very hard and are successful at hiring local drivers in the area we service," Robison notes.
Vehicles owned by the company are inspected daily and washed every two days. Big West's attention to detail when it comes to its drivers and equipment is the company's core competency and main differentiator, Robison says.
"You don't get a lot of chances in the oilfield. All it takes is one mistake and you get a tattoo on your forehead that says `knucklehead,' which can be very difficult to recover from," he adds. "We take the `small things' very seriously here."
Smart Growth
Big West Energy continues to invest in its capabilities in to better service its customers. The company this year began using an electronic ticketing system that enables it to produce a load ticket on a tablet device. Tickets are double-checked by staff before going to a customer. Once a ticket is received, all of the information on it autopopulates to customers' computer systems, reducing data entry time and eliminating the possibility of errors or omissions, Robison says.
Big West also recently started using electronic drivers' logs and telematics systems that track trucks' speed and load and driver habits, Robison adds.
The company's plans include increasing its fleet to 25 trucks. Although Big West is dedicated to remaining in the east Texas region, Robison is open to the idea of setting up additional satellite locations that would employ local people. "We don't want to just run around and work in an area for a month or two before going to another state; we want to set up a full operation," Robison says.