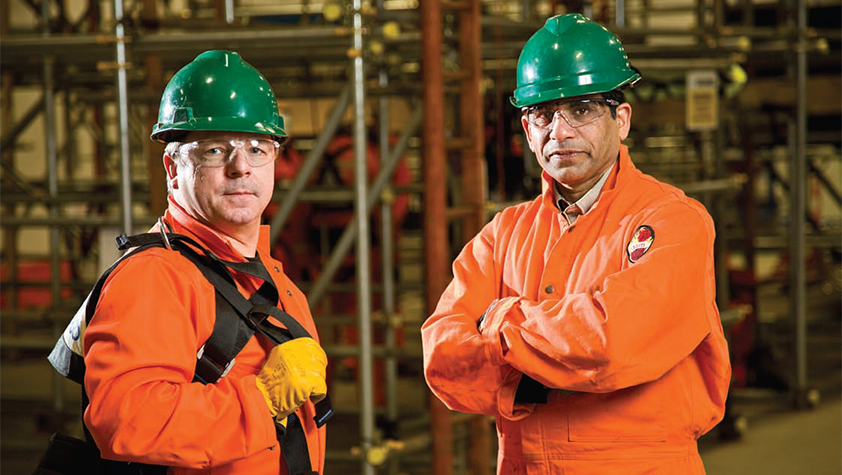 Developing a foothold
Headquartered in Aberdeen, leading offshore services provider Bilfinger Salamis UK Ltd celebrated a record year of economic growth in 2012 with a rebrand from its previous name BIS Salamis.
Delivering industrial services to the oil and gas markets throughout the lifecycle of offshore installations, the company has nearly tripled its turnover in the last ten years.
This impressive growth has been part of the company's strategic plan since Bilfinger Industrial Services entered the UK in 2006 through the acquisition of Salamis Group; since then the company has increased its service offering to become a global engineering and industrial provider, as Murray Strachan, strategic development director at Bilfinger Salamis UK elaborates: "Bilfinger Industrial Services and Bilfinger Salamis are new names but we have been finding solutions to the requirements of our clients in the UK oil and gas industry for nearly 40 years. In March 2013 all of the sub divisions of Bilfinger Industrial Services, which accounts for circa 3.7 billion euros of the circa 8.6 billion euro turnover of Bilfinger Group, were rebranded to bring client and industry focus to the wider capabilities we at Bilfinger can offer."
Initially focused on painting and blasting services, Bilfinger Salamis UK today provides integrated cost effective multi-disciplined offshore support services and maintenance solutions, such as rope access, deck services, architectural services, specialist cleaning and inspection, to a range of clients. The company has evolved from fabric maintenance contracts and there is
an ongoing strategic goal of developing a stronger foothold in the decommissioning sector, within which it has recently become a player. Viewing this step into decommissioning as a natural progression of the specialist services currently offered to clients, Gary Cruickshank, general manager, specialist services department, states: "We have been providing aspects of decommissioning for a number of years in services such as cleaning, asbestos removal, minor modifications and the identification and cleaning of naturally occurring radioactive material (NORM). These services are part of our day to day activity and are part of our growing decommissioning scope."
To further strengthen its competitive edge in the decommissioning sector and expand its current service offering in the offshore industry, Bilfinger Salamis announced a technical alliance with Star Net Geomatics, a leading provider of surveying, inspection and design and modeling services, and PDL Solutions (Europe), a leading provider of advanced 3-dimensional computer aided design, in 2012. The agreement will allow the Inspection division of Bilfinger Salamis, the opportunity to offer a fully integrated facts-based approach through the utilisation of state-of-the-art 3D laser scanning and true-to-view photographic technology. The combination of this integrated engineering solution will provide clients with accurate dimensional information and a clear range of options throughout the entire decommissioning process.
The influx of decommissioning work has led to the company creating its own decommissioning team so the specialist service unit of the business will not be disrupted from everyday projects when a tender for a large scope of work comes up. While other companies may be struggling to find personnel, Bilfinger Salamis has vastly increased its offshore work force, as Murray highlights: "Between our bases in Aberdeen and Lowestoft we have circa 2000 people offshore and in excess of 200 people onshore. In terms of the wider Bilfinger UK we have up to 5000 employees, and our Norwegian sector has 2000, so we have a wide resource capability."
Proud of its workforce, Bilfinger Salamis has its own skills centre, where courses are offered to both internal and external personnel at various career stages. Courses are offered in specialist areas such as working at height, blasting and painting, bespoke client specific services and confined space and vessel entry. Learning is a key part of the company's culture and there is a firm belief that continuing to be better than competitors is the best way to ensure its status as a leader in the offshore industrial services market. It is for this reason that the company developed the employee development strategy and competency system that assesses and certifies each individual employee's competence in both the technical and soft skills necessary to carry out his or her role.
Throughout 2013 the company will continue its focus on the offshore oil and gas market, which includes completing a major piece of research into decommissioning opportunities for both Bilfinger Group and Bilfinger Salamis in May 2013. Following a period of competitive tender, the company was appointed to provide services for an upgrade project by Shell in March 2013. The win extends Bilfinger Salamis' portfolio of projects with North Sea operators and is expected to run until 2014, creating an anticipated ten onshore positions and a further 200 offshore jobs. "Over the next five years we want to increase business turnover by £100 million. We aim to do this through a combination of developing the inspection and testing division and significantly increasing the specialist services division. Ultimately, expanding our business will come down to a combination of organic and acquisitive growth," Murray concludes.
Bilfinger
Services: Offshore support services and maintenance solutions