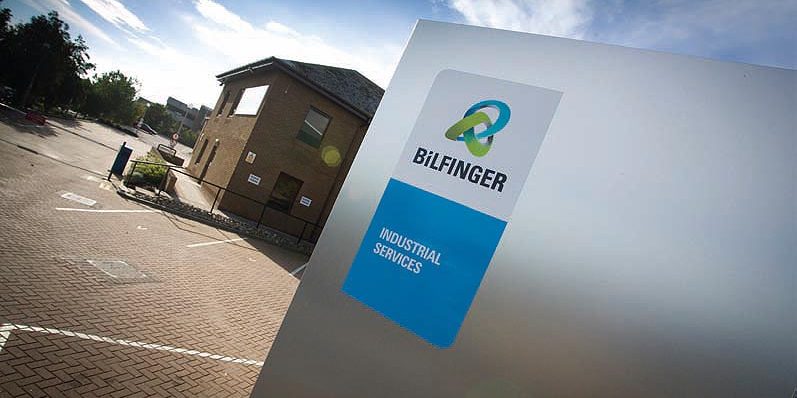 Group-wide network
With Decom North Sea forecasting that £31.5 billion will be spent on decommissioning existing assets between 2013 and 2040, operators are keen to ensure they work with the most experienced contractors in the supply chain.
Established in 1973 as a painting and blasting firm on Balnagask Road, Torry before it moved to its headquarters in the Bridge of Don, Aberdeen, where it still resides, Bilfinger Salamis UK has grown to become one of the industry's leading providers of integrated industrial support to the oil and gas sector. Today its group-wide network has positioned the company as a leading decommissioning player.
As well as more than 40 years' fabric maintenance, inspection and specialist cleaning experience in the UK Continental Shelf, Bilfinger Salamis UK also has the expertise and service offering of the wider Bilfinger Group at its
fingertips.
The Bilfinger Group employs over 70,000 people across the world, and was reorganised into 14 divisions at the start of 2014, with Bilfinger Salamis UK joining the group's newly formed Oil and Gas division.
Graham Hayward, managing director commented: "The oil and gas division has 6000 full-time employees, a revenue of approximately 700 million euros and has three operating entities; Bilfinger Salamis UK, its sister company Bilfinger Industrier in Norway, and our downstream business Bilfinger Industrial Services UK in Runcorn.
"We aim to bring synergies out with these divisions and integrate products and services in each of these geographical areas so we can crosssell and bring economies of scale. For example, there is cutting edge technology in Norway that we haven't applied in the UK offshore sector yet that we want to expose to the market place and across this side of the continental shelf. Similarly, we have some products and services in the UK that can help the division in Norway.
"We are a leading industrial services contractor in the UKCS, and we are confident in our ability to deliver a broad spectrum of decommissioning services enjoyed by our extensive range of blue chip client operators in the North Sea," said Mr Hayward.
Having grown four-fold over the last five years, the company has a proven track record for providing multi-disciplined, integrated support services and maintenance solutions to a broad spectrum of returning customers within the petrochemical, industrial, energy and utilities sectors in both the UK and certain international markets.
One area where the company has seen notable demand over recent years is its ability to provide integrated decommissioning support. Bilfinger Salamis UK has a broad range of services which tie into various stages of the decommissioning process, including initial survey work, integrity management, alternative access, rope access, supply of deck crew, cleaning and handling of hazardous waste e.g asbestos.
The company recently won a significant contract which will see it provide access, including alternative system scaffold, multi-discipline rope access teams and fabric maintenance support on a major decommissioning project in the North Sea, with work expected to develop over the next 12 months to include added disciplines.
"Bilfinger Salamis UK fully understands the constraints and drivers involved in successful execution of such a project," said Mr Hayward.
"We understand the need to carefully plan the work, maximise output and productivity whilst maintaining agreed quality standards. We have successfully delivered several major projects and campaigns in the last five years and have many experienced managers, operatives and project tools immediately available to implement projects.
"We believe we are currently best placed in our market sector with both the capability and capacity to provide the extensive supervision and resources required to undertake major decommissioning projects.
"We work closely with operators to develop cost effective, fit for purpose work methodologies and systems supported by the latest modern materials, equipment, access methods and encapsulation that will accelerate the project schedule. We have proven estimating and planning systems, plus project management tools and cost control systems that provide our clients with live, accurate data to carefully manage all activities."
One of the key factors in Bilfinger Salamis UK's success is its workforce of over 2000 offshore operatives. The company holds competency in the highest regard, and staff are regularly trained at the Bilfinger Salamis Skills Centre, also based in Aberdeen's Bridge of Don. The centre was set up in 2007 to measure the competency of staff, but now has over 70 per cent of its business coming from external clients looking to gain industry qualifications in disciplines such as Working at Height, Confined Space Access, and Painting and Blasting. Indeed, the Skills Centre provides the only OPITO Painting and Blasting course in Aberdeen.
"Bilfinger Salamis UK provides fully competent multi-discipline teams with proven supervision and tradesmen. We are one of the largest employers of scaffolders and fabric maintenance technicians in the UK. All operatives are verified, trade tested, trained and fully briefed in the project expectations and targets prior to commencement," said Mr Hayward.
"Our supervision staff members are behavioural safety coaches and have worked closely with onshore and offshore management teams to ensure and maintain the highest level of safety performance. Bilfinger Salamis UK takes ownership for managing and driving productivity, and achieving any project milestones."
Having formed the foundations to continue growing in an industry that continues to boom, the future looks positive for Bilfinger Salamis UK over the coming years, as it focuses on constant improvement of its services to safely and efficiently meet the evolving demands of customers within the onshore and offshore sectors.
Bilfinger Salamis UK
Services: Integrated industrial support