Full circle
With its roots established in 2005, Biogen has evolved into one of the largest independent anaerobic digestion operating businesses in the UK
Biogen has come a long way since it started business in 2005 with one plant and a handful of employees; today the business runs 13 anaerobic digestion (AD) plants, six composting locations and employs 160 people with a turnover in excess of £35m. This expansion has been fuelled by organic growth from 2005 to 2016 and more recently the acquisition of the Millerhill AD plant near Edinburgh and rival operator, Tamar Energy, supported by its shareholder, Ancala Partners. The company is now responsible for recycling over half a million tonnes of organic waste a year,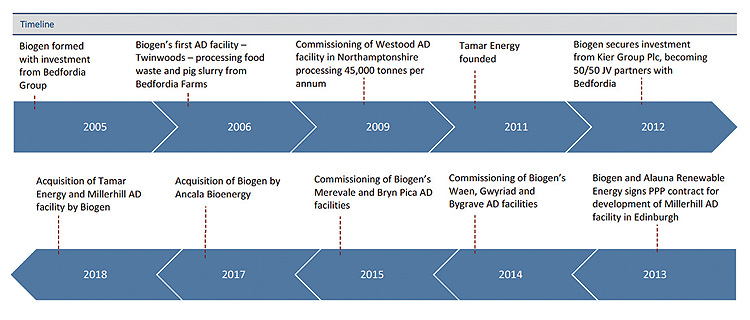 contributing to both the UK's recycling and renewable energy targets.
The feedstock that Biogen uses in its plants is sourced from supermarkets, caterers, pubs, hotels, food manufacturers and local authorities across the UK. On the AD side, this is processed inside sealed tanks to convert it into a biogas. "The biogas that we produce is rich in methane and fuels our CHP engines, converting it to electricity, which is fed into the national grid," explained Adam Feneley, MD of Biogen. "On the composting side, we take two different streams of organic waste, and we use a combination of in vessel composting and open windrow composting to convert that green waste into compost. The resulting quality products from our AD and composting sites are then sold as certified PAS110/PAS100 fertiliser and spread to land, benefiting the growth of the next food crop, making our operation a core contributor to the circular economy."
Biogen operates on a national basis and has built a reputation for guiding and assisting its customers throughout the entire process of waste recycling. "We always assess customer requirements first, and then focus on what they require, not what is the easiest option for us," Simon Musther, Commercial Director agreed. Simon continued with a specific example of Biogen's bespoke capability: "We introduced night time collections for a London-based food manufacturer with a very busy site, and that was only possible because of our local 24/7 transfer station – we could arrange for one of our network of partners to collect the waste and return the containers to site within 40 minutes, minimising disruption to the manufacturing process."
Simon's illustration highlights the importance of Biogen's seven transfer stations to its national coverage. Accredited and approved smaller waste collectors can tip loads here ready for Biogen to consolidate and move more economically. "These smaller customers couldn't access AD if it wasn't for these waste transfer stations," he pointed out.
Given the value Biogen places on developing personal relationships with external suppliers, it is no surprise to learn that this people-centric philosophy also applies to its own sites: "The experience of our team is definitely one of our core strengths and we work hard to establish and drive high standards of performance and commitment," said Graeme Vincent, Operations Director. "Every individual has a personal development plan which drives the significant amount of training we provide all our teams, making use of our in-house experts and quality professional external training as required to continuously improve our performance and customer service."
This training programme includes a key focus on health and safety with, for example, Biogen's introduction of the NEBOSH National General Certificate in Occupational Health and Safety training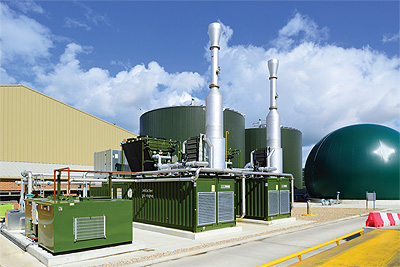 course for all Site Managers, their deputies and key support staff to further embed and drive its Safety Culture. Indeed, the safety and compliance standards that Biogen has introduced are leading the industry in terms of stringency and adherence. "We've introduced a broad range of Process Safety regimes such as our long-established Hazard & Operability Studies (HAZOPS), a thorough Change Control management system, plus a range of process monitoring and Operational Excellence techniques," Graeme continued. "We have developed a dedicated Compliance Team, well-regarded by industry and regulators, which in 2013 helped Biogen gain our ongoing accreditations to the OHSAS 18001, ISO 9001 and ISO 14001 standards in safety, quality and environmental management. Our Compliance Team continues to grow, not only ensuring Biogen's full compliance in this highly-regulated industry, but also striving for ever-improving industry leading HSEQ standards."
Adam added: "Health and safety is enshrined in our operation and everyone in the team is empowered to raise any concerns. There is also engagement of all senior management in safety audits, and we encourage the crossfertilisation of ideas, regularly sending people to different areas of the business to provide a fresh viewpoint."
This sharing of knowledge across sites is a policy close to Adam's heart, and is part of his strategy to ensure the newly-expanded Biogen is able to deliver best-in-class service going forward: "We've been through extraordinary growth this year integrating the new additions. There are definitely opportunities in the market and we are ready to meet customer needs quickly, efficiently and to a high standard.
"There is still a huge amount of food waste that could be recycled, especially in England – Wales and Scotland are further ahead. We are also lobbying central Government to put plans in place to encourage recycling of more food waste, and follow the lead set by Scotland and Wales, where higher recycling rates are being achieved. This is good for the UK as a whole, as meeting our recycling targets is extremely important in enabling us to become a greener and more energy self-sufficient nation.
"Our focus is on making sure we have the safest, most efficient operation possible, and that we are offering customers the best service at the most competitive price," concluded Adam. "We want to make sure our plants are optimised and ready to service both existing and new customers."
Biogen
www.biogen.co.uk
@BiogenAD
Head Office:
Milton Parc, Milton Ernest,
Bedfordshire, MK44 1YU
Tel: 01234 827249