Brilliant bio-fuels
A world leader in the production of liquid biogas fuels (LBG), Biokraft operates the largest facility of its kind at Skogn in Nord-Trøndelag, Norway
It has been over two years since Biokraft completed Skogn I, the largest liquid biogas fuel production facility in the world. Nestled in the ice-blue waters of Norway's third largest fjord, Skogn I has pioneered growth, and renewed faith, in the future of bio-fuel energy. Today, the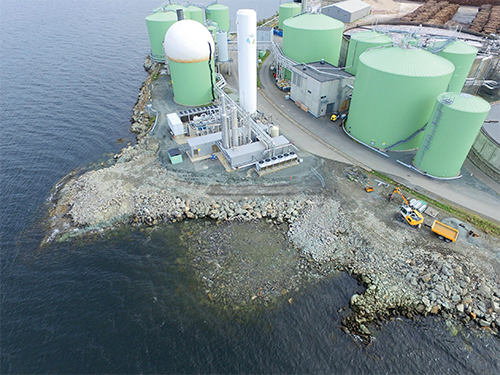 company continues to take strides toward climate-neutral liquefied biogas as it develops the technology to produce fuel from dead sea-life and other organic materials.
The Skogn I integrated production facility has been running at capacity since 2018, making Biokraft an industry leader in the liquefied biogas (LBG) sector. "Our LBG factory at Skogn has been a beacon for the rest of Europe's biogas industry," affirms the company's Chief Executive Officer, Håvard Wollan. "More and more European players are now looking to produce LBG, and during the past three years we've had numerous visitors from other European biogas producers looking to do what we have pioneered," he adds.
The Skogn facility has aided the growth of Biokraft itself as well as the bio-fuel sector as a whole. "We had produced the first LBG in September 2018, and by December 2018 we had achieved our first monthly positive EBITDA," says Håvard. "Since then, and every month since, we have consistently achieved a positive monthly EBITDA. This performance speaks for itself."
The success of Biokraft is bolstered by its ability to continually innovate and develop to meet the needs of the energy sector. "We're currently looking at other potential factory sites in Norway," reveals Håvard, as he discusses how the company has expanded to meet increasing demand for renewable energy alternatives. "Market demand for LBG currently exceeds supply of LBG, and we are keen to increase our production and supply capacity."
To continue matching the needs of the market, Biokraft has plans for two further integrated facilities: "Our next construction project, Skogn II, is already well underway, and will be able to provide LBG by September 2022," announces Håvard. "Beyond Skogn I and II, we will do at least one more factory train at Skogn; this will be Skogn III."
Thanks to the diverse potential of its bio-fuels, Biokraft is able to serve a number of different industries, including transport and aquaculture. "Currently, we see the strongest growth in demand for LBG within the heavy road transportation segment and the green shipping segment. We see demand from within Norway, but increasingly from outside the country as well," explains Håvard. "We have already delivered LBG to our customers in Switzerland, and we recently entered into a large volume contract with a European LBG distributor which we will start delivering on in 2022," he adds, highlighting how international expansion is certainly on the horizon for Biokraft.
As Norway's transport and shipping industries reflect, the energy sector is on a trajectory toward sustainability and renewability. Biokraft, and other players in the bio-fuel industry, will likely generate lower emissions as well as a number of new opportunities for employment in up-coming years. The company's first forest facility is based on several raw materials from local areas, emphasizing the importance of sustainable practice in every aspect of what Biokraft does.
The company is also backed by official environmental organizations in its contributions to the bio-fuel and renewable energy markets. As Håvard confirms: "Earlier in 2021 we achieved ISCC certification, meaning we can also deliver ISCC certified LBG to the market." With this accreditation under its belt, Biokraft can act as one of the industry's key players in meeting the ever-growing demand for bio-fuels across Europe. "Overall, we are now focusing on increasing our production capacity at Biokraft," adds Håvard.
Today, Norway's national climate targets require 20 percent of total energy consumption to come from renewable sources. In the transport sector alone, ten percent of consumed energy should be sustainably sourced. With targets like these, it remains imperative that companies like
Biokraft continue to innovate and grow, in order to build a clean energy future for us all.
Biokraft continually strives toward meeting these goals, as it works in partnership with the Norwegian University of Life Science, and Norwegian fish farming, to become completely carbon-neutral. Through these partnerships, Biokraft is able to recycle any unused by-product from the fishing industry into renewable bio-fuel. This fuel can be used in modern gas-powered well and feed boats, and as a result, aids the aquaculture industry in utilizing its own resources, and covering its own energy needs.
This circular economy uses materials that would otherwise become waste, and turns them into a source of power. A similar model can be found in a number of Biokraft's endeavors, including the company's work with the production and distribution industries. Through research, development and innovation, Biokraft aims to transform forest mass and waste into bio-fuels. As the company website states: 'We are all responsible for doing our part to leave a planet and an environment that allows our children and grandchildren to live well. We must deal with the environmental crisis and limit global warming.'
It is clear that Biokraft has the best motivations when it comes to expanding the capabilities of what bio-fuel can do. The company's innovation also means that it has been able to diversify in recent months, in order to serve new sectors; it is now working within Norway's agricultural industry, to provide a renewable alternative to the use of toxic chemicals on crops. "Thanks to technology from Epcon, we have successfully developed and launched a refined bio-fertilizer which we market to the agricultural sector. This product has been well received and is another good example of how biogas contributes to a circular bio-economy," Håvard details.
Biokraft has relied on strong supplier relationships to aid its expansion into new and diverse sectors. As Håvard states: "We have outstanding relationships with our suppliers. Our an 'eternity-timeframe mindset' has made all the difference in developing, and sustaining, our relationships with customers and suppliers; it has kept the business strong, with an effective supply chain."
A dedicated team of employees and experts also fortifies the success of Biokraft. "All of our employees are proud of our month-by-month positive EBITDA achievement, and they all know their part in continuously and consistently achieving this," confirms Håvard.
As a result of ongoing innovation and strong relationships in- and outside the company, Biokraft moves confidently into the final months of 2021. Excitingly, the company continues to grow despite the effects of a global pandemic, as Håvard assures: "We've been privileged in the sense that our operations have continued without much disruption, in spite of Covid-19 and the lockdown period. Sure, we've felt the impact of the pandemic too, and we've had to take extraordinary measures to protect our employees, but we've been lucky compared to others in the industry."
As the restrictions of Covid-19 continue to ease, Biokraft looks toward 2022, and its plans for ongoing expansion. "Of course, we aim to lead our Skogn II construction project towards completion, and to successfully reach additional investment decisions for new factory projects. Our two main priorities are to continue to deliver strong operations, and growth," summarizes Håvard.
"In the long term, I believe that biogas in general, and LBG in particular, are tremendously strong and compelling climate risk mitigating solutions," considers Håvard. "Most importantly, an increasing amount of customers within heavy road transportation and shipping seem to be of the same opinion, and that's what's driving the strong demand for LBG," he concludes.
Biokraft
www.biokraft.no
Products: Liquefied biogas manufacturers