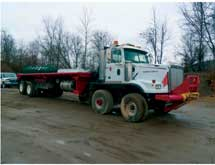 Bishop Brothers Construction
When Bishop Brothers Construction was established in 1983, the company could not have expected the way the oil and gas industry would forever alter its direction. But several years ago, the company saw it could meet the growing needs of northeastern Pennsylvania's oilfield suppliers and drilling companies.
"It was around 2009 when the oil and gas field activity started picking up," says Oscar Perez, vice president of business development. "We took the opportunity to service the industry and grew fairly quickly. We went from doing $3 to $4 million a year for 20 years to doing $25 to $30 million a year since 2010."
The company began its existence by focusing on residential construction before expanding into industrial maintenance. For more than two decades, the focus for Bishop Brothers was on construction and industrial maintenance for companies in its service area. These included DuPont, Osram Sylvania, Global Tungsten Powders and Leprino Foods. But the rebirth of the Marcellus Shale drove the family owned construction company to expand and focus on oilfield services and support.
Expansive Services
Today, the company provides an array of services to organizations such as Talisman Energy, Chesapeake, Shell and Seneca Resources. Among its energy support service offerings are oilfield trucking, rig and well pad support, construction services, emergency response and waste disposal.
Behind its oilfield trucking services is Bishop Brothers' fleet of specialized transport vehicles and haul trucks. This fleet can support the natural gas and oilfield industry because it includes everything from water trucks and tri-axle dump trucks to heavy haul and role tail lowboys, bed and pole trucks.
In the realms of well pad support, construction services, emergency response and waste disposal, Bishop Brothers' capabilities are vast. The company is capable of providing everything from land clearing and well pad construction to emergency spill clean up and the disposal of industrial waste solids and liquids. Its staff is comprised of competent and experienced drivers, operators and field operation crews, and internal safety and compliance are constantly monitored to ensure they are measuring up to high performance standards.
"What we've provided to the industry is diversity in terms of the support we can offer to drilling companies," Perez says. "We provide turnkey solutions for all oil and gas field support services, from the backyard on out to disposal handling and stabilization of drill cuttings. We've also gotten involved in heavy haul rig moving."
Step by Step
The hardest part of its expansion into the oil and gas industry has been keeping up with growth and building its internal infrastructure. But the company has made whatever investments have been needed to serve the industry, catering to its needs and establishing relationships with clients.
"Seeing the kind of growth we've had is a testament to our ability to perform the work and produce the resources our clients have needed," Perez says. "We've gained credibility within the industry, and it has really been a remarkable undertaking for a small-town company like us."
To support its growth, Bishop Brothers has invested in a great deal of staff training, focusing on everything from safety and process training to regulatory and compliance training. The company has also made sure it can provide cost-effective, turnkey waste management solutions.
Now the company is preparing to expand into other parts of the Marcellus Shale while simultaneously putting in place systems that will protect it from the inevitable ebbs and flows of the oil and gas industry. Bishop Brothers plans to pursue expansion in the Pittsburgh area and into Ohio. It has also acquired some property that has substantial industrial development potential for warehousing.
"We believe we have the most suitable and practical location in the Bradford County area of the Marcellus Shale for accepting and importing every rail-able and bulk commodity needed in drilling and pipeline infrastructure development," Perez says.
Perez believes Bishop Brothers is prepared to handle another boom in the area's oil and gas industry, and that it has the capacity to create sustainable work for itself during the lows of the cycles. He says the company can serve the oil and gas industry in all phases of the drilling process, and Bishop Brothers will do its best to be a positive presence for the local economy.
"We want our business to be sustainable in terms of our future growth plans," he says. "We must be well-positioned and have the right people and right internal structure so we can manage new expansion areas and homogenize our business model."