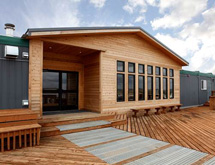 Black Gold Oilfield Services
Joe Kurber realizes a mancamp provider based in Alaska might often get overlooked in the continental United States as oil and gas operators seek housing for their employees. However, Black Gold Oilfield Services has far-reaching tentacles in the contiguous United States to provide lodge-like residential facilities that make field laborers feel like they're staying in a hotel instead of temporary barracks.
And Black Gold Oilfield insists on providing quality camps at reasonable prices – something Kurber says the competition often loses sight of during boom periods like those occurring in shale regions today.
"Wherever you need something, we can be there," says Kurber, who serves as vice president of operations. "The booms come and go in different spots.
"We recognize when first developing an area, there is a huge influx of people that strains infrastructure, so it makes it so people can get away with price gouging," Kurber adds. "We recognize there's a lot of boom areas in different stages, so the importance of being fair and consistent is helping people know what to expect when going into an area."
Black Gold Oilfield Services of Fairbanks, Alaska, provides turnkey temporary workforce housing in remote areas of North America where oil and gas operators must live and work. The company's mancamp capabilities include manufacturing and transportation of facilities, as well as power generation and licensing and permitting with local municipalities. Black Gold Oilfield Services also provides catering, security, maintenance and housekeeping services, as well as hauling and disposal of water and sewage.
Heading South
Black Gold Oilfield Services was established when parent company Black Gold Oilfield Logistics was approached by ENI Petroleum Co. to deliver a 200-bed facility with office space in Alaska.
From there, Kurber says Black Gold Oilfield Services offered its mancamp services throughout North America. The next project brought the company into the Bakken Shale region when it delivered a 450-bed open camp in North Dakota. Today, the company is constructing a similarly sized facility in Odessa, Texas, that will open this summer.
Kurber says Black Gold Oilfield Services benefits from having a number of sister companies offering periphery services in the oil and gas space. This helps keep the cost of its projects down, he says, which allows Black Gold Oilfield Services to deliver higher-end finishes than competitors.
"Because we can save on some of the trucking and construction costs that go into building facilities, we offer a better product at competitive rates," he says. "A lot of times, workforce housing or mancamps are dumps. They're kind of depressing places nobody wants to live in. But we've taken the approach to try to put a little more personal touch in our places to make it comfortable."
A Hybrid Feel
Kurber says Black Gold Oilfield Services' facilities are called "lodges" because they offer an atmosphere that combines mancamp facilities with hotel-like amenities. Most of these facilities are partially stick built versus completely manufactured and boast features like a lobby and recreational area.
"The moment people come in, it feels like a hotel and they conduct themselves accordingly," Kurber says. "What we try to do is bring in more permanent elements to dress up the site."
Black Gold Oilfield Services relies on Design Alaska, the architectural firm that helped plan its first facility in Alaska. Kurber says the goal is to build something "Alaskan," which he defines as a lodge feel that can be found throughout the state. "A lot of these facilities get thrown up in a hurry by guys looking for a quick buck," Kurber says. "But we take a more long-term approach because we're from a weird place – Alaska – and the things we like are cool and interesting to people."