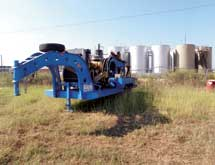 As some of the most promising new discoveries in the oil and gas field in a long time, plays such as the Marcellus and Eagle Ford areas have become household names within the industry. The discoveries being made in those areas have drawn dozens of firms to the area, and infrastructure is being built practically overnight as they hustle to make the most of these potentially lucrative resources.
Even though the Marcellus, Eagle Ford and other plays are drawing all the attention, they're far from the only game in town, and BlackBrush Oil & Gas LP knows this better than anyone. CEO Scott Martin explains that the company has found success in a number of areas that haven't necessarily received the same kind of media and industry attention as those more well-known plays, and the company's strategy of finding multiple layers of resources on the same property is BlackBrush's key point of differentiation.
The company was founded in 2004, when Martin and co-founder Phil Mezey partnered with Private Equity firm Hicks, Muse Tate and Furst, (now Tailwater Capital), to acquire Kerns Oil and Gas. "The assets acquired from Kerns included more than 250 wells and 30,000 gross acres in Webb and Dimmitt counties, Texas," the company says. "BlackBrush then developed a drilling program to develop the remaining acreage acquired from Kerns."
Early in 2005, BlackBrush acquired Triumph Petroleum's producing properties for $10 million. These properties included more than 30 Austin Chalk wells and 22,000 gross acres. In August, the firm acquired selected producing properties and undeveloped acreage in Karnes County, Texas, for $10 million.
Martin and Mezey brought a lot of experience with them to BlackBrush. The two were founding partners of Flatrock Energy Partners in 2000 before founding BlackBrush. Martin has served more than two decades in finance and accounting in the oil and gas industry, holding positions as vice president and chief financial officer for several firms. With a bachelor of arts degree in finance from Marietta College in Ohio, Martin maintains a variety of contacts in the energy-lending arena.
Mezey himself has two decades of engineering and technical experience in the oil and gas industry, obtaining a bachelor of science degree in mechanical engineering from Syracuse University, as well as an MBA from St. Mary's University. Mezey's previous business experience includes positions as petroleum engineer for Texaco, manager of engineering for Delhi Gas Pipeline Corp. and director of engineering at Lewis Energy Group. A registered professional engineer in Texas, Louisiana and Oklahoma, Mezey's areas of expertise include field operations, reservoir engineering, production and economic evaluation, the firm states.
Today, the company operates more than 300 oil and gas wells in southern Texas and continues to expand its presence throughout the region. "We're just opportunistic," Martin says. "We've been operating down in this area for 20 years. We have taken advantage of opportunities to grow our acreage footprint."
Deep Opportunities
Part of the key to the company's success in recent years has been its ability to take advantage of multiple opportunities on the same property, Martin explains. For example, the Permian Basin region features numerous areas where plays are stacked on top of each other. Better-known regions such as the Bakken and Marcellus plays are more two-dimensional, and as such are less attractive to BlackBrush.
One example of the company's strategy coming to life is the Buda play in the Pearsall Area in southern Texas. BlackBrush has more than 33,000 operated and 48,000 non-operated gross acres of property in the Buda, and Martin says it has given BlackBrush a greater rate of return than anything else it has drilled so far. Although some work has been done in the Buda in the past by other firms, the play has been relatively untouched, and BlackBrush is taking advantage of its naturally completed production characteristics.
Martin says the company also has high hopes for its work in the San Miguel sandstone area in Dimmit County, Texas. With 31,000 net acres to drill in that area, BlackBrush expects to take advantage of the millions of recoverable barrels of oil and gas believed to exist there.
"We focus on things that may not be the hot commodity in the press, but we think from the return standpoint are very attractive," Martin says.
BlackBrush may be seeing those returns in the very near future, too. "We're done with the scientific evaluation of our acreage position," Martin says, adding that the company is in the process of shifting into straight development mode. The company intends to drill 33 wells in south Texas over the next year, and started doing so in early March.
Talent Pool
With the amount of activity BlackBrush expects to undertake in the next few years, the amount of manpower it will need presents one of the company's biggest challenges, according to Martin. "The biggest challenge facing all companies is the lack of talent," he says.
During the oil and gas industry's last period of inactivity, he says, many skilled people left to find other opportunities. Coupled with a lack of interest in training new people, Martin says, the industry's labor pool is made up mostly of people either nearing retirement or fresh out of school.
To counter this problem, BlackBrush has made a concerted effort over the last five years to hire people straight out of school and train them . Martin says this was common among the major operators in years past, but now BlackBrush is taking up the practice to fill the knowledge gap and ensure that the company has a consistent supply of talented, qualified people for the foreseeable future.
"It's worked out really well for us," Martin says.