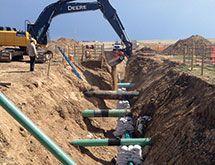 Blackeagle Energy Services
Last year, the oil and gas industry in Colorado's Niobrara Shale grew by thirty percent. Oil output has more than doubled since 2009 and recent estimates suggest $150 billion in cap-ex spending is required to fully develop the play. This mismatch between production and the existing infrastructure is fueling the growth of one of the region's most successful oilfield services companies, Blackeagle Energy Services. Blackeagle Energy Services is a fabrication, construction and maintenance provider that serves the upstream, midstream and downstream oil and gas market. The company's astonishing growth in recent years led to 120 percent growth last year alone. Rick Barrett, president of Blackeagle, attributes the company's success to its people, processes and customers.
Blackeagle has not only "benefited by the growth of the overall market but has increased its market share as well," President Rick Barrett explains; and he is confident the growth will continue. Blackeagle is expecting to increase its revenue by 50 percent this year by building on a strong history as the Niobrara's leading oil and gas service provider, continuing to offer an integrated product and service portfolio and by focusing on professionalism in every aspect of its business.
Blackeagle is unique in that it offers four distinct service areas: shop fabrication, facilities construction, pipeline construction and field services. This integrated approach allows Blackeagle to serve all of its customers' needs and simplifies the construction process for the customer. The internal company structure mirrors the service offering with engineers and project managers embedded within the divisions they support. Barrett says this structure allows the company to focus on its core competencies of fabrication and construction rather than competing with engineering, procurement and construction management firms that it often works under.
"Many of our customers benefit from just one or two of our divisions," Barrett says. "Part of our growth strategy is to expand those services to existing customers whom we already have strong working relationships with. So, for example, if we have a customer in our shop fabrication division, we want to leverage that relationship and install their equipment in the field."
Colin McAuliffe, vice president of the facilities division says, "Our new structure has allowed us to better meet our customers' needs. It benefits us and our customers when we are able to coordinate our own fabrication when building facilities rather than ordering equipment from different far-away companies."
Barrett explains the industry has adopted a more formal approach to contracting. Producers now look for partners that not only get the job done, but get it done in a professional manner. Factors such as scheduling, safety, quality, communication and ease of doing business with all play a major role in deciding which companies to hire. Blackeagle has adopted professionalism as a guiding principle, explains Don Harding, vice president of field services division.
"As oil and gas professionals we have three areas of focus that govern the way we do business: safety, quality and efficiency," Harding says. "This is our focus, and it has proven successful."
Blackeagle believes safety is paramount and sets its safety goals high with a recordable incident rate below 0.5 for 2014. This goal is expected to be achieved due in part to a dedicated team of safety professionals and a company-wide focus on safety in every aspect of operations. Blackeagle recognizes quality as one of the key building blocks to a successful business and satisfied customers. A dedicated team of quality control professionals ensure that all of the projects built in Blackeagle's code fabrication shop meet customer specifications and comply with ASME, AWS and API codes, as applicable. Blackeagle employs a stringent internal quality audit and site inspection program to ensure that its field construction projects are performed to the highest caliber. This dedicated approach to safety and quality also extends to efficiency at Blackeagle. Ben Covington, vice president of finance and administration, states, "We strive to be more efficient in all that we do here at Blackeagle, not only to improve our own financial performance but also to better serve the customer with projects completed on time and on budget."
Blackeagle is situated in the middle of the Denver Julesburg Basin, which has seen explosive growth in recent years. Barrett explains that the region's fast-growing oil and gas market has attracted more competition but also greater challenges to those new to the market.
"There are barriers to entry here," he says. "We've seen outside players try to come in and establish a presence and most have failed. A lot of our success is due to our well-established relationships and the ensuing trust that has generated. The customers need to have confidence in your ability to execute.
"As the market expands, Blackeagle will continue to expand," Barrett explains. "Our forecasts are built on our customers' investment plans and they reveal that for at least the next five years we'll continue to see significant growth in the Niobrara."