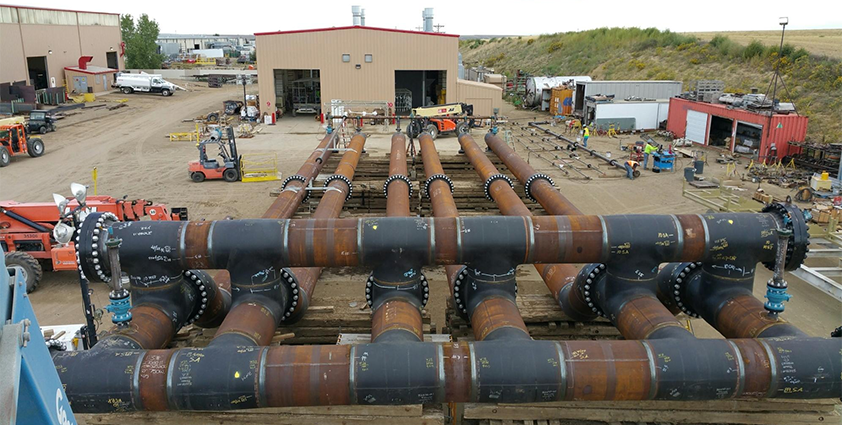 Blackeagle Energy Services
Blackeagle Energy Services is replacing parts of a major pipeline in Colorado and planning for expansion.
A frontrunner in the utility and energy industries, Blackeagle Energy Services is spreading its wings and making a move for a larger chunk of the market.
Based in Berthoud, Colo., Blackeagle specializes pipeline and facility construction, integrity management, mobile flaring maintenance and fabrication. It has major field offices in Texas, Oklahoma, Nebraska and Ohio and has operated in 17 states from the Rocky Mountains to the Gulf, across the Great Plains and into the Northeast.
Blackeagle made changes to its executive management team this year with the addition of Kevin Holfeld and Scott Yenzer. The two seasoned executives have transformed the company and positioned it for strategic growth.
"Our people, processes and passion for safety are what make us shine," says Holfeld, president and CEO. "We have a real time progress system which allows our teams and clients to monitor projects on a daily basis to stay on track and manage proactively, but it is our safety culture of caring which is something special at this company. There's a sense of pride in taking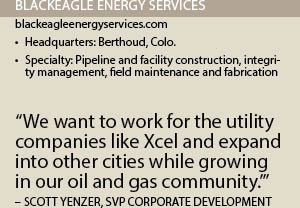 care of one another and this translates into well-executed and efficient projects."
Among multiple projects, the company is in the midst of a major program for Xcel Energy Inc., a Minneapolis, Minn.-based utility holding company that serves millions of electric and natural gas customers in multiple states. Blackeagle is one of five contractors that has been hired to work on Xcel's Residential Gas Service Replacement Program.
According to Xcel's website, the project consists of replacing roughly 600 linear miles of a natural gas pipeline throughout Colorado. Nearly 100 linear miles are in the Denver metro area, with the remainder being throughout the state.
"There are sections in the old pipeline infrastructure that are scheduled for replacement to improve the integrity of the system," says Yenzer, senior vice president of corporate development at Blackeagle. "We've been working remotely in fields and in downtown Denver, which is a challenge. Typically, we install a new gas pipeline next to an existing pipeline. We'll tie into the new pipeline and then gas is safely removed using our flare prior to tying in to the new system."
Blackeagle understands the need to reduce the environmental impact of evacuating gas from a pipeline system, so it has developed its own clean-burn flaring process. "We manufacture it to evacuate the gas lines so that methane gas is not released into the atmosphere," Yenzer says.
Planning Ahead
Blackeagle is increasing its market share in the energy, utilities and infrastructure industries. "We have decades of success in this space and getting better at it every day," Yenzer says. Blackeagle is in the middle of its five-year contract with Xcel for the Residential Gas Service Replacement Program. In the future, the company plans to increase its market share with Xcel and pursue other similar ventures.
"We want to work for the utility companies like Xcel and expand into other cities while growing in our oil and gas community," Yenzer says. "We're targeting utility companies in Oklahoma, Arkansas, Texas and California, for example. The utility sector is one of the areas where we're focusing on growing. We want to maintain diversity."
Aside from pipeline construction, Blackeagle's portfolio of services includes, facilities construction, fabrication, field services, integrity management and maintenance.
Safety First
Blackeagle places a high emphasis on safety and efficiency.
When it makes that promise to its customers, the company backs it up with hard numbers. From its safety performance record, which is among the best in the industry, to quality and production metrics, Blackeagle provides weekly performance data on every project to its customers.
For the past two consecutive years, the company has been awarded the Distribution Contractors Association's (DCA) Arthur T. Everham Safety Award. The DCA established the award to recognize contractors with exceptional safety programs.
Presented annually, the prestigious award is given in four categories based on the number of hours worked without an incident. Blackeagle tied for first place among companies that worked between 470,000 to 1 million man-hours without a recordable safety incident.
To determine the winners, DCA thoroughly reviews a company's Occupational Health and Safety Administration (OSHA) logs and safety documentation. It looks at the number of reported accidents or fatalities, the presence of a documented safety program, use of a drug-testing program and the company's experience modification rate (EMR), a number used by insurance companies to gauge both the past cost of injuries and future risk.
Good Catch
In addition, Blackeagle won the 2018 Oil and Gas Award for Health and Safety for the Rocky Mountains and West. Part of this was attributed to its total recordable incident rate (TRIR) of 0.00 and nearly 4 million safe manhours as well as its Good Catch program, which was initiated a few years ago.
"It's a program where we reward our team members for identifying and rectifying potential hazards where people or property can be harmed," Yenzer says. "I believe that helps keep us safe. People are approaching each other from the standpoint that 'hey, I care about you and I don't want you to get hurt.' This drives a culture of people that care about each other."
Chad Pickett, the company's performance coordinator, helped develop the safety program, which is called Good Catch. It started with the company's operations team about three years ago during key performance indicator (KPI) meetings with customers.
"We attend certain customers KPI (key performance indictor) meetings," Pickett says. "During one of those meetings, we found that when crews participate in the Good Catch program, they're less likely to experience an adverse safety event."
Blackeagle rewards and recognizes the employees that help deter incidents. "We gather the information on all the good catches of the month and using a safety matrix, we determine a grade based on the severity of what could have happened. It's then emailed out to various managers throughout the company and then we vote on which we think was the best Good Catch for the month."
The winners receive items such as gift cards, FR-jackets and letters of recognition. "This is a brother's keeper program administrated by our employees for our employees' safety" Pickett adds.
Founded in 1986, Blackeagle says that safety is central to its planning, execution and feedback systems. Its employees are always encouraged to put safety first and understand that safety is vital to themselves, customers and the success of the company.