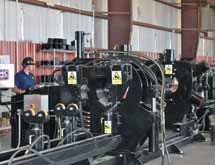 Blackhawk Specialty Tools
It is believed that evolution kicked into high gear when the first animal crawled out of the ocean and onto dry land, and a similar process has been taking place for Blackhawk Specialty Tools of Houston. The company has become a leading provider of premium automated top-drive cement heads since its inception in 2008. Originally, the company's focus was on equipment for deepwater applications, but COO Jim Martens explains that a major event in 2010 pushed the company inland to the shale industry. The transition has spurred significant development and driven Blackhawk to new heights, he says.
In April 2010, the entire offshore drilling industry was rocked by the explosion and sinking of the Deepwater Horizon rig in the Gulf of Mexico. The oil spill that resulted from the explosion released approximately 4.9 million gallons of oil into the gulf and caused the federal government to impose a six-month moratorium on offshore drilling. Martens says Blackhawk is a close-knit company and despite being heavily impacted by the closure, quickly explored other market options.
"The shale play seemed to be the best place where we could immediately put our tools to work," Martens says, explaining that the company already had done some scouting in the Northeast's Marcellus Shale before the Deepwater Horizon spill. "It looked like there was an opportunity for us to do some good and actually improve the quality of the cement jobs up there."
With the products and expertise Blackhawk has at its disposal, Martens says, the transition from sea to land has been a successful one for the company.
Seismic Shift
The core of Blackhawk's business is the design, assembly and rental of highly engineered rotating cement heads in various sizes and pressure ratings, as well as providing experienced tool operators on each cementing job. The company's cement heads are designed to be universal and can be run on all types of offshore drilling rigs, and in shale, shallow and deepwater applications.
Obviously, drilling on land and drilling offshore are two very different scenarios, and Martens says Blackhawk had to make some adjustments as it moved between the two. First and foremost, he says, is that deepwater drilling is far more expensive and time-sensitive than shale drilling. He says the company's cement heads originally were designed to increase efficiency when drilling in deepwater applications.
However, these time-saving features are superfluous when drilling on land, where time considerations are not as severe. In order to keep costs down and provide a more economical product to customers in the Marcellus Shale, Blackhawk removed deepwater-specific components from its cement head features to tailor it to the land environment. On the other hand, some aspects of land drilling are more demanding than deepwater, and the company had to increase qualities like rotation speed and length of rotation to adapt its cement heads.
"We've learned a lot since entering the Marcellus and are now stepping back and specifically designing tools and equipment for land operations," Martens says.
Making Changes
The other significant change Blackhawk had to undergo was in terms of personnel. Martens says the skillset for shale drilling is very different than it is for deepwater drilling, so Blackhawk took the time to recruit and train local field staff for its customers in the Marcellus Shale. Although the company is developing talent specifically for shale drilling, deepwater work is beginning to pick up again, and Martens says the cross-pollination gives Blackhawk an edge.
As deepwater work in the Gulf of Mexico returns to the level it was at before the Deepwater Horizon spill, Martens says Blackhawk's main challenge will be to control the way it grows into the deepwater and shale marketplaces. "For us, it's a matter of keeping the professional level of service that we want to provide and balance that against our speed of growth," Martens says. EMI