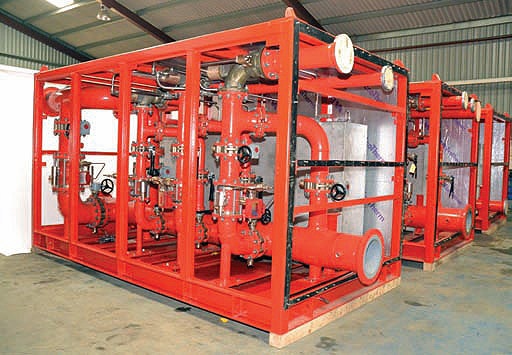 Blaze Manufacturing Solutions Ltd
A critical service
Blaze Manufacturing Solutions, which was established in 2006, designs and supplies expert fire safety and loss protection systems for the oil and gas industry.
The family-owned business has grown rapidly over the years, and this year the firm invested half a million pounds in its head office in Laurencekirk, and a further £30,000 in its office in Kemnay, near Inverurie, Aberdeenshire, to focus on specialist environmental engineering. The specialist company, which was established to serve clients in the Brownfield market, also has a regional office in Great Yarmouth to cope with demand from southern North Sea operations and a southern sales office in Milton Keynes.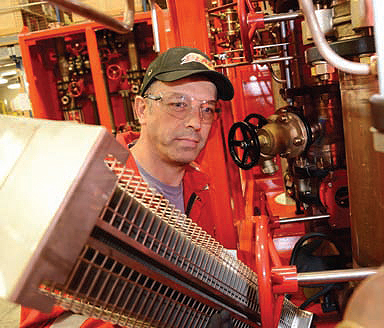 Blaze has secured a number of contracts with major oil and gas operators since its inception including Petrofac, Perenco, Amec, EnQuest, TAQA, Apache, Wood Group and Talisman Sinopec, and employs 40 full-time members of staff and 80 sub-contractors to meet demand from clients. Its specialist workforce is spread across the company's offices in Laurencekirk, Aberdeenshire, Kemnay, Aberdeenshire, Great Yarmouth and Milton Keynes. The company's success meant its turnover reached £13.7 million last year, and it forecasts that this will rise to £22 million in the financial year from 2014-15.
Blaze Manufacturing, managing director, Howard Johnson, said: "We have grown prolifically over the past three to four years, doubling our turnover year-on-year over the past four years. In 2010 the company's turnover was serviceonly £258,000, and this has grown to around £15 million for this year to date.
"As turnover rises, so too does our workforce, and both factors resulted in the need to move into our new headquarters in Laurencekirk, which features newly built and refurbished workshops to support the manufacture and distribution of products. While we created these workshops to accommodate the massive influx of new business, we also created a base for design engineers on the north side of Aberdeen. This was established because as the company grew and began to move further south we found that we were vulnerable to losing some of our core staff through the need to travel that extra distance. As such, we now have offices in Aberdeen, Newcastle and Great Yarmouth, the main advantage of this is that we are able to service projects locally."
Presently the company's activities are focused on customers operating in Brownfield sites within the North Sea UK continental shelf, where the age of offshore equipment increasingly demands innovative solutions to ensure that platforms remain cost-effective, efficient and above all safe. "Some of the operators have platforms that have had a long field life and with the price of oil currently down at $85 a barrel they are looking at 'how we can add value to ensure they remain compliant and safe'," Howard said. "This is certainly something that changes with the economics of the times, and over the past six months there has definitely been a change in attitude with some of the operators in Aberdeen."
At present there are around 380 oil and gas platforms in operation on the UK continental shelf of which, 80 per cent are estimated to be older than 30 years. This long service life has resulted in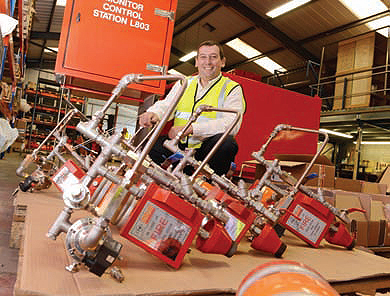 corrosion damage to pipework, resulting in an increased need for loss prevention engineering and greater demand for capabilities and engineering solutions to support aged infrastructure such as service and maintenance, retrofit design services and installation.
"At the moment we are about to go into a chemical cleaning project and this is really top-market because while there are a lot of operators who are looking to upgrade their equipment, there are equally customers who do not want to rip out their existing pipework and would like assistance in cleaning their piping, and even undertake a phased replacement of equipment," Howard said: "There are also performance testing and verification applications where we are required to go in and clean the system and in the event of failure could result in the partial replacement of equipment."
In terms of equipment, Blaze Manufacturing has introduced several products that allow operators to strengthen their loss prevention capabilities in emergency situations. The in-house designed Flameshield 300 piping system for example, is a flexible fire hose system that is blast resistant, anti-corrosive and stronger than traditional materials. Furthermore, Flameshield is designed with a 25-year life span and is cheaper than existing alternatives. Operationally, Flameshield can be installed without the need of 'hot work' that would normally generate dangerous sparks, and it is therefore an excellent Brownfield solution.
As Blaze Manufacturing has continued to grow, so too has its reputation as a market-leader in the niche area of loss prevention in Brownfield sites within the oil and gas industry. The business has been recognised in various business awards over the years, winning the Grampian Award for Business Innovation and Business Excellence in 2012 and 2014 respectively. As the company continues to develop it will look to move into new markets to enable it to maintain the impressive growth it has enjoyed throughout its history, and continue to provide a top-class service to its clients. Howard said: "The focus for us over the next 12 months will be on the Dutch and Norwegian markets, as well projects in Aberdeen. Everything that we have done so far has been focused on active fire and loss prevention. However, by bringing together other aspects of Safety Critical Solutions such as HVAC control systems, dampeners, fire and gas detection to service the Brownfield area we make ourselves much more attractive to our clients as an integrated service provider."
Blaze Manufacturing Solutions Ltd
Services: Fire safety and loss protection systems