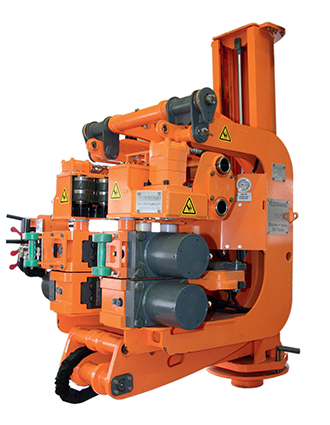 Blohm + Voss Repair GmbH Oil Tool Division
Tooled up
Operating as part of the multi-national entity ThyssenKrupp Marine Systems, Blohm + Voss is a premier facility offering state-of-the-art pipe handling equipment to the oil and gas industry.
Split into the four key areas of Blohm + Voss Shipyards, Industries, Oil Tools and Repair, the company's offering is comprehensive and it boasts that it can repair anything that floats. As well as leading facilities, workshops, machinery engineers, technicians and a flexible workforce of 1200 employees, it is able to handle any job 24 hours a day, seven days a week. The organisation is able to carry out some of the world's most complex vessel refits and conversions, while its capabilities in the oil tools division place it in the number two positions in the market. With over 35 years of experience in the pipe handling arena and 120 dedicated staff, the Oil Tools sector is well placed for persistent innovation and market-leading growth. The company prides itself on being able to offer its wide customer base quality alternatives at value-added prices, the latest manufacturing processes, a custom made facility and the largest range of pipe handling equipment in the industry. The portfolio covers all areas of the market from elevators, slip lifters and pipe spinners to power slips, bushing and safety clamps, while the company's unique specialisation lies in heavy lifting equipment especially for very deep-water operations.
With its products being utilised by oil and gas drilling contractors, rental, service and oil companies in all corners of the globe, maintaining close and long-term customer relationships is of paramount importance as Frank Kania, sales manager of Blohm + Voss Oil Tool Division explains: "We are in constant contact with all of our key customers around the world to ensure that our products meet their specifications and to advance our services on the whole. Key account managers are made responsible for such relations, working in collaboration and making frequent visits to client companies to design and develop bespoke solutions. I would say that this is our biggest strength; no two solutions are the same and everything we offer is custom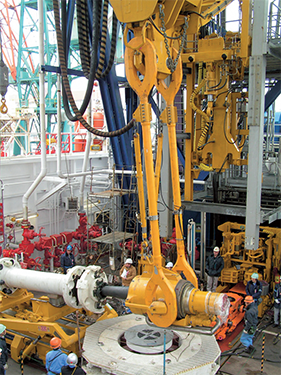 made from contract inception to final completion. Our flexibility of service, portfolio and staff also set us apart from competition as customers benefit from an increasing amount of experience and know-how in numerous operational fields."
In addition, the company's after-sales support facilities have recently been enlarged with the main equipment and spare parts warehousing units expanding in strategic locations around the world meaning that customers can receive additional or replacement parts in a higher quality and more timely manner. Persistent progress is another element of Blohm + Voss' success and the Oil Tools division is proud of its credentials as a technology leader committed to profitability, customer service and overall, social responsibility. As such the organisation boasts ISO 9001, ISO 14001 and OHSAS 18001 certifications and is currently working through various industry standards as well as its own integrated quality management system that covers the shipyard activities as well. Investment in its people is a supplementary quality asset with advancement, motivation and consistent development of its employees ensuring trustful teamwork and expert product delivery.
At present Blohm + Voss Oil Tool is focusing on the innovation of heavy lifting equipment to meet the latest demands of the oil and gas industry, as Frank highlights: "Right now our engineers are working on equipment for lifting 1500 tonnes. The industry standard or limit at the moment is 1000 tonnes and while there are some other manufacturers designing tools to lift 1250 tonnes, we are going over and above this. We recognise that there is a need in the market to lift heavier and more demanding loads, and are channelling our in-house research and design team to meet this requirement. We always strive to be one step ahead of the industry and predict that this facility will be launched by the end of 2010. We must recognise that while the market is not difficult at present, it is slow and so we continue to develop new products to facilitate our growth and to take advantage of the industry once it stabilises."
Indeed, the company is always investigating new markets and areas for growth following a strategy to form new and advantageous partnerships around the globe. Blohm + Voss currently has activities in various international fields, especially the US, Middle East and Asia, while the Oil Tools sector is looking to strengthen its influence in areas such as Russia, Kazakhstan, Turkmenistan and Azerbaijan where the business is known and growing. The company is also looking to develop in Brazil, which poses numerous challenges but is a huge market for the future. Founding new and local relationships is vital for expansion and the company established a service facility in Brazil over a year ago to offer its essential services to customers in this region – now this is successfully in place the rest of the procedures should follow with ease. To facilitate the creation of lucrative partnerships, the organisation is attending a number of industry events over the year and will hold notable appearances at the Rio Oil & Gas exhibition in Brazil, KIOGE industry event in Kazakhstan, Petrotech India exhibition and ADIPEC exhibition in Abu Dhabi by the end of the year.
Looking to the future of Blohm + Voss Oil Tool, Frank outlines his predictions for the company over the coming years: "We are really heading towards the deep water arena for future progression, especially as the land drilling market continues to decline and customers turn towards low cost markets for their tool solutions. There is a lot of excitement for this field in the Gulf of Mexico and I truly believe that we have the right skills and knowledge to assist customers in developing the necessary tools and equipment for deep water drilling."
Blohm + Voss Repair GmbH Oil Tool Division
Services: Oil tools