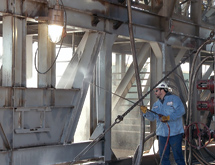 When people clean equipment, they expect to do it with solutions that will not impact their health. Bluewater Industries specializes in meeting that expectation, founder and owner Kevin Taverner says. "We don't provide anything that is hazardous," he declares.
Based in Tulsa, Okla., Bluewater manufactures cleaning solutions and machines for clients in the aerospace, oil and gas exploration and refining, manufacturing, military, and machining and fleet maintenance markets. Taverner founded the company in 2009, after working for an oilfield service company for nearly two decades.
During his time there, Taverner used hazardous chemicals. But when he traveled to Canada, "I got to meet folks that were making non-hazardous, environmentally friendly chemicals," he recalls.
The chemicals not only were safe to use, but were strong cleaners. "That piqued my interest over the years," Taverner continues. "I [later] decided to leave the corporate world and started my own company, producing non-hazardous cleaners for every industry."
Since then, Bluewater has successfully helped several firms convert to non-hazardous cleaning chemicals, including Halliburton and Baker Hughes. "Their mission statements and core values include environmental stewardship, health and safety," he says. "[These help] them achieve those statements."
Hard Sells
It is not always easy to convince companies to use Bluewater's products, Taverner admits. "The hard sales are the guys like me in their 50s and 60s that have been using chemicals and say that they haven't died yet," he says.
Taverner notes that he personally has watched colleagues die from using hazardous chemicals, making his work all the more urgent. "The hazardous chemicals that are used today have acids and corrosive products," he says. "We tell [companies], 'We're helping you save the lives of employees that you have in your facilities.'"
To make people more aware of the benefits, Bluewater recently shot a video where it showed how oil land rigs could be cleaned with its products. After its release, "We got phone calls from other drilling rigs companies," he says.
Additionally, Bluewater lets its potential customers use its machines on a free trial basis.
"We'll let them use them for four weeks," he says. "I have not had anyone who has gone through that program [go back] to the hazardous cleaners."
Making a Difference
Taverner prefers the environment of Bluewater compared to his previous workplace. "I hated the corporate structure [where I worked from] eight to five," he says, noting that his company has a much looser structure.
"As long as you do your job and do it well, [our] hours are flexible," he says. "We like to have fun and we don't take our work seriously, but we take our product seriously. That's the kind of work environment I wanted to carry on moving forward.
"At the end of the day, all of us can go home knowing that we're out there, making a difference," he continues. "We're out there saving people's lives, whether they know it or not."
Taverner predicts a strong future for Bluewater. "I see nowhere but up," he says. "We've got a lot of people that are calling us these days.
"They want the demonstrations," he says. "They want the cleaners, [and] they want to eliminate the liabilities they have."
Many do not know that they can be fined large sums for using hazardous chemicals inappropriately, Taverner explains. "We eliminate a lot of liability," he states.