Tradition of excellence
In little under one year Bodewes Winches B.V has already established a considerable reputation for service, expertise and quality throughout the offshore industry.
The company, which specialises in the tailored design and efficient production of high-quality, high capacity winch systems for a range of applications, bases its philosophy on a number of key factors – namely cost-effectiveness, top level safety, customer-orientated service, efficient production and assembly, and a worldwide installation and after-sales capacity.
Bodewes Winches as it is today was formed as a new company on the 9th of April 2008 by the Dutch Huisman Group. The Bodewes family name, which was purchased by the Huisman Group, is one of the best-known brands in the international winch systems sector. Not only is it a pioneer in the development of large-scale winch system engineering works, but it has more than 200 years of experience in providing winch solutions for the shipping, dredging, salvage, fishing and offshore markets. As a consequence Bodewes Winches BV is able to draw on this knowledge, together with an abundance of design and engineering data, to make an immediate impact in the industry.
Acting as a compact, well-run organisation means that Bodewes Winches has the ability to be flexible and efficient in order to serve its clients exactly how they wish. Such a high level of service has allowed the company to regularly co-operate with clients around the world. Indeed, Bodewes winch systems and associated products are currently in operation in offshore and maritime applications in the US, the North Sea, the Middle and Far East, Australia and West Africa. In fact, not only does the company provide and install systems to clients in these locations, it also offers a considerable after-sales package that includes repairs and servicing as well as spare parts delivery and fitting.
The Bodewes product portfolio covers every aspect of winch systems required for the most demanding applications, including deepwater mooring systems, towing and anchor handling winches, umbilical winches, abandonment and recovery winches, and offloading and turret mooring systems. In addition, the business designs and develops a range of associated equipment that includes change-over systems, Quicklinks, specially designed mooring pad eyes and fair-leads.
The company's high-capacity deep and ultra-deep water mooring systems are among some of the most respected in the industry, with some achieving record breaking results. Most recently the business has developed a new generation of anchor winch systems that are designed specifically for contractors working with moored semi-submersibles at water depths of up to 8000ft. These products combine both chain and wire rope and include combined traction winch/windlass units, storage winches, smooth fairleads and related drive and control systems – all of which ensures an extremely quick and safe change-over and takes up far less deck space on board a vessel.
Such is the recognition of Bodewes' capabilities that three of the four highest water-depth rated, conventional moored semi-submersible drilling rigs in operation use the combined ultra-deepwater mooring system. Notable amongst these is the system provided to TransOcean's semi-submersible drilling unit 'Deepwater Nautilus', which recently set a world record for mooring in 8009ft of water in the Gulf of Mexico.
Bodewes is also recognised as a leading provider of mooring systems for FPSO operations, including external and internal turret systems, riser pull-in winches and complete offloading solutions that consist of hawser and tugger winches and hose reel. In this area the business has provided solutions for many of the industry's leading FPSO operators, including Bluewater, SBM Offshore and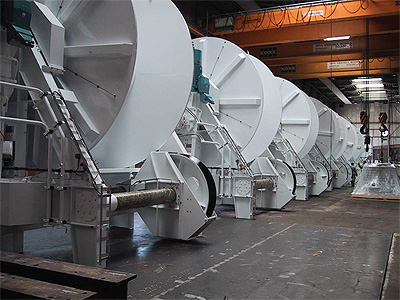 Petrobras. With FPSO operations being notoriously demanding, Bodewes' products for this field are designed with a compact design that saves space, highly sophisticated control systems for accurate offloading operations and high safety standards for use in hazardous conditions.
As with any company that leads its field, Bodewes Winches places significant emphasis on R&D, with its design and engineering department forming the heart of the company. Working closely with individual clients in order to produce tailor-made solutions, the organisation's skilled and experienced engineers use the latest computer programmes and CAD software to develop, refine and improve designs. Furthermore, during the design process engineers will also utilise advanced PLC programmes and software – true state-of-the-art equipment that allows designs to be incorporated into winch systems to investigate a design's validity.
To maintain a reputation as strong as that held by Bodewes requires a stringent and effective quality programme. As such, the company not only uses the machinery, equipment and workforce necessary for the highest levels of quality and production, but it also manufactures all of its products according to the strictest quality standards and inspection procedures. For example, the business not only holds both ISO 9001 and BS 7570 certification, but also has close relationships with a number of classification societies including Lloyd's Register of Shipping and the American Bureau of Shipping.
Such certification alone would stand Bodewes in good stead to continue to expand whilst furthering its reputation. However, with the company already renowned for the highest levels of quality and design – accolades that have been achieved in under a year – and the support of the Huisman Group, it is clear that Bodewes Winches will quite possibly become the foremost name for winch products in the global offshore market.
Bodewes Winches BV
Products: Specialist winch products