Boll & Kirch Filterbau GmbH
Intelligent solutions
A global specialist in the development of filtration solutions for liquids and gases, BOLLFILTER (Boll & Kirch Filterbau GmbH) is an independent German company dedicated to its core values of passion, tradition and expertise. Through its attempts to live out these values in all areas of the organization, from research to manufacture to customer service, BOLLFILTER is recognized as an industry leader in filter technology around the world.
The BOLLFILTER journey began in com1950's Cologne when the company was founded by Walter Boll and Josef Kirch. After moving to Kerpen in the late 1970's, the business commenced serial production of its first automatic filters. This event kick started a tradition of filter manufacturing at BOLLFILTER that would eventually lead to the modern filtration solutions for which the company has become renowned. Proud of its roots, the company remains a privately-owned German business with no reliance on foreign investors, allowing for clearer strategical direction and
more effective long-term planning.
At the core of BOLLFILTER's modern operation is a mission to work collaboratively with its customers on everything from standardized products to custom-tailored solutions. Offering filters that can be used in a variety of applications for the protection of various water systems, stationary engines in power plants, engines on ocean going vessels and compressor sets, the company aims to be a partner-of-choice for its customers, providing efficient and long-lasting products, that meets the highest standards of quality.
"At BOLLFILTER, our customers benefit from robust, reliable, well-experienced and precise filtration solutions in their individual application," explains Frank Zichel, the company's Head of Water Filtration. "As filtration experts for advanced and customer-oriented solutions, our goals are customer responsiveness, innovation, operational excellence, partnerships and added value.
"Due to our long history in designing and manufacturing filtration solutions for a very diverse range of activities onshore and offshore," he adds, "our customers not only reap the rewards of products with superior quality and reliability, but they also take advantage of a network of subsidiaries and sales partners spread across the world, including service spots and spare parts services."
New subsidiaries
Available to customers in more than 30 locations worldwide, BOLLFILTER opened its first manufacturing plant outside Germany in Pinghu, China, in 2017. Launched in response to Chinese demand for a domestic manufacturing presence, the Pinghu facility has already achieved major cost savings for the company.
More recently, in the summer of 2020, BOLLFILTER founded two more subsidiaries, one in South Korea and one in France. "We are very happy to have established these locations as they will be very important to us going forward," Frank declares. "Up until this year, we were not represented in France nor in Korea. We previously had an independent agent working for us. From a strategic planning and growth realization perspective, having subsidiaries in the sales network with their own teams is required, as only then can we impact our direction and focus our priorities.
"For this reason, France and Korea have come as a real milestone achievement in a difficult year. 2020 has seen everyone shrinking, but we have been confident enough to found these subsidiaries, despite the trend. As new members of the BOLLFILTER family, we wish our colleagues all the best from our Headquarters here in Germany."
Solutions provider
There is soon to be more progress at home for BOLLFILTER too. In 2021, the company is set to open its second factory in Kerpen. With the company almost at capacity at its current site, and with an ever increasing level of demand, the new facility will employ the latest manufacturing techniques in an attempt to help BOLLFILTER meet the market requirements for years to come.
After 70 years in business, BOLLFILTER has amassed an experienced and loyal workforce of more than 1000 people worldwide. Around 700 of these employees are based at Kerpen, including the company's Research & Development department, which will soon be housed at the new Kerpen location, along with the company's Spare Parts Logistics operation. Consisting of 27 team members,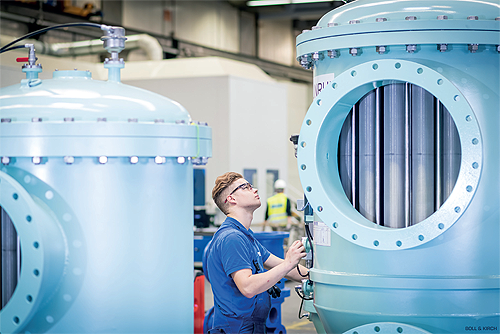 the R&D department at BOLLFILTER works in collaboration with customers to develop products that are not only innovative, but meet a client's exact requirements. As Frank is keen to point out, the business is not simply a filter manufacturer, but a provider of filtration solutions.
"At BOLLFILTER, we manufacture manual simplex and duplex strainers for liquids and gases, which are installed in many marine and industrial applications in different market segments. Furthermore – and this is our key focus – we produce automatic filtration solutions for water, fuel, oils and other liquid media. These are being used in locations all comover the world, from oceangoing vessels to facility cooling applications, and from steel mills to paper mills," Frank reports. "Beyond typical manufacturing, we are always looking to take the next step and work out how filtration can be used as a solution to issues our clients have and problems we have in the wider world."
In line with this way of thinking, BOLLFILTER recently added a new automatic fine filtration business to its portfolio. As an answer to many customers demanding finer and finer filtration, the company has designed a product with ceramic membrane elements that possesses a filter rating better than ten microns. Brand new in 2019, the BOLL FineFilterUnit can be used as part of a number of sustainability measures and environmentally friendly applications, such as a component in the exhaust gas cleaning process on large ships.
Globally unique in the sense that it is the only company of its size and presence exclusively active in filtration, BOLLFILTER continues to use its platform to support environmental causes, and the business actively participates in the development of innovative green technologies. Over the years, the company's positive efforts in an environmental and social context have included the treatment of ballast water, offshore wind farm support, filtration in desalination plants and tertiary treatment for effluent recycling in sewage plants, just to name a few of BOLLFILTER'S 'green' applications.
"Invasive species are the number one cause of species extinction in the modern world, yet ballast water, and the threat it poses to the environment, does not get the headlines it deserves," Frank insists. "At BOLLFILTER, we play an active role in the ballast water conversation and have sold more than 4500 filter units as part of the Ballast Water Management System. Similarly, we supply an important component on HVDC converter platforms for large offshore wind farms."
Away from water filtration, it is important to mention that the company is also deeply involved in cat fine removal in low sulphur fuels for engines on ocean going vessels, such as container ships and tankers.
"On a social responsibility front," Frank continues, "we are offering tailor-made solutions for desalination plants for the generation of potable water due to the global water scarcity. BOLLFILTER also has a large amount of experience in industrial and municipal sewage plants where we have supplied filtration for the tertiary treatment process for decades in order to reduce the amount for freshwater use, and enable plants to recycle the effluent. Additionally, we are currently looking at this application for ways to help filter micro plastics."
Intelligent filtration
Further to the above, it should also be noted that BOLLFILTER grants annual shares to the Boll Foundation, which promotes projects in the science and research fields, as well as supports social projects near to the city of Cologne.
Next up for BOLLFILTER is what Frank calls 'Filtration 4.0', a new 'intelligent' type of filter technology that not only filters a certain medium at a certain grade, but can also monitor and analyze the results of that filtration and adjust itself remotely depending on the application. Described by Frank as a 'logical next step' for the business, intelligent filtration is set to become a key tool for customers dealing with environmental challenges that require flexible and adjustable solutions.
"For example," Frank says, "fresh water quality differs from day to night and season to season because it is a natural body, and if the filtration solution is not adaptable to the environmental factors, then of course, the capabilities of the unit are limited. With Filtration 4.0, as we call it, BOLLFILTER will provide filtration which is able to adjust itself to changing conditions such as the season and temperature, making it a highly innovative and useful solution.
"Filtration 4.0 is our main goal for the near future and our R&D department has received clear instructions to look into it because we want to make it a reality as soon as possible. In fact, we already have a new product, which – although it is not ready for sale right away – will be launched in 2021," Frank reveals. "This is just the beginning. Next year, we hope to be able to say that we have taken that step from simple filtration to something smart and communicative, adding value and expanding horizons for us and our customers in the process."
Boll & Kirch Filterbau GmbH
www.bollfilter.com
Products and services: Filtration solutions